Sweet Sparkles
Real Simple
|
December 2018
Add a little bling to this year's cookie swap with one (or all) of these easy-to-make glittery treats.
CORNFLAKE MERINGUES
ACTIVE TIME 25 MINUTES TOTAL TIME 1 HOUR MAKES 30 COOKIES
1 cup sugar
1 tsp. cornstarch tsp. baking powder Pinch kosher salt
4 large egg whites, at room temperature tsp. cream of tartar
1 tsp. pure vanilla extract2 cups crushed cornflakes, divided
Edible gold leaf (optional)
PREHEAT oven to 250°F and line 3 baking sheets with parchment paper. Whisk together sugar, cornstarch, baking powder, and salt in a medium bowl. Combine egg whites and cream of tartar in the bowl of an electric mixer fitted with the whisk attachment; beat on medium speed until frothy, about 2 minutes. Gradually add sugar mixture. Stop machine and scrape down sides of bowl to make sure all the sugar is incorporated.
INCREASE speed to medium-high and beat until mixture is glossy and stiff peaks form, 6 to 8 minutes. Fold in vanilla and 1 cups of the cornflakes. Put a small dab of meringue under each corner of parchment to help it stick to the sheet. Drop heaping tablespoonfuls of meringue onto the parchment and sprinkle with remaining 1 cup cornflakes.
BAKE meringues until puffed and dry to the touch, 25 to 30 minutes. Turn off the oven and let meringues cool in the oven, 30 minutes more. Remove and let cool completely. Top with edible gold-leaf flakes, if using. Store at room temperature for up to 3 days.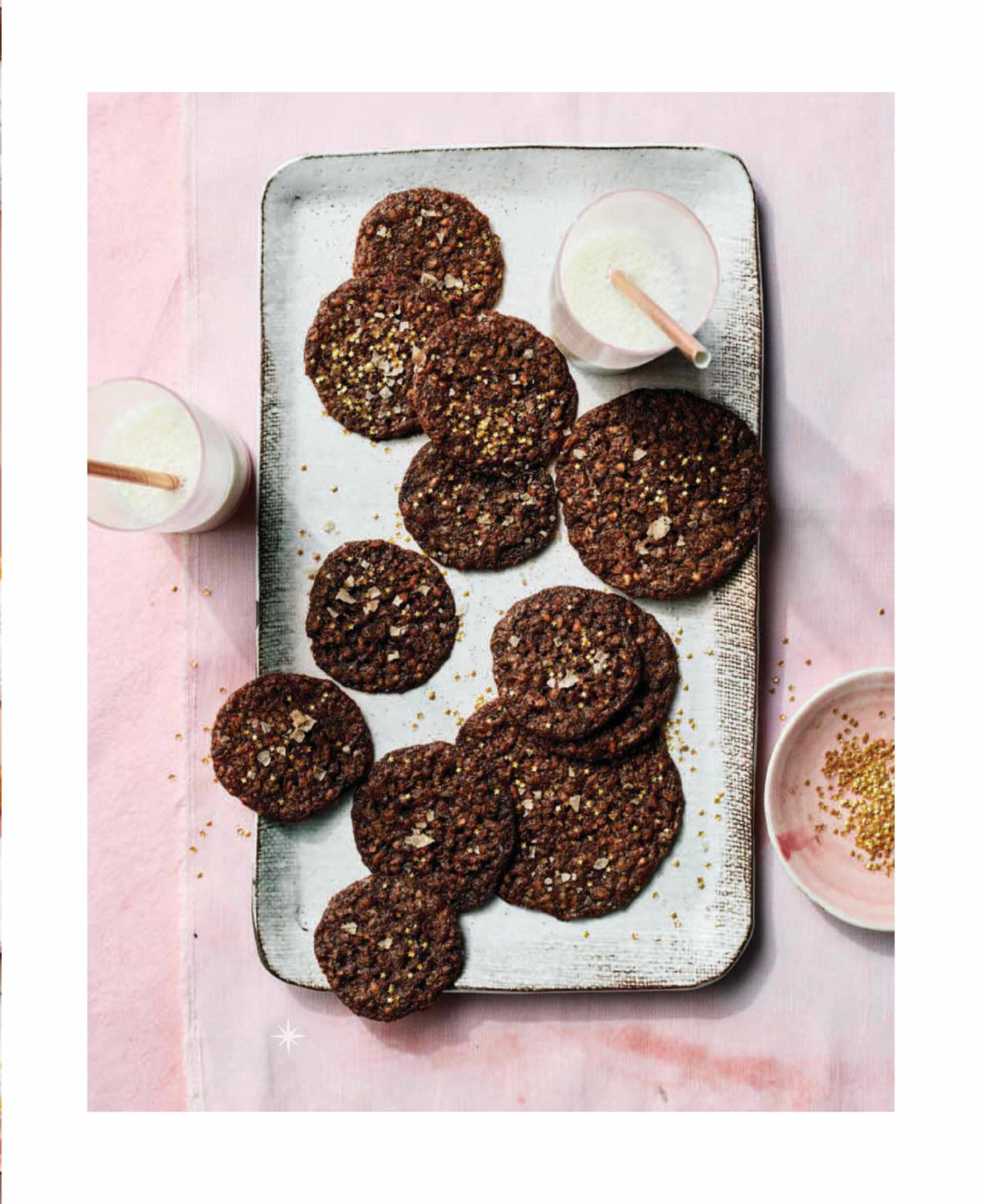 SALTED CHOCOLATE BUCKWHEAT THINS
ACTIVE TIME 25 MINUTES TOTAL TIME 45 MINUTES MAKES 24 COOKIES
3/4 cup buckwheat groats
1 cup packed light brown sugarcup (1 stick) salted butter
2 Tbsp. cocoa powder tsp. pure vanilla extract
1 large egg tsp.
1/2 flaky sea salt
PREHEAT oven to 350°F with racks in upper and lower thirds. Spread buckwheat in a single layer on a rimmed baking sheet. Bake until slightly darkened and fragrant, 10 to 12 minutes. Let cool.
LINE 2 baking sheets with parchment. Combine sugar and butter in a medium pot over medium. Cook, stirring occasionally, until butter is melted. Remove from heat and let cool slightly. Stir in cocoa and vanilla until evenly combined. Add egg and stir until evenly incorporated. Fold in toasted buckwheat.
DROP tablespoonfuls of batter onto the prepared baking sheets, spacing them 2 inches apart and flattening slightly with the back of a spoon. Top with flaky salt.
BAKE until shiny and dry, 8 to 9 minutes, rotating sheets front to back and top to bottom. Let cool until firm; transfer to a wire rack to cool completely. Store in an airtight container at room temperature for up to 3 days.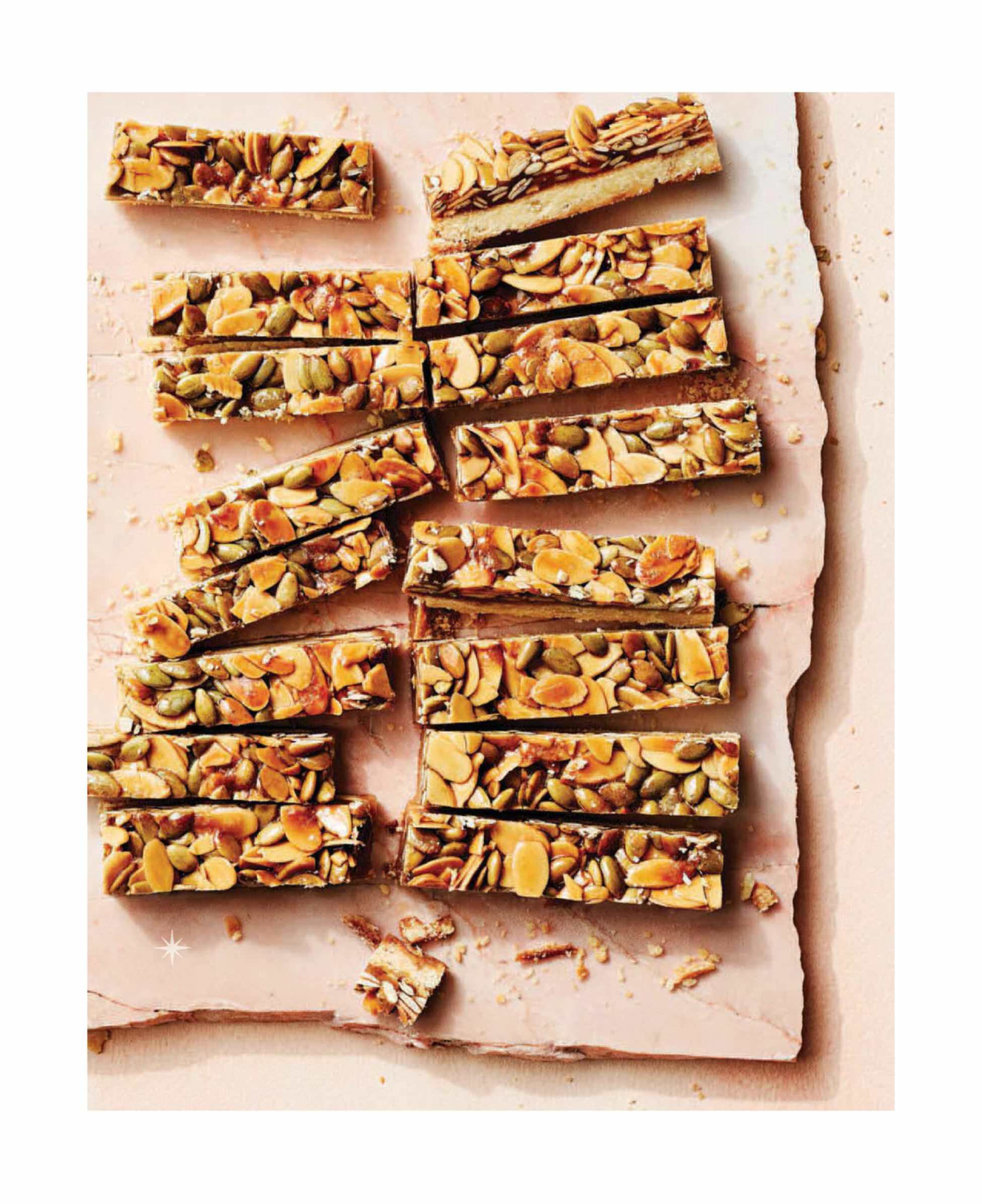 CARAMELIZED HONEY NUT BARS
ACTIVE TIME 20 MINUTES TOTAL TIME 2 HOURS MAKES 36 BARS
CRUST
1/2 cup (1 stick) unsalted butter, at room temperature, plus more for baking dish
1 cups all-purpose flour cup powdered sugar 1 tsp. kosher salt 1 large egg yolk
You can read up to 3 premium stories before you subscribe to Magzter GOLD
Log in, if you are already a subscriber
Get unlimited access to thousands of curated premium stories, newspapers and 5,000+ magazines
READ THE ENTIRE ISSUE
December 2018