Linda Cooper's Curious "What If" Quilts
Meet an artist who bends the rules and pushes the limits.
Ask fabric artist Linda Cooper what her favorite quiltmaking technique is. Then grab your favorite drink, sit back and prepare to be amazed. When she begins talking about fabrics and materials, take a swallow and set the cup down. Images of fishing equipment, gutter paint, buckram, Timtex®, place mats and even toothpicks will whirl through your brain.
Linda's quilts begin with, "What if … ?"
What If … ?
What if you take two fishing-lure swivels and attach them to fabric so that sections can be turned? What if you fortify the fabric with buckram or plastic or Timtex? What if you then cut a hole in a quilt and attach the lures, allowing the reinforced fabric to swing freely within that hole in the quilt? That is a rough description of the idea behind Linda Cooper's invention—the kinetic quilt.
Kinetic Quilts
Art-quilt artist and teacher Cyndi Souder coined the name "kinetic quilts" to describe Linda's "what if" quilts. Linda called upon memories of fishing with her father as well as sewing lessons with her aunt to create the new technique.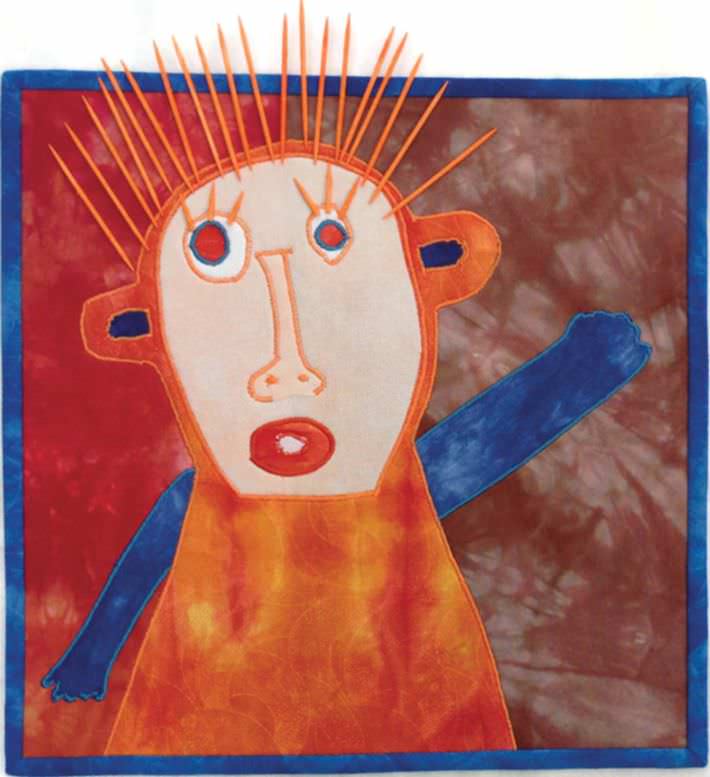 "The first one I made was for a challenge issued by my local quilt shop, The Quilt Patch, in 2000. The challenge was to use millennium fabrics," Linda recalls. "I used the challenge fabrics on one side of mini quilts that rotated on the fishing-lure swivels. The reverse sides were red, white and blue quilt patches."
Template plastic and batting acted as the reinforced center for the movable parts. "I wired the openings for each in the background quilt," Linda said. "Dowel rods at top and bottom added more stability."
Yet, after a year of travelling with the challenge quilts, it became distorted. It wasn't until the invention of Timtex and Peltex® that Linda returned to the kinetic quilt concept.
Accepting the Challenge
"Most often the fabric is what inspires me to make a quilt," Linda says. Challenge quilts prove to be the perfect motivation and size for her to explore. "And," she adds, "with the challenge quilts, it's the theme or the words that inspire me."
Continue Reading with Magzter GOLD
Log-in, if you are already a subscriber
Get unlimited access to thousands of curated premium stories and 5,000+ magazines
READ THE ENTIRE ISSUE
Winter 2016