SKIN IN THE GAME
Architects use technology and material to create magic in clothing the built form, taking aesthetic and function to the next level
Aesthetically, façades bestow chameleon-like properties to the buildings they embrace, from thematically melding into surroundings to standing out and becoming landmark properties; making some structures distinguished and others indistinguishable, depending on the client's brief. Design interventions too often endow a building with a façade that creates a climatic buffer around the structure it envelopes.
factors that drive design
Context is king when a project is architect-driven. Ar. Kazushi Miyamoto, Principal, 123Architects, Beijing, says, "I always want to provide a design that exceeds the client's expectations but it's important for me to design façades that are connected to the surrounding environment in terms of material used, color and history."
Facades go beyond the merely aesthetic to perform myriad functions, which architects say require a series of interventions from the façade to the innermost recesses. Rahul Jain, Principal Architect, Rahul Jain Design Lab (RJDL) says, "An ideal façade design not only enables the right amount of light, heat, and wind but also provides adequate privacy resulting in an overall interior comfort." Des. Vivek Singh Rathore, Design Principal, Salient Design Studio, follows what he terms the ABC system to achieve this: A - architecture, B - budget, and C care of the facade.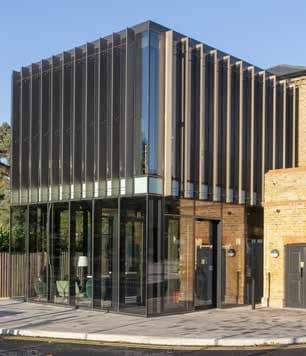 Ar. Sanjay Prakash, SHiFT Architects, says design and comfort follow climate, "The types of façade we create are climate-responsive in context to the interior comfort and design scheme. For example, in an institutional project in Jabalpur, we used the concept of permeability to make it more comfortable in the summertime. Jaaliwork allows the hot breeze to escape through the façade's skin while converting it to much cooler air through terracotta and sandstone. The interplay of earthen material and air penetration adds freshness and curiosity to the interiors while maintaining thermal comfort. With advancements in projection screen technology, we could further use the orientation of the building to ensure that indoor spaces like exhibition galleries and seminar halls were glare-free and day-lit as well."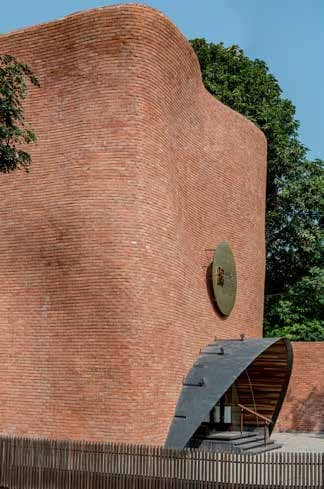 You can read up to 3 premium stories before you subscribe to Magzter GOLD
Log in, if you are already a subscriber
Get unlimited access to thousands of curated premium stories, newspapers and 5,000+ magazines
READ THE ENTIRE ISSUE
March - April 2020