QUIRK STUDIO, Mumbai
designers disha bhavasar and shivani ajmera push boundaries as they experiment with color, material and concept to form a unique design aesthetic.
Design heads of Mumbai-based interior design Quirk Studio, Des. Disha Bhavasar and Des. Shivani Ajmera have always felt they were meant to be in design. Constantly evolving with the times, they now focus on finer aesthetics as they experiment with materials to create minimalistic and understated designs. Looking back on their beginnings, they say, "Our design is always evolving."
The two interior designers belonged to different worlds but their love for art and design inspired them to start Quirk Studio together in 2013. Des. Bhavasar moved from Muscat to study interior design at Nirmala Niketan, Bombay. This was followed by a Master's degree in Design Management at the Winchester School of Arts, University of Southampton. Des. Ajmera credits her current technical knowledge to her international exposure and training in design and art at the Florence Design Academy, Italy. Upon her return, she worked at leading architecture firms such as Talati and Panthanky and Red Architects, a path that led to the inception of Quirk Studio with Des. Disha Bhavasar.
Over the years, the duo has designed many celebrity design projects together. The landmark, close to their hearts, would be these, "House No. 12 and Office With a View have been pivotal projects in our journey due to the freedom we had from clients while designing the space. The trust and the challenge to push boundaries in terms of design helped us come into our own and was an integral part of forming Quirk Studio's design aesthetic."
Des. Bhavasar marvels at the vocabularies of Zaha Hadid, Marcel Wanders, Le Corbusier, and Tadao Ando. "They have the ability to create a design aesthetic while adding an essence of themselves in their creations." While she was drawn to the finer details, Des. Ajmera preferred something modern and unconventional. She adds, "As a design student, I was immensely inspired by Philippe Starck. His free spirit, unconventional style and use of fluid, organic lines as well as materials stuck with me and influenced my own design sensibilities and aesthetic." With a desire to bring design to daily life, she was equally motivated by Starck's drive to brighten people's lives using humor and every individuality into design.
With many celebrity clients on their list, the designers aren't new to luxury. However, their concept of 'luxury' is not limited to wealth and prestige. They say, "Luxury refers to quality, durability, sustainability, and a timeless appeal. Luxurious spaces are not only identified by their indulgence but through the eco-friendly technology, deluxe material, and features."
They say sustainable design is the new trend, and it's only going to get bigger. "Designers and clients have become more conscious. We should be more aware and intentional in augmenting sustainable design in our creations. We are constantly learning due to the evolution of design details, materials, and technology. We have to keep an open mind and be eager to learn from our employees, carpenters, consultants, vendors, and everybody else we work with."
Though learning is crucial when working in the design industry, it is even more so when one is in charge of a multigenerational workforce. The designers attest to this, saying, "We have faced several challenges with the millennial generation, as most start-ups do. While they bring in great energy and insights, their laid-back attitude can be sometimes a challenge to work with."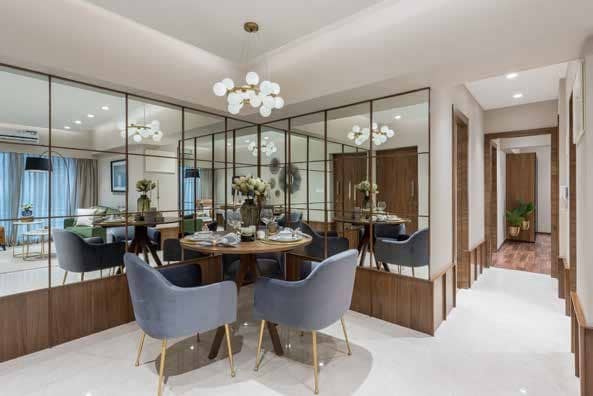 Alta Vista
Location:
Mumbai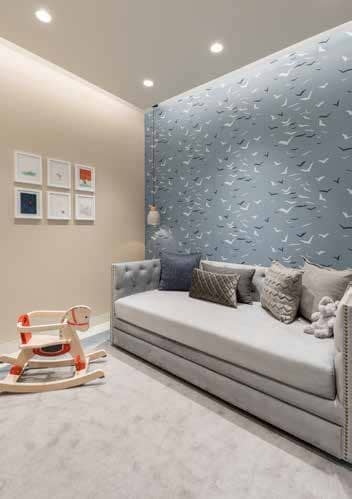 Concept:
You can read up to 3 premium stories before you subscribe to Magzter GOLD
Log in, if you are already a subscriber
Get unlimited access to thousands of curated premium stories, newspapers and 5,000+ magazines
READ THE ENTIRE ISSUE
March - April 2020