Gardening Notebook
Home South Africa|July 2020
Create a new pathway in your garden this month, or check existing ones for uneven surfaces and repair them now.
Walk this way
The original paths of ancient times were narrow and winding, up hills and down dales, through grasslands, whispering woods and alongside meandering streams made by animals searching for food and water and by the feet of early man as he hunted and gathered wood.
Garden paths
Paths in gardens, as in life, are trails of discovery; they are walkways that guide visitors from one area to another, sometimes swiftly and other times at a more leisurely pace, creating a particular mood by their direction and by their shape. Paths should always lead to a destination.
A straight path is used to reveal the shortest possible route to an entrance, to a home office, and to utility areas such as a laundry or garage. Formal gardens with year-round structure have direct paths, as do formal herb gardens with beds dissected by paths.
There is a sense of anticipation and mystery when all is not revealed at once – of a secret world, a private space, a hideaway. A curving path slows down progress and makes the journey more interesting, inviting the visitor to discover what lies around each bend or curve.
A narrow path with colourful flower borders on either side will slow down progress. A path that disappears around a shrub or hedge encourages exploration and stops people and pets from taking shortcuts. A meandering path through a wildflower meadow or woodland walk creates a feeling of mystery, adventure and romance.
Japanese gardeners are masters of suggestion, concealing as much as they reveal in their landscapes. They encourage contemplation with the careful placement of plants, water and rocks and use curving paths to conceal parts of the garden.
[RAIN PATHS]
Hugelkultur is a German word meaning mound or hill culture (culture here refers to growing things) where plants are grown on a man-made mound or small hill.
On a flat site, hugelkultur mounds will add highs and lows; the highs made by laying old logs where you want a mound, then covering the wood with leaves, soil and compost to about a metre in height.
By building these mounds, you create a path or swale (a shallow channel with gently sloping sides) that will direct rainwater from hard surfaces so that it is slowly absorbed into the soil and does not run off.
These swales also become habitats for a diverse range of plants. On mounds, grow Bulbine frutescens, Euphorbia tirucalli, Cotyledon orbiculata, Senecio mandraliscae and Aristida junciformis. For low areas, consider white arums, wild garlic, sedges, hostas and astilbes. On slopes, try Portulacaria afra 'Nana', osteospermum and arctotis.
In the vegetable garden, bush beans, bell peppers and onions can be grown on mounds; squashes and nasturtiums will thrive on slopes, and parsley and lettuce are both suitable for low areas.
By Kay Montgomery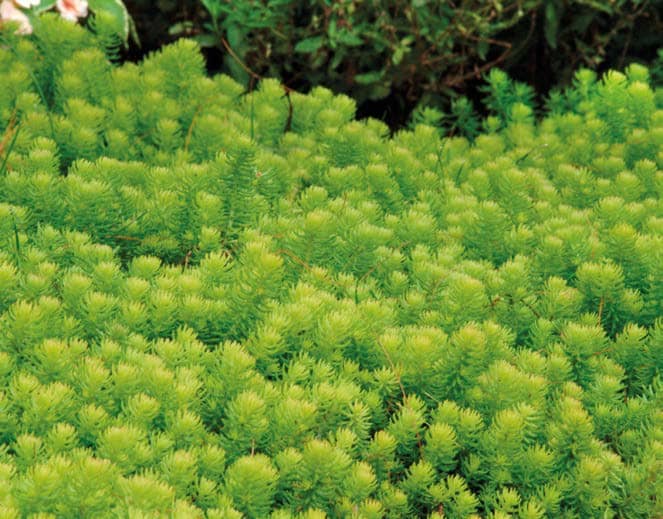 Water smart
Flapjack plant
You can read up to 3 premium stories before you subscribe to Magzter GOLD
Log in, if you are already a subscriber
Get unlimited access to thousands of curated premium stories and 5,000+ magazines
READ THE ENTIRE ISSUE
July 2020