7 Breathtaking Bathrooms
Home South Africa
|
October 2020
From classic design choices to unique artworks, these homeowners have put their stamp on these spaces with great success.
1 Just beachy
When Jacoline van Zyl and Alexander Penman were itching to do a renovation project, Jacoline's mom and dad's beach house in Struisbaai presented the ideal opportunity.
"My parents, Japie and Mayne van Zyl, have owned the house for 10 years and it had become slightly run-down. Alexander and I literally lived in the dust for eight months during the renovation," says Jacoline. The main bedroom's en suite was part of this project. Where there were once four small, dark rooms crammed next to each other, Jacoline and Alexander have created a spacious open-plan bedroom and bathroom. "We wanted to give the room a luxurious feel with lots of natural light – but it had to retain the holiday vibe," says Jacoline.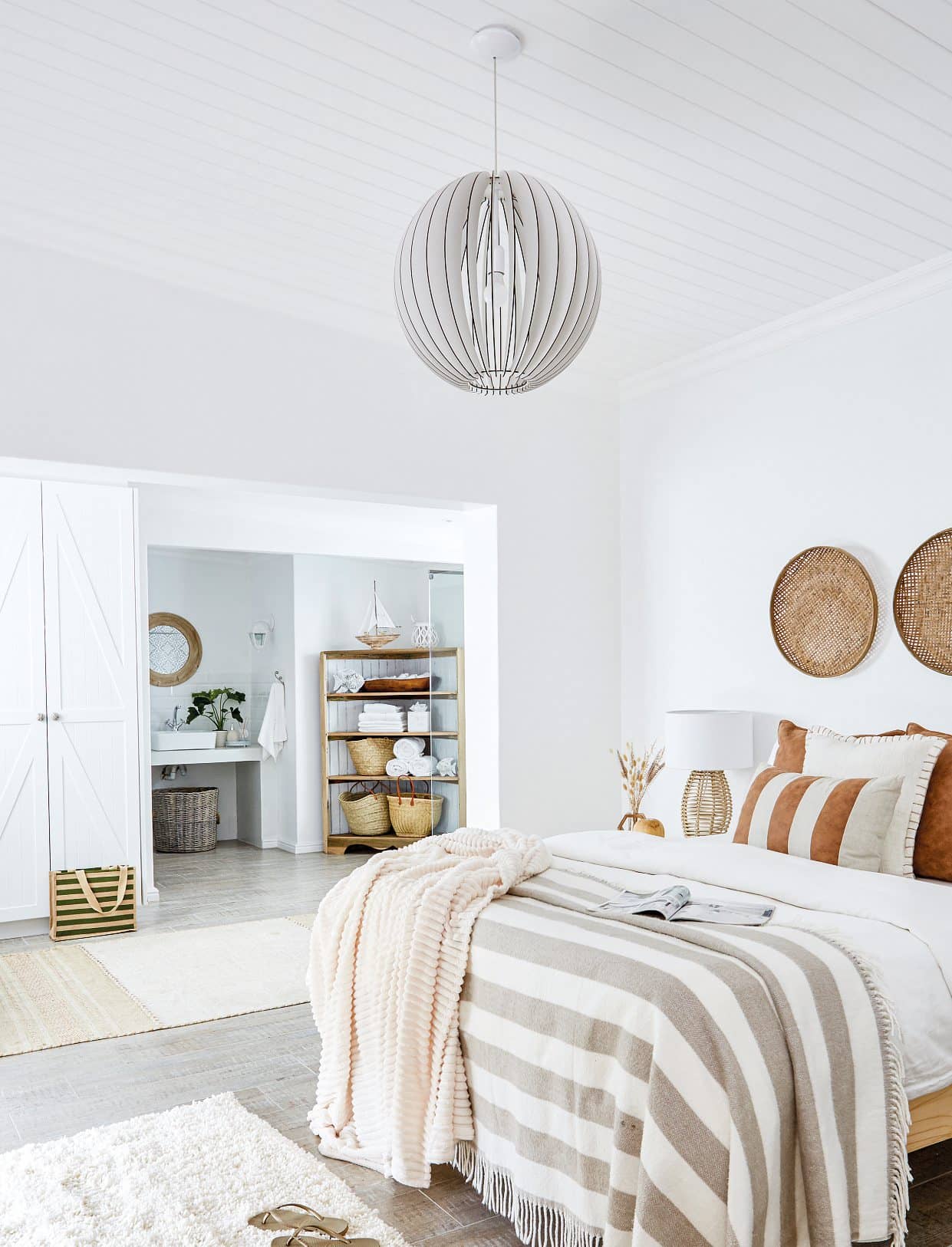 EXPERT ADVICE
Henk Louwrens, owner of Water Boys Plumbing, offers these tips for showers:
Open showers are currently popular but they require a floor space of at least 1.5 x 1m. And to ensure that water does not accumulate in the shower, the floor must have a 30–40mm slope towards the drain.
If possible, invest in a drainage system that can collect water over a larger area; this will help the water to drain faster. Don't install the taps directly under the shower head; this way, you can turn on the taps and get the perfect temperature without standing directly under the water.
To prevent the grout between tiles from discolouring due to minerals in the water, replace the water component in the grout mixture with a bonding liquid such as Tylon Bond-it. It makes the grout waterproof so it won't discolour.
CONTACT 023 347 8833, waterboys.co.za
2 Cool oasis
Chris Willemse and Dané Erwee, owners of the floral design business Okasie, transformed a dilapidated farmhouse in the Banhoek Valley in Stellenbosch into a characterful home for their French friends.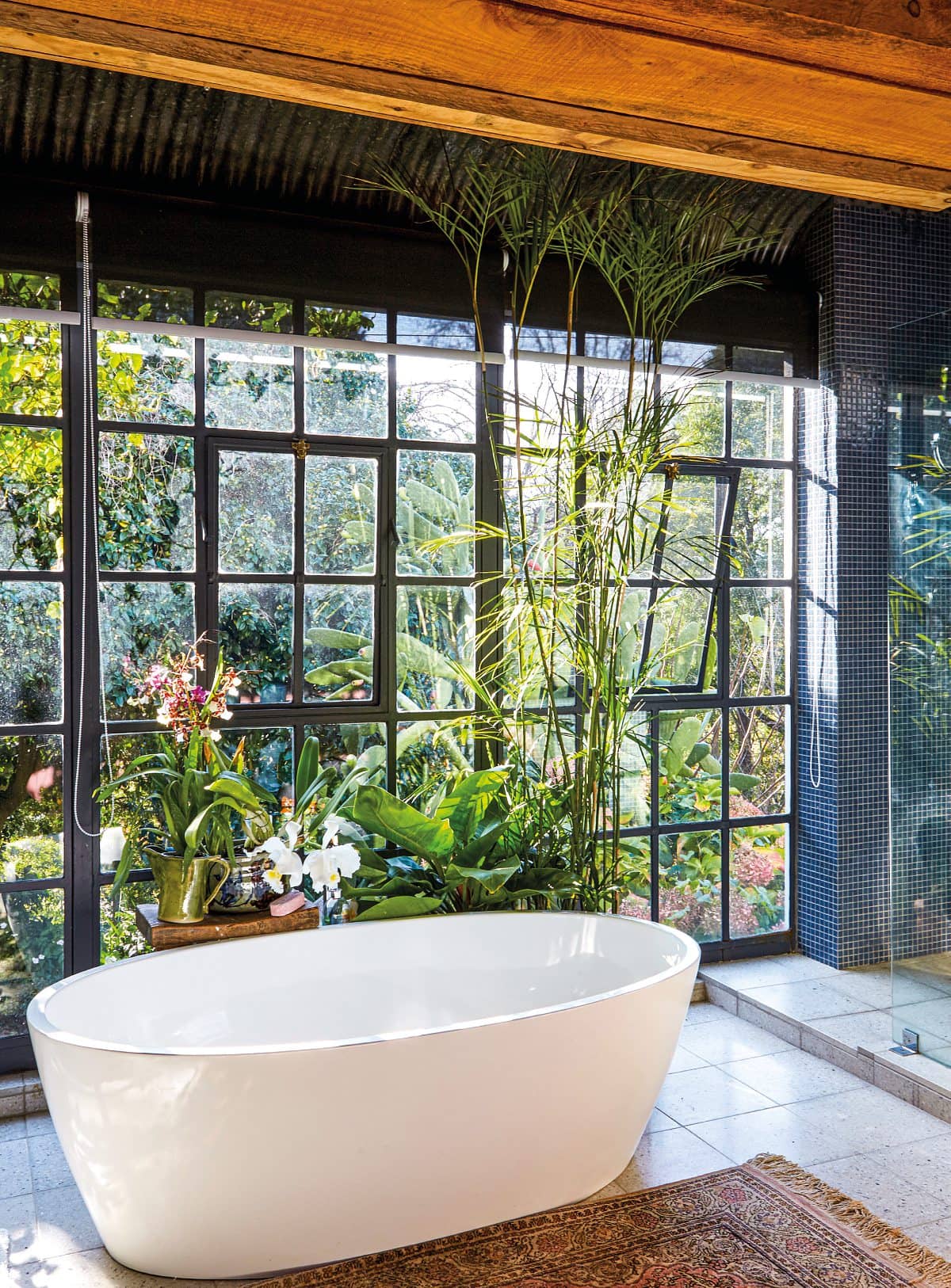 Two bedrooms are situated next to the old veranda, which provided the ideal space in which to create an en-suite bathroom adjacent to each one. Thanks to the support beams and curvature of the corrugated iron roof, they were able to retain the original veranda aesthetic. Floor-to-ceiling steel-framed windows provide a lovely view of the garden, while houseplants that thrive in the natural light and humidity of the bathroom create just the right amount of privacy.
Dark blue mosaic tiles in the shower are reminiscent of deep pools of water, while a loose rug lends a luxurious touch to the space.
EXPERT ADVICE
Steel-framed windows like these (opposite) lend a classic industrial feel to a home and remain a popular choice. They are used everywhere these days – from traditional windows to shower partitions. Make sure you take the right precautions if you want to use them in a bathroom, says Olivia Arnoldus of Klapmuts Windows: "
The best way to protect steel-framed windows from the humidity in a bathroom and possible rust is to have them galvanised. Steel treated this way can last a lifetime. Powder-coated frames can also last a long time, but they are not suitable for bathrooms or houses at the coast where they can easily rust.
"If you want to renovate existing steel-framed windows, you must first make sure that all the old paint has been removed before you can have them treated."
CONTACT 021 875 5885, klapmutswindows.co.za
You can read up to 3 premium stories before you subscribe to Magzter GOLD
Log in, if you are already a subscriber
Get unlimited access to thousands of curated premium stories, newspapers and 5,000+ magazines
READ THE ENTIRE ISSUE
October 2020