SIMPLE PLEASURES
Home Beautiful|August 2020
A BEAUTIFULLY SUSTAINABLE FAMILY HOME SOUTH OF SYDNEY PAYS HOMAGE TO NATURE, NORDIC DESIGN AND ITS OWNER'S JAPANESE HERITAGE
NATURAL BEAUTY Rin and Dave's beautiful eco-smart home in a beachside town south of Sydney is a dual celebration of the natural world and Rin's Japanese heritage. Shou sugi ban, a Japanese technique of charring timber, gives the family property its striking textural facade. "The color and texture is like nothing else," says Rin (pictured with husband Dave and daughters Umi, left, and Yuki). The front door, custom-made by builder Jason Miles, plays on the strong lines of the home, while the landscaping by Spirit Level Designs promises added texture as it grows.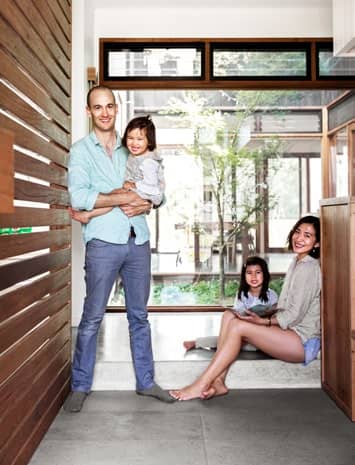 It's easy to observe the shifting colors of nature in Rin and Dave's home, set in a beachside town south of Sydney. A Japanese maple tree, growing out from a green carpet of native violets, sits in a glass atrium lying at the heart of the home. "It's called a 'nakaniwa', which means 'internal garden' in Japanese," explains Rin."The maple, with its changing leaves, allows us to appreciate the changing seasons."
The home's green centerpiece reflects Rin's Japanese heritage and the couple's wish to connect with, and preserve, the natural environment. And it was the nature reserve at the back of the block that first drew the couple to this location. They had been living and working in San Francisco before returning to Australia to settle down and raise their young family and, during a holiday, they spotted an old, tear-down house for sale. "It had a rare bush reserve at the rear and we knew it was for us," says Rin, who runs a sewing and creativity blog called Sew In Love.
The couple, with firstborn, Umi, and second daughter, Yuki, on the way, engaged architect Alex Urena to bring their vision to life. "We asked Alex for a minimal design with Japanese influences, and we wanted a black house like the Nordic summer houses," explains Rin. Builder James Miles and interior designer Rachael Miklas delivered on the request for a clean, streamlined look that celebrates natural materials. "There is no ego in this design," offers Rachael. "It's simple, pure, and restrained."
Quiet simplicity is a common thread between Scandinavian and Japanese design. While this eco-smart home is a peaceful marriage of the two styles – a perfect execution of 'Japandi' – complex systems operate between the walls. "One of the biggest reasons that we decided to build our own home was so we could incorporate energy efficiency into its design from the ground up," says Rin. North facing solar panels draw from the sun's energy and water tanks collect rainwater. "We can run the house, heat the floor, charge our electric car and still stay 90-95 per cent self-sufficient," she explains. There's a weather station on the roof, temperature sensors in each room, and the louvers throughout the home are electric.
You can read up to 3 premium stories before you subscribe to Magzter GOLD
Log in, if you are already a subscriber
Get unlimited access to thousands of curated premium stories and 5,000+ magazines
READ THE ENTIRE ISSUE
August 2020