Koodaaram: The Pavilion At Cabral Yard, Kochi
During the Kochi-Muziris Biennale, an open structure inspired by the traditional Koothambalam served as a space for performance and lectures as well as one for conversations, to exchange thoughts and ideas, and engage in debate and discussion.
Anita Dube, Madhav Raman and Kaiwan Mehta
Architecture, through its terrain, material and devices, opens and closes edifices in space, thereby mediating social and environmental alienation or coalescence. The architectural notion of a pavilion is that of an "island": of respite, reinvigoration, contemplation, conversation and transience. Unlike the other Fort Kochi venues, Cabral Yard carries no architectural vestiges of its past. It follows a cycle of natural rejuvenation during its dormancy between biennales. It is simultaneously a gated precinct of profuse verdancy and an important hub for convening people, the beating social heart of a bustling biennale. It is a venue for art, as a process, an event or an incident,with people. In order to explore the curatorial vision for KMB 2018, we deconstruct "the pavilion within the yard". Unpacking its architecture and programme to occupy the whole one-acre site, the entire Cabral Yard is activated to perform as a island-hub for art with people.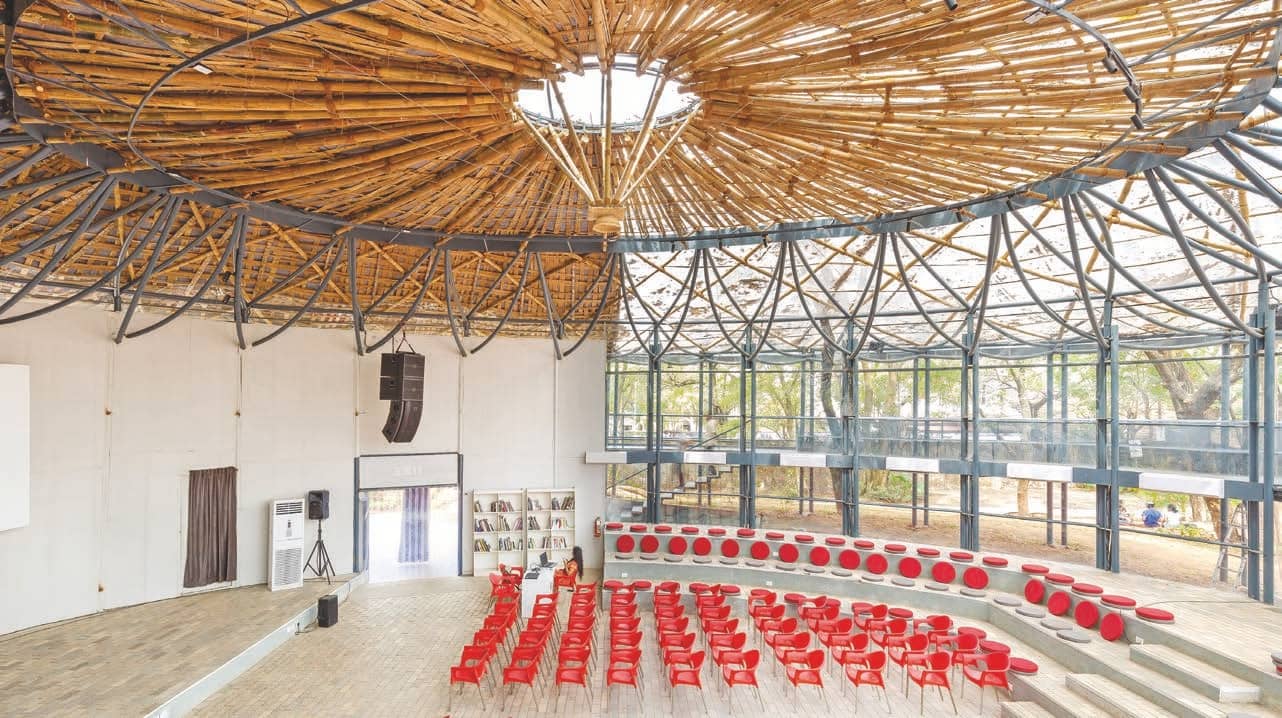 Of light and lightness
We call it the 'Koodaaram' (tent) in Malayalam. It is a half-opaque, half-transparent, half-buried performance space for about 420 people. The design references the 'Koothambalam', a traditional performative pavilion, similarly modulating plinth, trellis and canopy. However, it explores the possibility of diffusing its opacity and weight while infusing it with light and accessibility. By making Cabral Yard an open pavilion, the design counterargues traditional exclusivities associated with performative spaces through openness, transparency, lightness, temporariness and accessibility. Koodaaram is thus suggests a counter point to the Koothaamablam. The design seeks transience through lightness.The structures are designed to sit "lightly" on the site. Built in two months, the pavilion is designed to completely dismantle into components salvageable for reuse, leaving the site largely unmarked state of natural and vegetal rejuvenation of the site.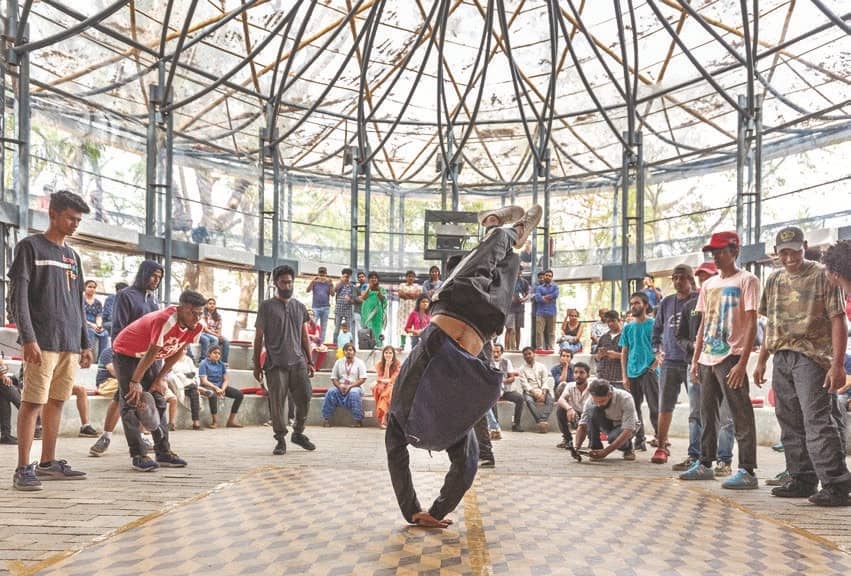 Experiences of architectural coalescence
The city as a stasis of indurated architectural objects precipitates conditions of urban alienation. It induces distance from the natural and the social. The pavilion is deconstructed to reveal through its porosities, programmatic flexibilities and skeletality, the (un)making of a monolith. The intent is to widen experiences of architectural coalescence, both material and programmatic. Walls and ground fluidly morph and, similarly, canopy and foliage merge to create opportunities for spontaneous and social spectacles, encounters and conversations.
— From the architect's project description
The Cabral Yard pavilion titled Koodaaram marks an important experiment in contemporary architecture from India. Designed by Anagram Architects, led by Madhav Raman, in collaboration with the curator of the fourth edition of the Kochi-Muziris Biennale 2018, Anita Dube, this structure dematerialises an architecture programme to address or deal with very finite and spatial ideas of context, human behaviour, occupation, and use, as well as the relationships between ideas and buildings.
You can read up to 3 premium stories before you subscribe to Magzter GOLD
Log in, if you are already a subscriber
Get unlimited access to thousands of curated premium stories, newspapers and 5,000+ magazines
READ THE ENTIRE ISSUE
May 2019