The Power of Neighbors
DesignSTL
|
November/December 2020
In a year that's brought life-altering challenges at home and abroad, community is the bright spot in our everyday lives.
A SHARED DRIVEWAY UNITES TWO FAMILIES
A friendship built on living only 13 feet apart.
BY MEGAN MERTZ
Robert Frost once wrote that good fences make good neighbors—but in the case of the Vasbinder and Moorkamp families, sharing a common space brought them closer together. Their Webster Groves homes share a driveway, and "being only 13 feet apart…you witness how a family is on a very personal level," says Dave Vasbinder.
Jim and Nancy Moorkamp had lived in their house for about 14 years when Dave and Emily Vasbinder moved in next door in 2006. Dave says his house was a bit of a fixer-upper, and he was frequently outside working in the yard. When Jim came home from work at PGAV Architects, he often wandered over to see what Dave was up to.
"It was not too long that he had the work gloves on and we were both up to our waist in a trench digging a ditch and installing drain tile or something like that," recalls Dave. Jim was always there, offering suggestions, tools, and sometimes manpower.
Their families grew close as well. The Vasbinders were a young couple new to the area and learning about homeownership for the first time, with children still a few years away. But the Moorkamps already had two children, as well as years of experience with home renovation.
"It is interesting and extraordinary how much, if you choose to, you can embrace the other side of the driveway into your life," Dave says. "Walking out the door and seeing kids up and down the driveway—before we even had kids— was really a window into the future for us."
Now the Moorkamps' children have grown up and moved away, and the Vasbinders' twins are the ones playing in the driveway.
Jim died in 2013, and the families' friendship has adapted to this new stage. Over the last few years, Dave has cut down a dead maple tree in Nancy's yard, rebuilt her stone retaining wall, and helped pump out the water in her basement when it flooded. He also clears the snow from the families' driveway—as well as about half a dozen other driveways in the neighborhood.
"He reminds me of us when we first moved into the house," Nancy says. "My husband had that kind of energy."
But it isn't just the neighbor on the other side of the driveway who makes this quiet street a great place to live, say Dave and Nancy. The neighbors around them often get together for happy hours, barbecues, and impromptu gatherings. If two neighbors stop to chat on a nice day, others will soon join in.
Looking back, Dave says, it didn't even occur to him and Emily at the time that sharing a driveway could be a gamble, but he's so thankful for the "extraordinary circumstance" they've found themselves in: "We can't imagine anywhere else we'd want to be."stlmag.com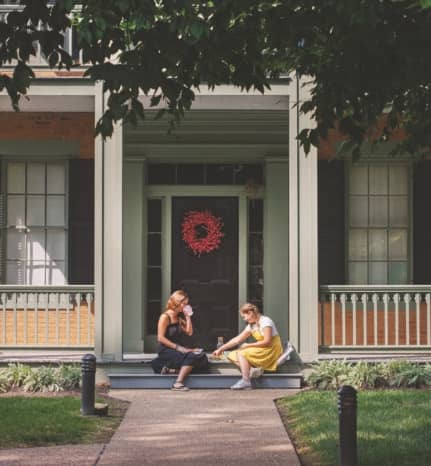 JULIE AND NONI MURPHY
DELIVERING JOYCommunity building runs in the family.
BY CARA DOWNS
In March, as the COVID-19 pandemic was hitting the St. Louis area, Noni Murphy decided to publish a newspaper, and her mother, Julie Murphy, took on a role as the street's outdoor social events organizer.
Together, the Westmoreland Weekly and Julie's socially distanced events have helped connect the residents of their Clayton neighborhood.
"I find my connection to this earth through people," says Julie, who grew up in a tight-knit Italian family. "For our street, the pandemic strengthened a root system that was already there."
Noni, a seventh-grader at Wydown Middle School, delivered her paper to more than 20 residents on Sunday mornings. Designed with Google Slides and printed at home, the weekly featured a profile of a young neighbor learning to ride a bike and a story about another neighbor's beloved pet fish, among others. It was filled with riddles and crossword puzzles.
"I got to thinking one day how the paper could be a cool way of keeping people in the loop," says Noni.
"I was missing the support system that COVID took away from us,"says Julie. "Yes, we could Zoom, but it just isn't the same."
The street, with its houses built close together, lends itself to community building. Hanley House, a park and city-owned historic home in the middle of the block, is a natural meeting ground.
"Our location makes it easy to get together and be safe," says Bridget McAndrew, an alderwoman representing the city of Clayton who lives on the street. "It didn't put the burden on [any one family] to host."
As time marched on, gatherings grew to include a pizza dinner to celebrate Mother's Day, fireworks on the Fourth of July, and a puzzle exchange. On Saturday mornings, a yoga instructor leads classes.
"Everyone has been so incredibly kind, sharing groceries and checking in on one another," says Andrea Rosenblum, a 10-year resident.
While the Westmoreland Weekly is now on hiatus, Noni hasn't stopped working. She's replaced the paper with a breadmaking business.
"Since we can't really go anywhere," she says, "I've gotten to know more about my neighbors. It's nice to walk outside and always see someone."
STRENGTH IN NUMBERS
United by a shared devotion to their neighborhood, four women discover that they have more in common than a shared ZIP code.
BY CHARLENE OLDHAM
It took the threat of more housing construction in their Chesterfield subdivision to bring four neighbors together for the first time.
Four years ago, the thought of losing a shared golf course and common green space galvanized a large group of neighbors to try to block that development. Although some of the residents recognized one another from their street, others hadn't interacted beyond a cursory hello. Four of them became fast friends.
"I would say it's a friendship forged in fire," says interior designer Gigi Lombrano, one of the four.
When the stay-at-home orders took effect this past spring, the friends once again turned to one another for support. Accustomed to their get-togethers at such spots as Spiro's and Bishop's Post, the women moved their dinner dates to Zoom but felt that something was missing. "It was being together that we missed the most," Lombrano recalls. They decided that a front porch was the best place to meet. Teresa Dunn, whom the friends have dubbed the matriarch and ringleader, hosts the gatherings at her house.
"Some of us bring snacks, and I tell them to bring their own bottle— orange juice, tomato juice," she says, laughing.
Armed with appetizers and their beverages of choice, they share stories and inside jokes late into the night. Taking time in their own neighborhood is a rare treat, says Erin Hugeback.
"I never get a chance to sit on my porch," she says. "You don't know what's going on until you sit down and relax."
You can read up to 3 premium stories before you subscribe to Magzter GOLD
Log in, if you are already a subscriber
Get unlimited access to thousands of curated premium stories, newspapers and 5,000+ magazines
READ THE ENTIRE ISSUE
November/December 2020