Pol on our Minds
Better Interiors|January 2020
In an upcoming Ahmedabad suburb, Aakruti Architects had to revive the wisdom of pol housing — the popular traditional community-dwelling typical to the city — into a private home where the courtyard and landscape takes center stage.
Take a man to the most upscale city, its highest tower, parade him through the everything under-one-roof recreation zones, and he will be impressed without a doubt; but it's a fleeting love affair. Have him experience the quintessential charm of a traditional Gujarati pol house and he will be in love forever. Long-time client Nirav Shah approached Aakruti Architects with a similar ache in his heart, a need for respite from the urban lifestyle he and his family had been habituated with over the years. A one-acre plot and a simple wish — "We like the sense of a courtyard in the old pol houses" — set in motion the making of the "House around a Courtyard."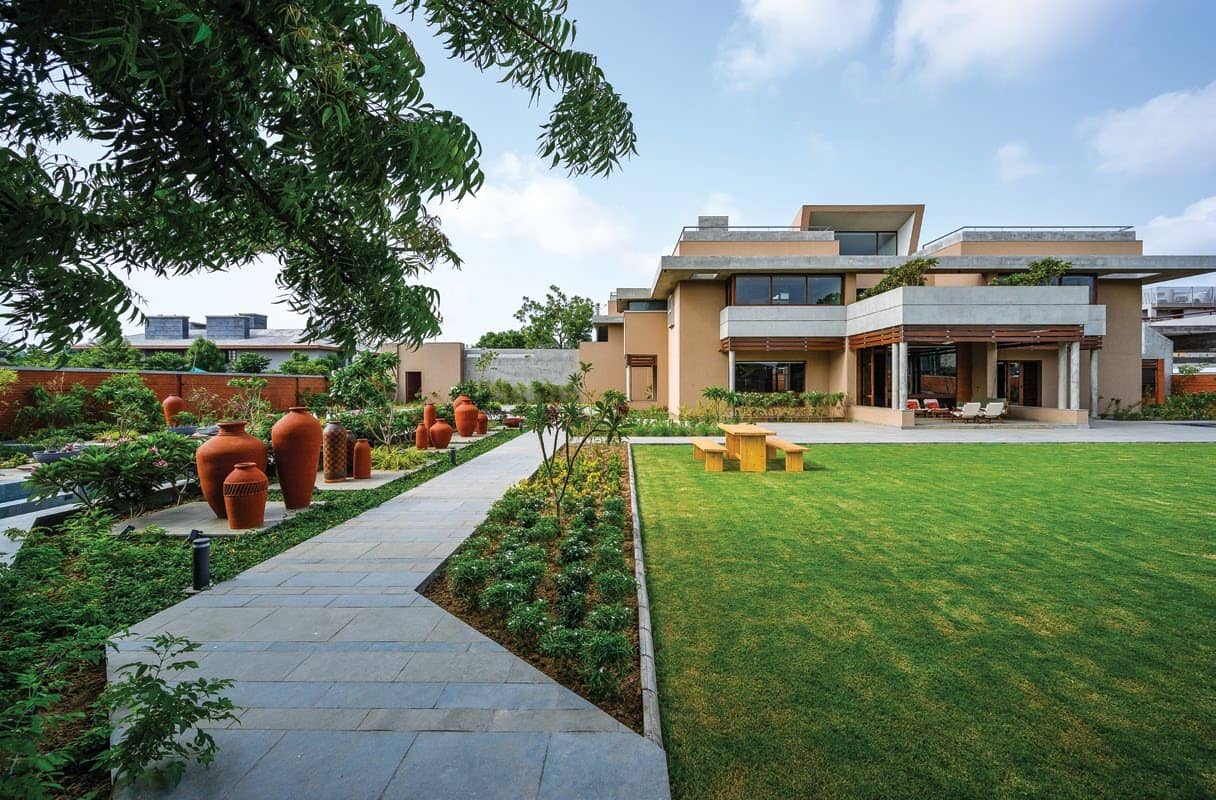 "Having lived in a strictly urban environ all their lives, the family wished for a haven that connects them to the outdoors, thus making the landscape and the green pockets equally important. They were also keen on incorporating a traditional courtyard for the house," shares Dilip Patel, principal architect of the Ahmedabad-based practice. If anybody could be trusted with this brief, it would be Dilip and his core team of principal designers Toyam Patel and Tulna Patel who have designed multiple workspaces and exhibitions for the client. The trio found themselves entrusted with an 47,700 square-foot plot of land dotted with four lush neem trees in an upcoming suburb of Ahmedabad where the family of four wished for a home that would be "a sequence of private and social spaces that addressed their collective and individual aspirations."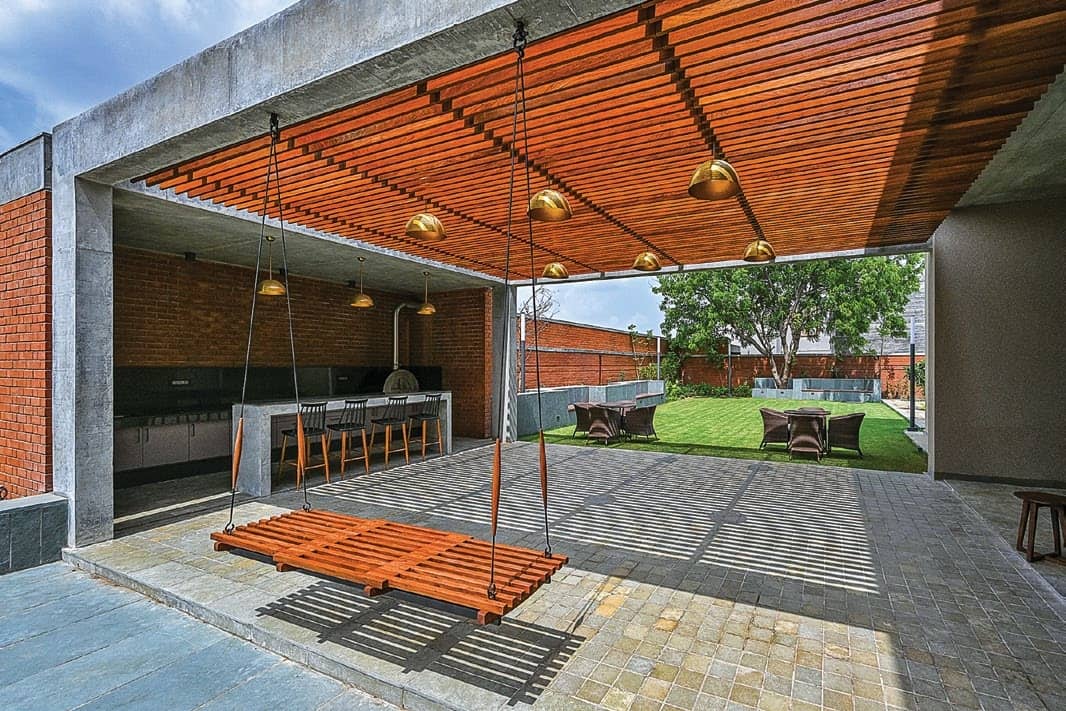 In architecture, it all starts with a line and here the line began with the entrance promenade that derives its orientation as per the two neem trees in the north. The linear path stretches unhindered and moves right to define the courtyard. Over time, the residence began to take shape with the courtyard as the core, which naturally predestined the dining area and living room along its linear spine. Other spaces unfurled organically around this spine to form a 18,500-square-foot home comprising five bedrooms, a formal living room, TV room, triple-height internal courtyard, dining room, verandah sit-outs, kitchen, recreation room, lounge, barbecue area, temple, gymnasium, terrace sit-outs, and other service spaces.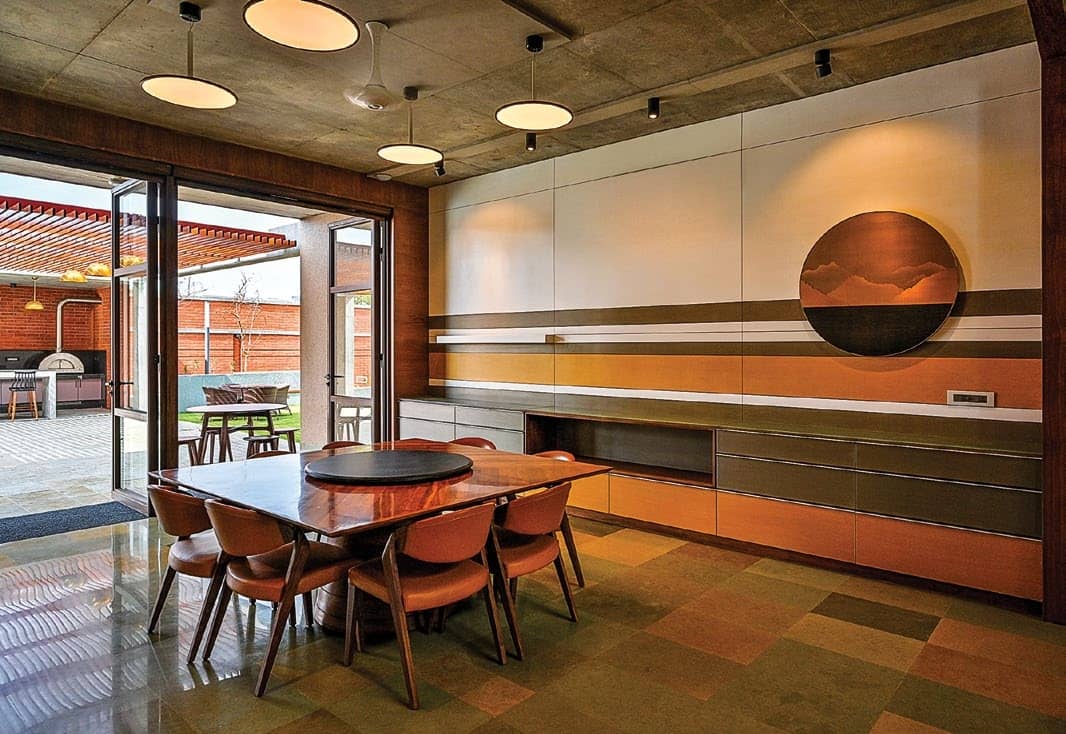 You can read upto 3 premium stories before you subscribe to Magzter GOLD
Log-in, if you are already a subscriber
Get unlimited access to thousands of curated premium stories and 5,000+ magazines
READ THE ENTIRE ISSUE
January 2020