That Holiday Feeling
Australian House & Garden Magazine|January 2020
Summertime and the living is...? Here, six cultural movers and shape-makers share what they're planning, reading and thinking about this holiday season.
Wendy Whiteley
Wife and muse to the late artist Brett Whiteley, Wendy is creator of the Secret Garden, a jewel on the Sydney Harbour foreshore
SUMMER IS... Sunshine and chirping cicadas. I love the beautiful light. It's specifically why I decided to stop living overseas and come back here.
CHILDHOOD MEMORIES OF SUMMER? They are all about the beach. We used to go camping down at Coledale [south of Sydney], right on the beach. Or at Ulladulla [on the NSW South Coast]. Wading into the water, pulling out bucketfuls of prawns and eating them for breakfast, lunch, and dinner.
QUINTESSENTIAL SUMMER MEAL? Really big Queensland prawns cooked in lots of garlic, parsley, and oil on black squid-ink pasta with a green salad. Everybody loves it. Summer food is about a lot of fish and a lot of salads. Simple food, simply prepared so you can soak up the flavors.
FAVOURITE SUMMER PLANTS? Gardenias. And great big blue echiums. And lavender, grevilleas, and hydrangeas. I love flowers you can pick and bring into the house.
WHAT'S ON YOUR READING LIST? Helen Garner's Yellow Notebook: Diaries Volume 1 1978-1987 [$29.99, Text Publishing]. And the biography of my friend, Anna Schwartz [Present Tense: Anna Schwartz Gallery and Thirty-Five Years of Contemporary Australian Art by Doug Hall, $59.99, Black Inc].
SOUNDTRACKS OF SUMMER? Indian music – Ravi Shankar. And I really like the music of Joseph Tawadros, an Australian oud player. Bob Dylan. Leonard Cohen. And classical music.
HOLIDAY FASHION STAPLES? Always deconstructed and loose clothes, like djellabas. And I've always worn headgear – headscarves and cloche hats.
FAVOURITE SUNSET TIPPLE? Pear juice with mineral water and ice. Or Fever-Tree ginger ale.
ULTIMATE HOLIDAY DESTINATION? I'd love to go on a long train journey somewhere. I want two weeks on a train, getting on and off at different stops. I want to slow travel, slow food, slow days.
I UNWIND... In the garden. For me, it's a form of meditation. It's my artwork. It's where my head stops playing the dreary tape – of anxieties, and things you have to do – and I talk to the plants or swear at the weeds. It's a way of losing oneself.
PROJECTS FOR 2020? Tidying up my life. I'm the custodian of the Brett Whiteley legacy. I'm on the foundation of the Brett Whiteley Studio [managed by Art Gallery NSW] and I still curate exhibitions there. I spend a lot of time taking care of that legacy and planning for its future. I'm anxious about the Secret Garden too. I hope it will always be there, a place where people can go and find quiet.
'Brett Whiteley: Lavender Bay' is on at Sydney's Brett Whiteley Studio, until mid-March 2020. 2 Raper Street, Surry Hills; (02) 9225 1881.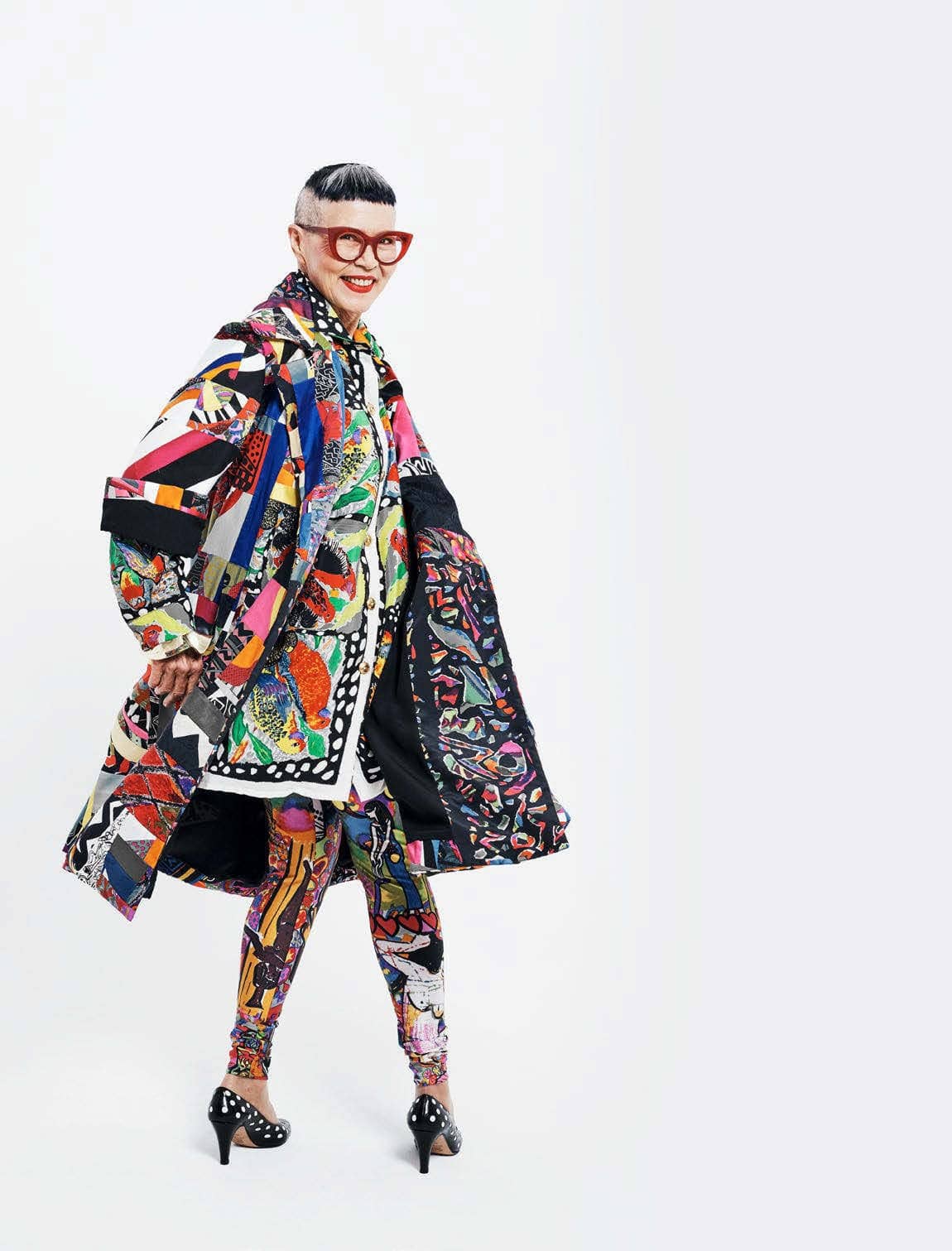 Jenny Kee
Fashion designer famed for high-octane color and her creative partnership with Linda Jackson
SUMMER IS…. I live in the [NSW] Blue Mountains so summer days are hot but it's cool at night. I love those cool summer evenings.
FAVOURITE CHILDHOOD MEMORIES OF SUMMER? They're all about Bondi Beach where I was born and learning to swim at Bondi Baths. I was always the one to swim the furthest out in the ocean. I remember screaming when the shark alarm went off but I loved the adrenaline rush of getting back in. Even as a child I flirted with danger!
AN IDEAL SUMMER'S DAY INVOLVES… Bushwalking through temperate rainforest, ending up at a waterfall and swimming in a waterhole.
QUINTESSENTIAL SUMMER MEAL? A salad with everything… grains, lentils, salmon, eggs, beetroot, carrots, pomegranate, fennel, radicchio.
WHICH FLAVOURS SAY 'SUMMER' TO YOU? Berries, passionfruit, papaya, mangoes and stone fruits.
FAVOURITE SUMMER PLANT OR FLOWER? Native bush flowers like Isopogon (drumsticks), Christmas bells and Leptospermum (tea tree). I love delicate flannel flowers growing on the edge of sandy cliffs.
WHAT'S ON YOUR SUMMER READING LIST? Reading about inspiring Buddhist masters.
SOUNDTRACK TO SUMMER? Ella Fitzgerald or Billie Holiday singing 'Summertime' always does it for me. Also The Harder They Come soundtrack, including Jimmy Cliff's title track and 'The Rivers of Babylon', which takes me back to the Flamingo Park Frock Salon in the summer of 1973.
HOLIDAY FASHION STAPLES? My Speedo cossie wore with my Waratah, Black Opal, Goddess and Nature of Oz scarves as sarongs.
FAVOURITE SUNSET TIPPLE? The Aperol Spritz made by my daughter Grace is just the best drink. My favorite juice is papaya, pineapple, orange, and mint.
ULTIMATE HOLIDAY DESTINATION? An Ayurvedic health resort in India or a simple Buddhist retreat.
You can read upto 3 premium stories before you subscribe to Magzter GOLD
Log-in, if you are already a subscriber
Get unlimited access to thousands of curated premium stories and 5,000+ magazines
READ THE ENTIRE ISSUE
January 2020