Something New at Biggs Junction
Rock&Gem Magazine
|
October 2020
EXPLORING A NEW DEPOSIT DISCOVERY IN NORTH CENTRAL OREGON
Biggs Junction, Oregon, is a well-known producer of some of the finest picture jasper in the world. Any Northwest rockhound who has been around for a while knows what Biggs, Blue Biggs, China Hollow, and Deschutes jaspers look like, and many have specimens gracing their collections. In the past, I've led Rock & Gem readers on a virtual exploration of the areas where the above varieties of jasper are found, and now I want to share with you another of my favorite locales, the Biggs triangle area.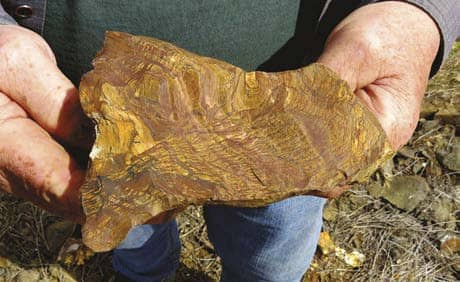 In the January 2012 issue of Rock & Gem, I wrote about a visit our Yakima Washington club made to China Hollow, where we dug in two pits on land owned and mined by Don Hilderbrand. In the March 2015 issue of Rock & Gem, I wrote about Biggs jasper, Blue Biggs jasper, and Deschutes jasper, how each formed, and how to differentiate one from another. I've included a couple of photos in this article that also illustrates the differences. The area where the different jasper outcrops occur is called the Biggs triangle. The area extends from the Deschutes River's mouth — where Deschutes jasper was mined back in the day by Hoot Elkins — to Rufus Oregon, which is east of Biggs Junction, and then on to China Hollow where Don Hilderbrand has been mining jasper and agate for many years.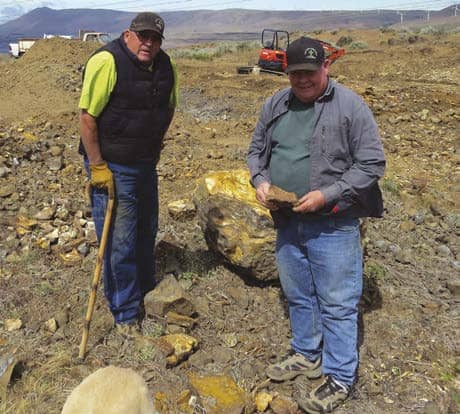 The jasper deposits are present at several locations where erosion from multiple flows of the Columbia River Flood Basalts has exposed the deposits within walls of canyons. One notable occurrence is in the road cut south of US Hwy 97 and south of Biggs Junction, where both classic Biggs and Blue Biggs appear. The Biggs jasper deposits at these localities formed when low lying marshes and shallow ponds were inundated and buried by pulses of lava that emanated from fissures in southeast Washington and northeast Oregon.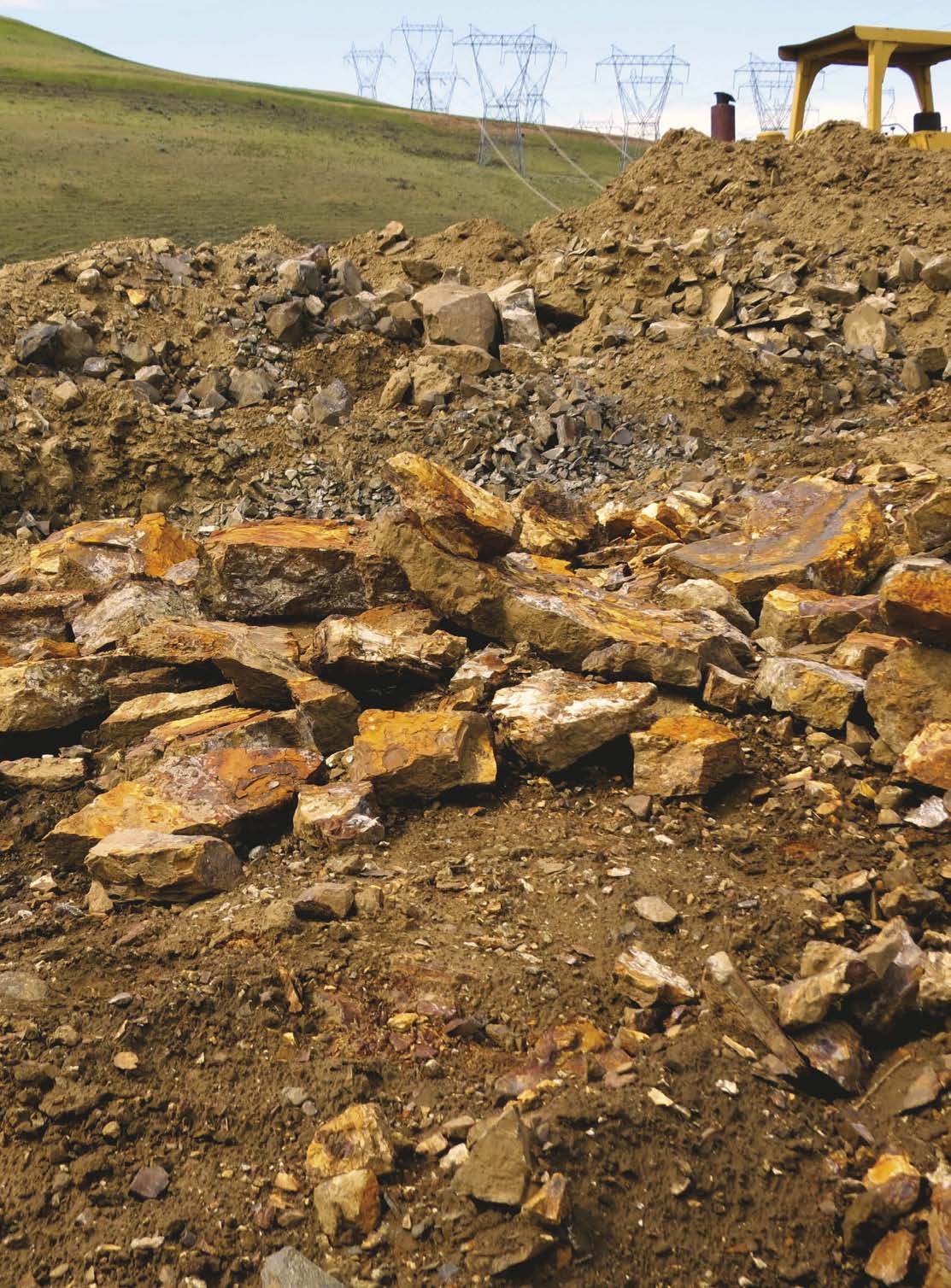 LOOKING BACK AT BIGGS MINING HISTORY
During the rockhounding heyday of the '50s, '60s, and '70s, several active commercial mining ventures were going in the Biggs triangle area with each locality producing material that had distinctive patterning. Over the years, production at most of these localities pretty much ceased as miners and miner/rock shop owners in the area died, and landowners denied access to quarries, or deposits were mined out. For many years the only material that has made its way to market has come from old private collections, long-forgotten stashes, or production at the China Hollow locality.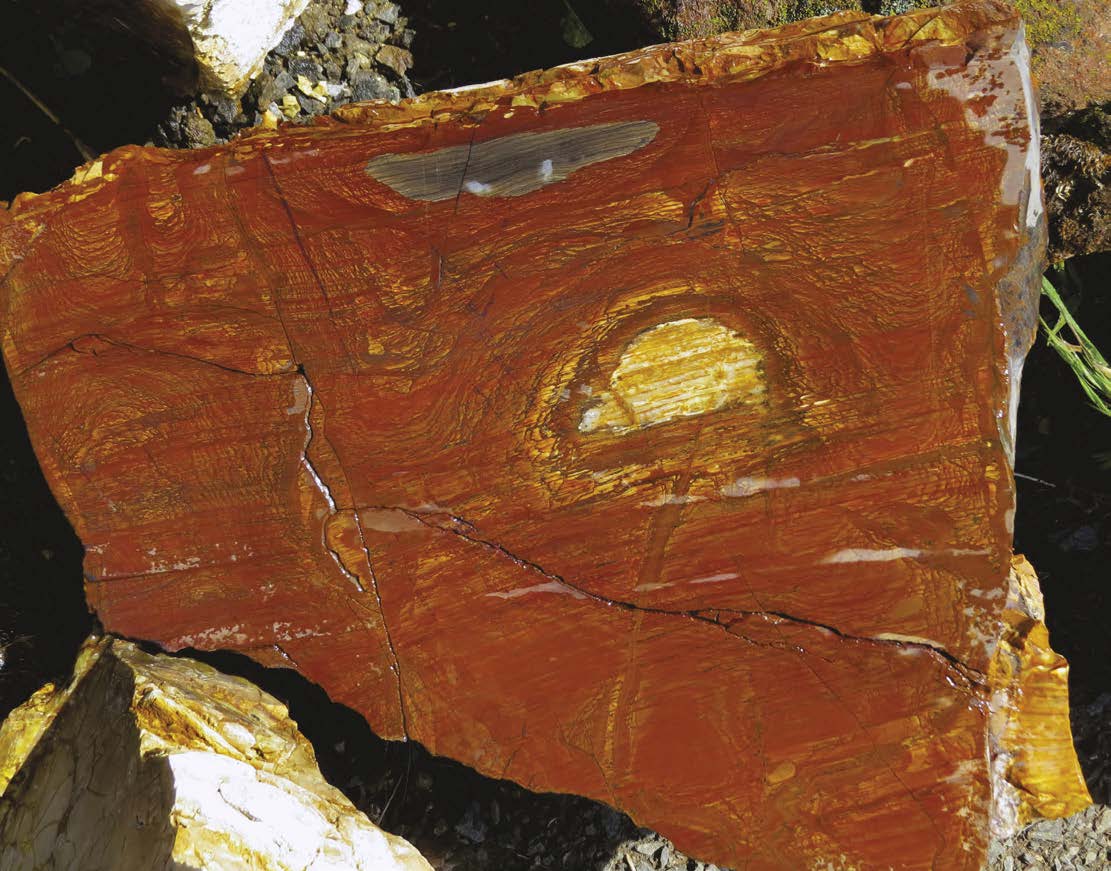 You can read up to 3 premium stories before you subscribe to Magzter GOLD
Log in, if you are already a subscriber
Get unlimited access to thousands of curated premium stories, newspapers and 5,000+ magazines
READ THE ENTIRE ISSUE
October 2020