RHODONITE
Rock&Gem Magazine
|
April 2020
Diverse Formations From Varied Deposits Lead To Global Appeal
Deep in the Central Ural Mountains of Russia are two deposits of rhodonite where solid pink to red lapidary material has been quarried since the 1790s. According to legend, before the modern discovery, the local natives noticed eagles picking up small pieces of red stone to put in their nests. The locals assumed this was for good luck, and so adopted the practice. They called the pink stone orletz, eagle stone, which is now hessonite.
Contrasting the rich red color in much of the Russian rhodonite are pleasing spidery veins and batches of black manganese oxide. They may have invaded the stone's cracks and openings or are leftover molecules in the solution as this calcium manganese silicate rhodonite was forming.
The contrast of the pink to red silicate and black oxide adds a note of beauty to carvings and can challenge a good artist to incorporate the spiny veins into a design.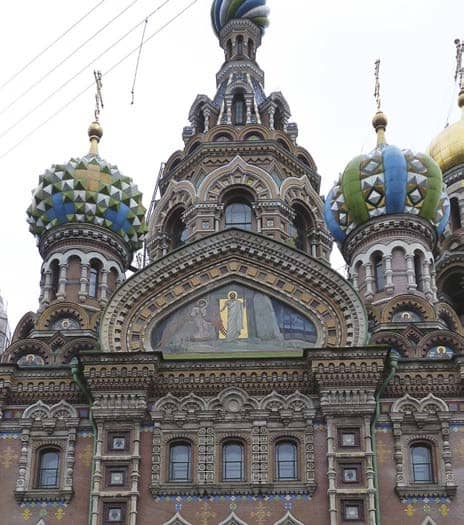 RUSSIA'S FONDNESS FOR RHODONITE
The Russians so highly prized rhodonite it sometimes rivaled malachite, especially for large carvings. Malachite, though found in multi-ton masses was always vuggy, and had to be sliced into smaller pieces requiring matching of its bands to achieve larger areas and patterns, such as a mosaic, to give it a solid appearance. Rhodonite, on the other hand, could be quarried in huge solid masses and large solid blocks, not unlike quarrying marble. These could be shaped and chiseled into all sorts of large solid red objects.
The discovery of two deposits at Maloe Sideinikovo and Borodulskoye in the Central Urals, not far from Ekaterinburg, now Yekaterinburg, gave rhodonite immediate recognition for its potential as a gemstone and carving stone. Today, visit any major museum, palace or cathedral in Russia, and you'll see rhodonite used in every imaginable way along with other Russian gemstones like malachite and lapis. Because rhodonite occurs in huge solid masses, it is particularly suited for carving statues and as a massive decorative stone, even tombstones.
One of the finer examples of carved rhodonite is in the Hermitage, where one room has several free-standing huge bowls, tazzas, and vases. In the center of the hall is a gorgeous five-foot-high pedestal holding a nicely carved square bowl of blue lapis rivaled by an even larger carved pedestal of gray and white Kolyvan jasper holding a shallow bowl eleven feet across. This carving was so huge they had to remove a section of the wall to get it inside.
Also quite impressive is a choice example of Russian rhodonite on a four-foot-high pedestal with a six-foot diameter oval bowl laced with black spider-webbed manganese oxide. We were able to photograph such solid lapidary beauties but were not allowed cameras where the largest example or Uralian rhodonite sits.
You can read up to 3 premium stories before you subscribe to Magzter GOLD
Log in, if you are already a subscriber
Get unlimited access to thousands of curated premium stories, newspapers and 5,000+ magazines
READ THE ENTIRE ISSUE
April 2020