Persevering in Trying Times
Rock&Gem Magazine|August 2020
With the entire country still in a form of shutting down, practicing social distancing, and observing various restrictions, there are no mineral shows, no in-person club meetings, no group mineral activities, and even club field trips.
For those in the lapidary community, you have plenty of time to work with what you have in stock, but that's it. For mineral collectors, your library is there to enjoy. With the regular arrival of monthly mineral magazines, you can at least enjoy stories and adventures while learning more about your mineral collection. Thank goodness for the internet and magazines! With the internet, we can keep in touch with fellow collectors, share knowledge, photographs, and anecdotes about collecting.
INVESTING IN THE 'BRIGHT SIDE'
On the bright side, with no group activities possible, the internet opens up a whole new way of enjoying minerals. Dealers are still marketing their minerals, and collectors, as you know, are more than willing to talk minerals online. Also, if club leaders are on the ball, they have set up some sort of group communication online, so club members can use the internet and email to keep in touch, share stories, talk about past field trips, and share photos.
We have such a group here in Phoenix, with about thirty of us communicating daily about minerals. The group began over ten years ago, just some good collector friends informally visiting each other's homes to see and talk about minerals, and even enjoy lunch. The group grew, with friends inviting friends. Now the group is more formal, and we even set up a mineral exhibit in Tucson each year.
As the group grew to about 30 or so collectors, wives included, it was named "Minions." Normally, we would meet after Tucson each year for "show and tell." Still, this year, group meetings and group activities are no longer possible, so we simply developed a wonderful email communication process. It started with collectors exchanging photos of newly acquired minerals. Then we began sharing mineral information, in particular talking about collecting experiences, old mines we had visited, good finds we had made, and anything that might prove interesting to other collectors.
I'm sharing all this with readers because our local group has managed to keep alive and well, in spite, of the pandemic and social distancing. With the internet, we carry on as before. I'm sure other groups in other cities are doing something similar. If your club leadership has not developed a communication network beyond the formal club newsletter, which is useful but not personal, you need to encourage them to use the internet. I hope that local club members across the country will come up with something akin to the Minions, using the internet. Urge your club leadership to start a communication network to share stories, pictures, and mineral news as we do here in Arizona.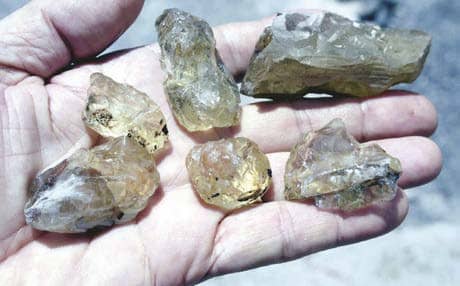 You can read up to 3 premium stories before you subscribe to Magzter GOLD
Log in, if you are already a subscriber
Get unlimited access to thousands of curated premium stories and 5,000+ magazines
READ THE ENTIRE ISSUE
August 2020