PATRIOTIC PRIDE
Rock&Gem Magazine
|
November 2020
Exploring Jerry Muchna's Salute to America in Faceted Quartz
Quartz is one of many common gem materials that can be faceted. With a Mohs hardness of seven, found in crystals of enormous size, and often water clear, quartz is an excellent material to use in learning the art of faceting because it is inexpensive and forgiving.
Quartz does have a small problem, a conchoidal fracture. Though quartz will fracture, its hardness allows it to forgive a mistake so that a cautious artist can work the mineral with care. One real advantage is that quartz is inexpensive and available in crystals of excellent size and quantity. The cost of equipment would be a more significant deterrent to faceting.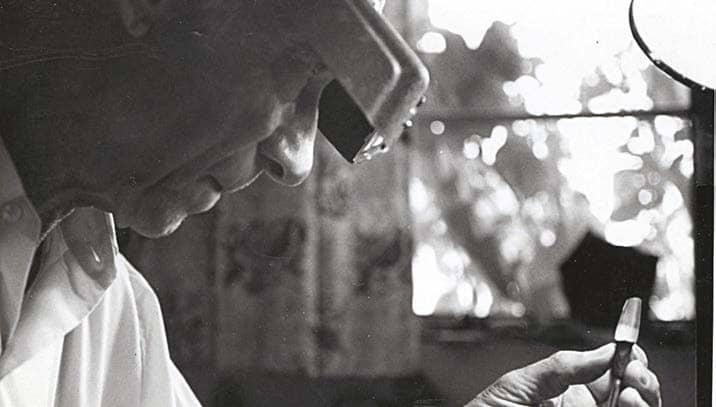 PATRIOTIC INFLUENCE
With November upon us, it's a time when patriotism is even more robust; as the country practices the right to vote, and we honor military veterans on Veteran's Day. These things and more also make it the perfect time to share the story of Jerry Muchna, a long-time rockhound and revered faceter, whose patriotic gemstone carvings are unmatched. He was born in 1905 and sadly passed away in 2000, at the age of 94. Although he was too young to serve in World War I, "the war to end all wars," he developed a very strong sense of patriotism as a teenager, growing up in a small Midwestern town.
During World War I, Jerry and his family participated in various patriotic events at home and in nearby Chicago, attending parades and celebrations. On one such visit, he saw a wooden statue of the German leader Hindenburg. During the event, people were invited to pay 25 cents for a chance to vent their anger by hammering a nail into the wooden Hindenburg statue. Jerry paid a dollar for a nail, which allowed him to hammer the nail into the statue's head. This is one of the many stories Jerry shared with me over the years.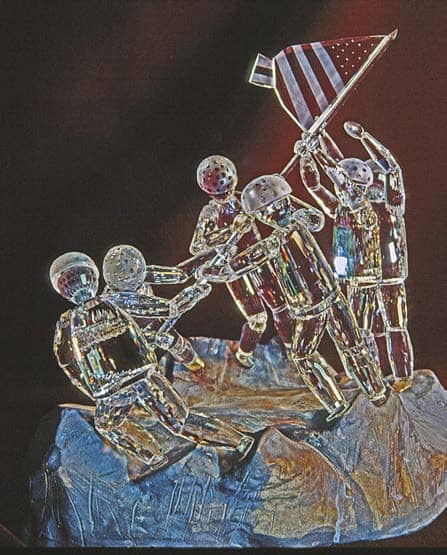 After finishing high school, he went to business college, and in 1928, married Libby, his true love and the woman who would become his lifelong companion. Before the Great Depression, he tried his hand at various jobs, including working at a jewelry store, leather goods store, and a tea company, but with the Depression, jobs were scarce. Eventually, Jerry went back to college to learn mortuary science. By 1938 he was working in the family business with his father, as a funeral director.
When World War II broke out, Jerry, like all men, was issued a draft card number, but his number was never called. Nonetheless, his patriotism remained strong, and he continued to work as a funeral director until his retirement in 1961. Up until that time, he was unaware of the mineral hobby.
It was upon moving to Arizona in retirement that Jerry unexpectedly became a rockhound. His neighbor, geologist Bill Bugman took him rock hunting to Saddle Mountain, an ancient volcanic area known for its agates. During their first of many hunts, Jerry found a lovely agate, which led him to buy a rock tumbler to see the real agate's beauty.
You can read up to 3 premium stories before you subscribe to Magzter GOLD
Log in, if you are already a subscriber
Get unlimited access to thousands of curated premium stories, newspapers and 5,000+ magazines
READ THE ENTIRE ISSUE
November 2020