ON THE ROCKS
Rock&Gem Magazine|April 2020
Eye on Happenings
This month's column could be entitled "The Latest News" as it will touch on several subjects, including shows, museums, and an upcoming mineral retreat.
Every year the Eastern Federation of Mineralogical and Lapidary Societies (EFMLS) holds a wonderful training and educational retreat in North Carolina. The setting is ideal. The location is ideal. The personnel who teach the courses are the best. This retreat is an opportunity for any member of a club affiliated with the EFMLS to immerse themselves in a week-long mineral experience.
With a wide variety of classes to choose from, a field trip offered one day, and daily lectures on minerals, this is a golden opportunity for rockhounds to enjoy and learn more about our hobby while getting to know collectors from all over the east.
What I find amazing is the cost of this week-long retreat. If you vacationed on your own for a week of rockhounding and stayed in a hotel, the cost of such a week would be several times more than what this retreat costs per person. On vacation, you get no training or lectures, but at Wildacres Retreat you get it all. The low cost is because it is a non-profit facility that caters only to non-profit organizations, a win-win situation.
I know so much about Wildacres because on May 18-24, I will be the Lecturer in Residence for the tenth time! My usual schedule during retreat week is to give a talk each morning, except for the field trip day. Depending on the schedule, I may also do an evening presentation or two. I always have plenty of back up talks, just in case. Some years, I've given as many as nine talks during the week, but this time around, I'm scheduled for six formal talks.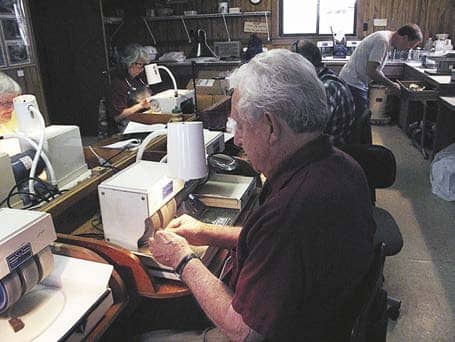 I'm already working on my talks for the EFMLS' 2020 Wildacres Retreat event. One subject I've become quite interested in is "Black Smokers." These are super-hot hydrothermal vents along crustal plate boundaries that are mineral-rich and gush up through crustal faults and drop their rich mineral load. We find them all over the world. These solutions are so hot they dissolved quantities of minerals out of the rock formations they where they originate on their way to the cold ocean waters.
These hot waters are so mineral-rich they are black with mineral content. Some are called white smokers when they pass through mostly limestone type formations. When a black smoker hits the cold ocean waters it dumps its mineral load, forming huge metal deposits, which are mainly sulfides and native elements. By studying rich deposits, we have mined, we now know some of our richest metal mines were formed by ancient black smokers that gushed forth many millions of years ago, eventually ending up near the earth's surface, where we mine them. Today's black smokers will probably be the next deposits mined millions of years in the future!
You can read up to 3 premium stories before you subscribe to Magzter GOLD
Log in, if you are already a subscriber
Get unlimited access to thousands of curated premium stories and 5,000+ magazines
READ THE ENTIRE ISSUE
April 2020