JOHN SINKANKAS
Rock&Gem Magazine
|
November 2020
Award-Winning Mineralogist, Gemologist, Mentor, and Military Veteran
During the 80 odd years I've enjoyed an extensive appreciation of minerals, I've had the good fortune to meet thousands of mineral collectors and lapidaries. I've become friendly with hundreds of professionals in the gem and mineral world, including curators of many major mineral museums and universities in America, Europe, and beyond. Among this vast group are individuals who profoundly influenced me and the science and hobby of mineral collecting.
Within this group of inspiring people, John Sinkankas ranks above all. Dr. John Sinkankas was not only a good friend but a mentor who had the most substantial influence on me in terms of mineral activities. For the science and hobby, John undoubtedly made a more significant contribution to amateur mineral collecting than anyone else I know. He was a skilled writer-teacher whose writings on complex mineral subjects made them understandable to the average rockhound.
Many a mineral collector and lapidary artist can attest to learning a great deal from various books he's written about minerals, gem cutting, and the lapidary arts. Additionally, he also wrote field guides on mineral collecting and prospecting and a series of catalogs providing data minerals and gem materials. He began his writing career in 1951, with a column about amateur lapidary. Then in 1964, he penned the history-making text, Mineralogy for Amateurs. The book made the science of mineralogy more accessible and understandable, and as such, became a popular choice for college syllabuses everywhere. He followed this with many other books including, Emeralds and Other Beryls, which combined his interest in gems and minerals and his strong interest and investigation of pegmatite deposits.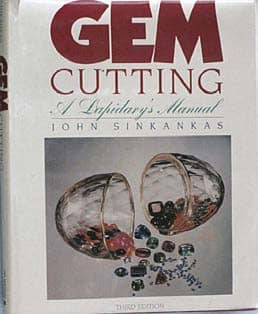 INSPIRED TO EDUCATE
Since he lived in Southern California, it was only logical that he spent day after day digging and investigating its famous pegmatite deposits. This practice partially inspired one of his most famous writings, the two-volume work, Gemstones of North America. Volume one was published in 1959, followed in 1976 by volume two. When John gave me a copy of the second volume, he inscribed it as follows: "I inscribe this with my sincerest regards for all you have done to make our hobby the most interesting!" This inscription was typical of John's support and encouragement.
I met John and his lovely wife, Marge, in 1961, shortly after he completed his military service in naval aviation. As an active collector, he lectured at major shows like Tucson, Pasadena, the Federation Shows, and local club shows where we became friends. By the 1970s, we were writing for the new magazine Rock & Gem, when it started in 1971. By that time, John was also familiar with my column in Rocks & Minerals magazine, which at the time was struggling to survive. The magazine was available for purchase, and John had hopes of keeping it alive. He organized a small group hoping to take over Rocks & Minerals magazine and called me to ask if I would be willing to serve as the editor of Rocks & Minerals if they took over. I had no interest in doing that but was grateful that John considered me. My friend Marie Huizing became its editor and, to this day, continues to do a great job.
You can read up to 3 premium stories before you subscribe to Magzter GOLD
Log in, if you are already a subscriber
Get unlimited access to thousands of curated premium stories, newspapers and 5,000+ magazines
READ THE ENTIRE ISSUE
November 2020