Fueling a Passion for Paleontology
Rock&Gem Magazine
|
July 2020
Getting to Know Father-Daughter Duo Paleo Joe and Paleo Jen
Some people discover their career passion during childhood. In contrast, others may find it as they grow and gain more knowledge and experiences. Still, others may rediscover — a passion they held earlier in life — at a time when they see new avenues to pursue their 'calling.'
Joseph "Paleo Joe" Kchodl is someone who discovered his career passion early in life. He's also someone who rediscovered this interest at various times in his life, while he was honing many of the skills to make this long-time passion his present mission.
Paleo Joe's introduction to what would become his life's passion for paleontology began when he was just ten years old, growing up in Niagara Falls, New York.
"The first fossil I found was an ATYPA, a fossil seashell about one inch long. It was on the escarpment in Lewiston, New York," Paleo Joe explained. "Four hundred million years or so ago, that part of New York was a warm shallow tropical sea, and the escarpment is what is left of the Silurian seashore."
Paleo Joe described how, while walking in the woods, he picked up a rock and smashed it against the escarpment wall (something young boys are apt to enjoy doing) Upon breaking open the rock, the fossil became visible; that was the moment his interest in paleontology was piqued.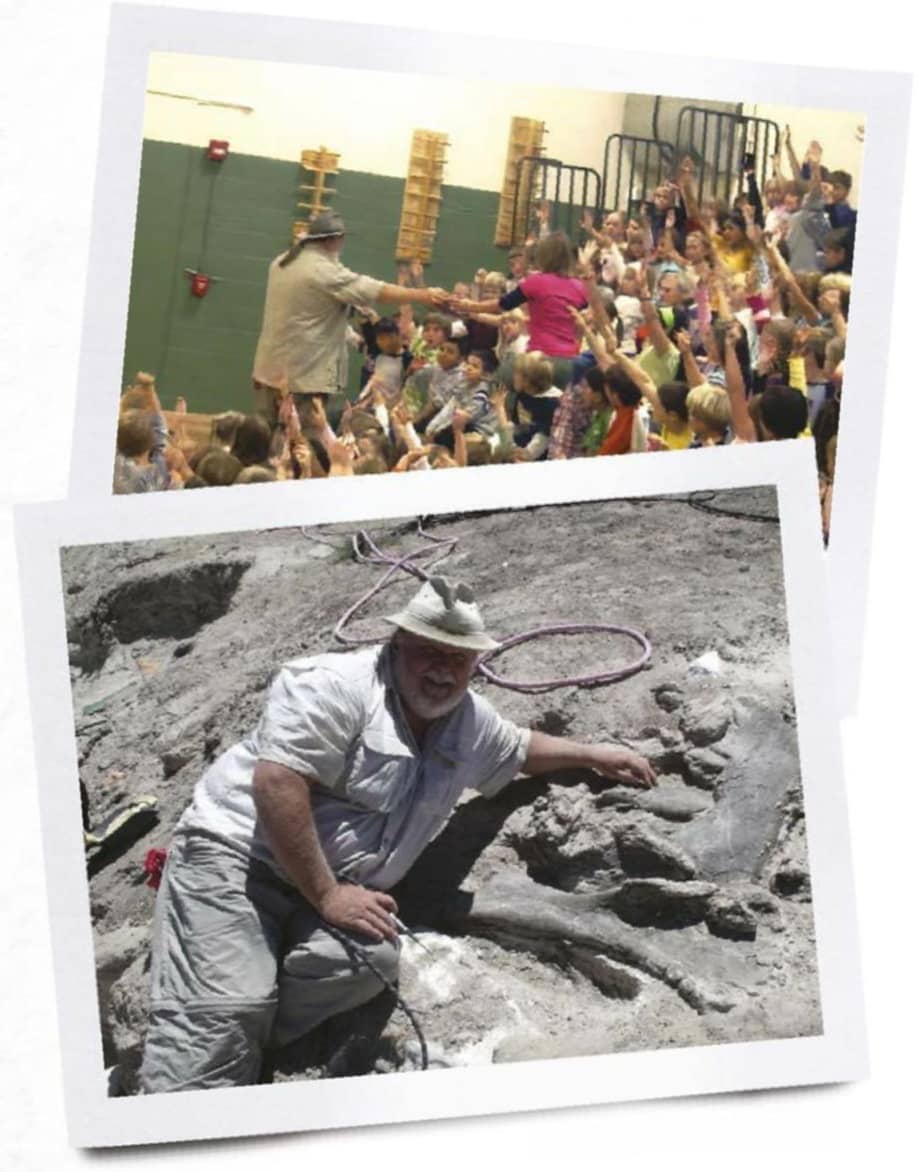 A long-time resident of Michigan, Paleo Joe's interest in science never faded as he became an adult; it only expanded. After graduating with a degree in education, he served in the Army and then began teaching elementary and middle school students in the 1980s. The persona of "Paleo Joe" took shape in the classroom and eventually inspired his current role as a multi-interest expert in paleontology.
"I have been presenting in schools across Michigan for most of the last 26 years. On average, I visit about 20 to 30 schools per year. Mostly elementary schools, but recently I have been visiting middle and high school science or STEM-based programs and teaching what is known about fossils by the evidence we find in the ground," stated Paleo Joe. "Most of my program mirrors educational benchmarks and standards that reinforce what the teachers teach in their classrooms."
You can read up to 3 premium stories before you subscribe to Magzter GOLD
Log in, if you are already a subscriber
Get unlimited access to thousands of curated premium stories, newspapers and 5,000+ magazines
READ THE ENTIRE ISSUE
July 2020