Fruita: The Real Jurassic Park
Rock&Gem Magazine
|
February 2020
WESTERN COLORADO'S DINOSAUR FOSSIL FAME
In much of the world, the 1993 blockbuster movie "Jurassic Park" and its unending sequels have become synonymous with the word "dinosaur." But in western Colorado, the word "dinosaur" is better associated with the town of Fruita and its surroundings. Located ten miles west of the city of Grand Junction and not far from the Utah line, Fruita is a real "Jurassic Park" and a must-see destination for anyone interested in dinosaur paleontology. An imposing, 20-foot-tall, forest-green dinosaur looming over the town square reflects Fruita's pride in its paleontological heritage and history. This model, an accurate, life-sized depiction of Ceratosaurus magnicornis, a Tyrannosaurus-like predator, is Fruita's official "town dinosaur." Along with many other dinosaurs, its fossilized bones were found and excavated only a few miles away.
Not to belittle Fruita's town-square Ceratosaurus, but other nearby dinosaur-related attractions are far more impressive. Among them are an outstanding dinosaur museum, several paleontological research areas with hiking trails and interpretive signs, historic and active dinosaur-bone quarries, opportunities to accompany paleontologists on dinosaur-fossil digs, and even a national monument that showcases the region's spectacular geology.
Fruita's adventure with dinosaurs began in the late 1890s, shortly after a series of remarkable western fossil discoveries, mainly in Colorado and Wyoming, had transformed dinosaur paleontology from an obscure academic pursuit into an exciting and dynamic science with a large public following. These landmark discoveries had all occurred within exposures of the Morrison Formation, the sediments of which were laid down during the Jurassic Period some 160 million years ago.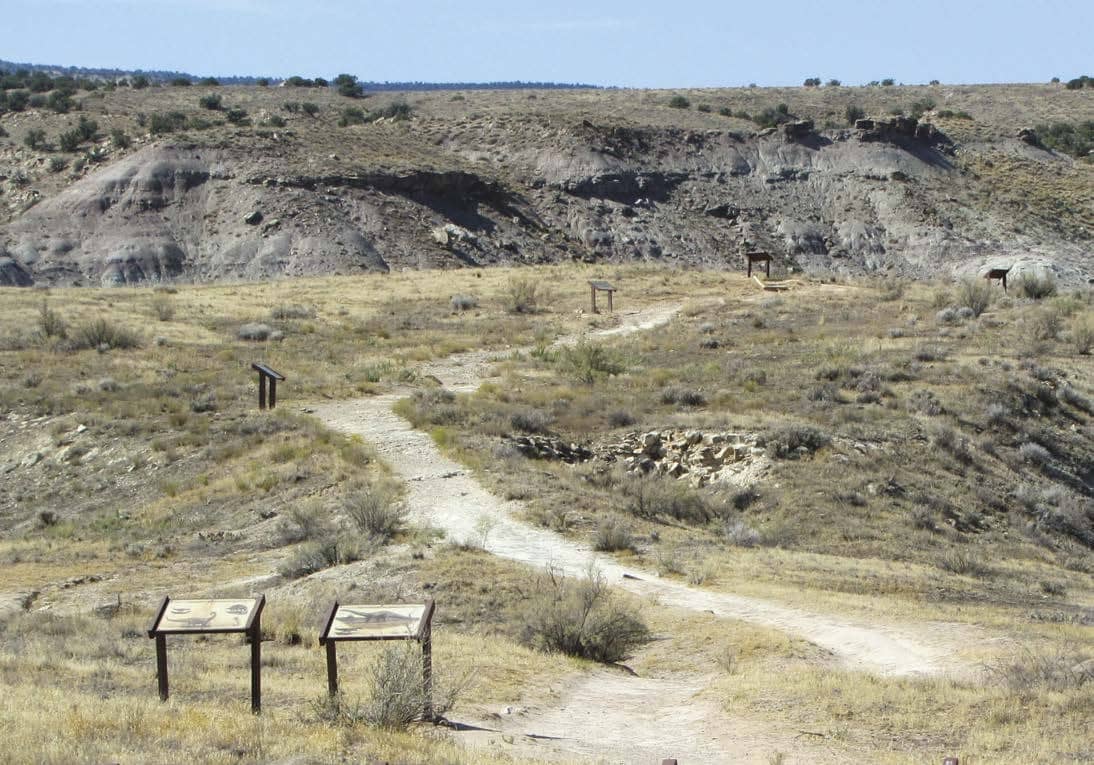 Much of present-day Colorado was then a flat, low-lying coastal plain with sandy beaches, marshes, and tidal flats at the edge of the warm, shallow Interior Seaway. A tropical climate and profuse vegetation supported a booming population of both herbivorous and carnivorous dinosaurs. Varying sea levels, periodic flooding, and heavy sedimentation combined to quickly bury dinosaur remains in an excellent environment for fossilization.
In relatively recent geologic time, erosion exposed sections of the fossil-rich Morrison Formation. In western Colorado, the Colorado River cut deeply into the sediments to carve out the sprawling Grand Valley, the present site of Grand Junction and Fruita.
In some areas, huge, intact, fossilized dinosaur bones protruded from hillsides in plain view. Native Americans flaked the abundant, well-silicified dinosaur bone into tools and points. By 1885, ranchers and sheepherders near Fruita had begun collecting "big bones" to sell as curios to railroad travelers or museums in the East. Several even made bone-hunting a full-time occupation.
But the true significance of Fruita's profusion of dinosaur fossils went unrecognized until the arrival of a 31-year-old paleontologist named Elmer S. Riggs in 1900. Riggs had studied paleontology at the University of Kansas. By the 1890s, he was an assistant paleontologist at Chicago's Field Columbian Museum (now The Field Museum) and participated in field expeditions to Wyoming and South Dakota.
After assisting in several major dinosaur-fossil recoveries, Riggs became determined to discover a new fossil field of his own. But rather than just randomly searching, he began instead by writing letters to a dozen communities near Morrison Formation exposures in Colorado and Wyoming, asking if residents knew of any fossilized-bone deposits.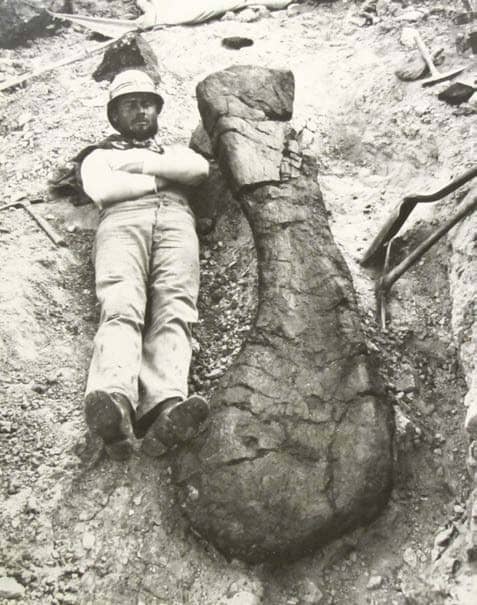 Among those who replied was Dr. S. M. Bradbury, a Grand Junction dentist and president of the Western Colorado Academy of Science. Bradbury reported that dinosaur bones were common near Fruita and that their deposits had never been scientifically investigated.
Intrigued by Bradbury's letter, Riggs asked The Field Museum to fund an expedition to western Colorado. Hesitant to risk funds on unproven bone fields, the museum directors offered only limited support—if Riggs himself would pay part of the expenses.
Riggs agreed, and in May 1900, a group of residents welcomed him at the Grand Junction railroad station. Eager to show off their discoveries, they took him on a tour of known fossil sites. Within days, Riggs recovered the fossilized shoulder bones and vertebrae of the large sauropod Camarasaurus.
You can read up to 3 premium stories before you subscribe to Magzter GOLD
Log in, if you are already a subscriber
Get unlimited access to thousands of curated premium stories, newspapers and 5,000+ magazines
READ THE ENTIRE ISSUE
February 2020