Claim to Copper Fame
Rock&Gem Magazine
|
October 2020
BUTTE, MONTANA'S COLORFUL HISTORY OF BECOMING "THE RICHEST HILL ON EARTH"
B
utte, Montana is referred to as "The Richest Hill on Earth" based on the copper wealth mined there. It was rich in copper minerals but not collector specimens. A list of minerals at Butte proves to be a bit short. Despite years of mining countless ore veins, only one new mineral, colusite, has ever been found at Butte. Other large copper deposits like Bisbee, Tsumeb, and Cornwall have each been credited with at least three hundred different mineral species, including many secondary species. Butte's list of mineral species does not even reach 100.
Many other copper deposits are known for quantities of colorful azurite, malachite, cuprite, native copper. How many colorful azurite and malachite specimens have you heard about from Butte? For the most part, Butte species, though secondary, are gray, gray-black, or black. The majority of Butte's minerals are sulfides, not carbonates, arsenates, or oxides. The deposit was composed mainly of deeply seated veins of covellite, enargite, chalcopyrite, chalcocite, bornite, and rare copper species like digenite, colusite, and djurleite.
So, how did the moniker of "Richest Hill" come to be associated with Butte? In addition to the copper, gold and silver ores helped create the title. Montana started as a gold and silver mining area. Prospectors who failed in their hunt for gold in California often opted to migrate east into the unexplored territories of Idaho, Nevada, and Montana. In southwest Montana, gold was found in several creeks, and by the 1860s, intense gold mining was happening. As the rich placer deposits played out, hard rock mining followed, and the deep-seated Montana veins also began to produce copper in the form of sulfide species. Initially, the demand for copper was low, and besides, copper ores had to be processed elsewhere and needed to be shipped. Unlike many copper deposits, which begin as easy-to-smelt weathered carbonate deposits like that in Bisbee, Montana's deep sulfide veins required complex processing — and as such, were largely ignored.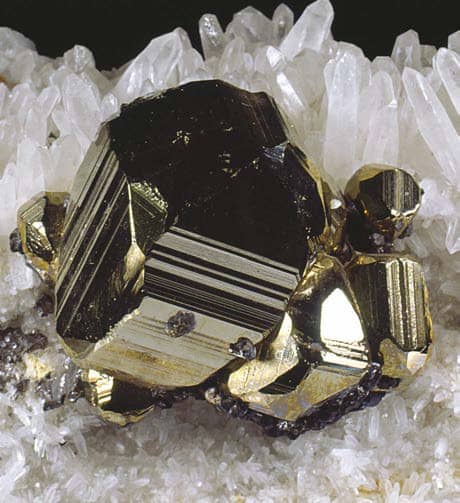 SHIFTING THE MINING FOCUS
During the mining hustle of the mid-19th century, Butte was primarily a silver mining area, with copper minerals as a minor ore. However, as the fourth quarter of the 19th century developed, things changed in Butte. Local miner, Marcus Daly, who was financially backed by George Hearst of the noted Hearst family, was working a silver mine when he hit a rich copper vein about 100 feet wide. About this same time, the Age of Electricity was beginning to take off, thanks to Edison, Tesla and Westinghouse. In turn, the demand for copper grew dramatically, so Daly built a copper smelter at Anaconda, near Butte. Daly's mines began producing vast quantities of the red metal and making Daly a wealthy man. He wasn't the only one.
You can read up to 3 premium stories before you subscribe to Magzter GOLD
Log in, if you are already a subscriber
Get unlimited access to thousands of curated premium stories, newspapers and 5,000+ magazines
READ THE ENTIRE ISSUE
October 2020