CASTANEA CORALS
Rock&Gem Magazine
|
October 2020
Finding Fossils from a Silurian Coral Reef
I have spent countless hours investigating roadcuts, streambanks, and outcrops for fossils. The vast majority of the time, I am not successful. Experienced fossil collectors know that many rocks are barren of fossils, especially in early Paleozoic sediments. Many sedimentary rocks are just vast sequences of shale, sand, and limestone. Whatever lived in the seas or on the seafloor did not always become part of the rock.
If you want to find fossils, you must look in rock sequences conducive to hosting life and preserving fossils. Thick beds of shale, sandstone, and limestone often did not have the right conditions. Shales formed from vast deposits of mud, and sandstones can sometimes represent rapid deposition from alluvial fans or river deltas that could not preserve animal bodies. Limestones, especially early Paleozoic limestones, at times formed from solely chemical precipitates and carbonate mud and often do not have visible fossils.
However, a significant feature that you may encounter in otherwise barren shales, sandstones, and limestones is an ancient coral reef. Coral reefs formed in relatively warm shallow waters and were often full of life. A fossil coral reef is virtually guaranteed to have fossils.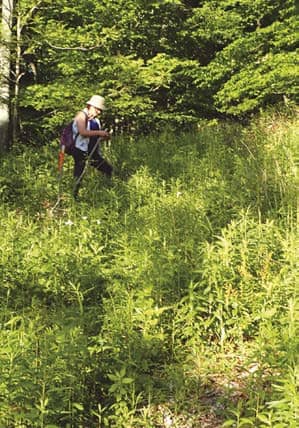 HUNTING FOR CORAL REEF FOSSILS
While coral reefs were undoubtedly extensive, they can often be hard to find, as they are only visible where sections with the reef components are exposed. These exposures may be in roadcuts, stream beds, cliff sides, or in quarries. The reef's presence is often indicated by the remnant structure of corals and other materials that formed the reef.
I live in Pennsylvania and have seen many examples of fossils that formed in coral reefs. Fossil collecting in Pennsylvania is much different in that forests and thick vegetation cover fossil collecting in western states as much of the ground. During the winter, when vegetation is the least, the ground is often covered by snow. If you are going to find reefs, it is essential to do your research and go when you can best see the rocks.
One of the most interesting reefs I came across is just east of Castanea in Clinton County, Pennsylvania. I learned about this locality though the book Gem Trails of Pennsylvania and New Jersey, by Scott Stepanski and Karenne Snow. I have used this guide since I bought the first edition in 1996, and I still have not visited all the sites listed. It is an excellent guide for Pennsylvania and New Jersey rockhounds.
When reviewing this area for a potential field trip, I noted that the area shown on the topographic map is labeled Bald Eagle State Forest, so it appeared to be accessible for field review. Removing rock without written permission from the Pennsylvania Department of Conservation and Natural Resources is not allowed in Pennsylvania state forests. Still, at least one can enter the area to look at rocks. Entering state forests to look is often preferable to sites on private land. Finding the owner and getting permission for access is usually difficult and often unsuccessful.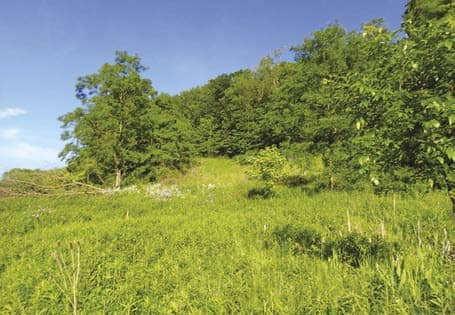 STATE FOREST ADVENTURE
I first visited the area of Bald Eagle State Forest in November 2012. I was with my son and daughter, 18 and 16, respectively, at the time. I cannot remember how I convinced them to join me on the trip, as I usually have to entice them with something else besides fossils. At any rate, we drove to the site and found an excellent parking area on the south side of Youngdale Road. It was great to find nearby and safe parking, as many of the rural roads in Pennsylvania sometimes do not have secure parking near outcrops or other geologic features.
It was late fall when we went, and the vegetation was dormant. Much of the leaves were off the trees, and the long grass had thinned and turned brown, so it was much easier to see rock exposures.
You can read up to 3 premium stories before you subscribe to Magzter GOLD
Log in, if you are already a subscriber
Get unlimited access to thousands of curated premium stories, newspapers and 5,000+ magazines
READ THE ENTIRE ISSUE
October 2020