Feeds & Speeds for CNC Routers
Popular Woodworking
|
August 2020
Understanding the importance of chip load calculations.
If you have spent time using handheld routers then you have developed an intuitive sense for what is the ideal feed rate and speed for the cutter. The feedback is immediate and tactile. You can feel if the bit is chattering as it cuts, hear if the router is bogging down and you know to back off the feed rate and increase the bit speed. If you smell burning wood from cutting you know to increase the feed rate and perhaps slow the router speed down. Changes can be made on the fly to obtain a cut of the best possible quality. A CNC router also needs to run at an ideal feed rate and cutter speed but making changes while running isn't generally an option. The right feed and speed need to be programed into the toolpath before the machine is ever turned on. So how do we determine the best feed and speed without this tactile feedback? The answer is with chip load calculations.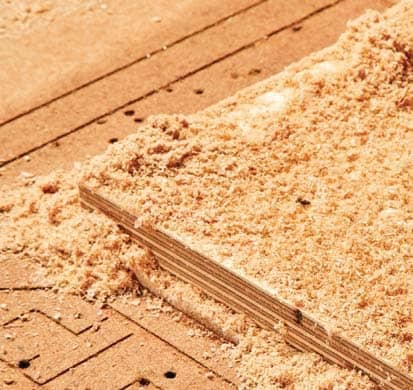 Determining the right speed and feed combination through chip load calculations can seem intimidating when learning to operate a CNC router but once you're familiar with the basics it's not that hard. Your goal is to find a combination that produces the largest chip—the most efficient cut. Large chips mean increased productivity, reduced heat buildup and therefore longer bit life. Most of us hobby woodworkers don't think much about maximizing bit life but CNC routers often run for many hours to complete a project. Fewer individual cuts at cooler temperatures prevents premature dulling of the bit (all of which saves time and money!).
You can read up to 3 premium stories before you subscribe to Magzter GOLD
Log in, if you are already a subscriber
Get unlimited access to thousands of curated premium stories, newspapers and 5,000+ magazines
READ THE ENTIRE ISSUE
August 2020