Knit in a Crochet Magazine??? GRR…
Okay, I'm not really growling. Yes, there are "crochet purists." I have several crochet friends who will probably never pick up a set of knitting needles (or maybe they will after reading this article). On the other hand, I also have a sweet knitting friend, Janet, who staunchly refuses to crochet. But I forgive her because she makes great desserts.
I was thinking about it, though, and the more I thought the more confused I became. Why should knitting and crochet be separate? Both crocheters and knitters love yarn. We both love to relax while twisting and looping yarn into our own special creations. We have a common ground to build upon. And I have to be honest with myself, despite the fact that I am a die-hard crocheter, knitting does have … well … a few unique qualities.
So, being a puzzle fanatic, I've decided to turn my growl into an acronym.
Garter
Roll
Ruffles
Before I explain what those are, I need to mention a few other things about adding knitting to a crochet project.
1. After a crochet stitch is worked, it is taken off the hook and laid down in a horizontal position, leaving only one loop on the hook to begin the next stitch. After a knit stitch is worked, it is held on a knitting needle in a vertical position. Due to the way crochet stitches are worked, they create more bulk than knit stitches. For this reason, one is generally instructed to use a larger crochet hook than the equivalent knitting needle that is recommended for knitting with the same yarn. The larger hook opens the crochet stitches up creating less bulk and allowing the fabric to drape. When adding a knit edging to crochet fabric, it is best to ignore hook/ needle recommendations and use a knitting needle the same size as the crochet hook unless a tighter edge is desired, for instance for a sweater cuff or cap brim, in which case a knitting needle one size smaller than the crochet hook can be used.
2. Circulars? Straights? Double-pointed? Just like in the crochet world where everyone has their own hook preference (my favorites are Quick Silver by Susan Bates), knitters have their preferences as well. For someone new to knitting, I would recommend a circular needle just a little shorter than the crocheted project edge. Don't let the name fool you. Circulars are not just for working in circles; they can also be used to work in rows back and forth, which means they serve a dual purpose.
3. In crochet we have single crochet, double crochet, etc. But there is no stitch called "crochet." In knit there is actually a stitch called "knit." The knit stitch has a reverse stitch called "purl." The purl stitch is a perfect backward knit stitch. This is unique to knitting and comes in very handy when making knit fabric. When you see a knit stitch, if you turn the fabric over you see a purl stitch. And when you see a purl stitch, if you turn the fabric over you see a knit stitch.
Why is that important? It means that the same look can be achieved when working in rows as can be achieved when working in rounds. In other words, edgings can be added in rows or rounds and the look will be the same. For the sake of simplicity, the edgings described in this article will only use the "knit" stitch. The different edging looks will be achieved by working in rounds or working in rows.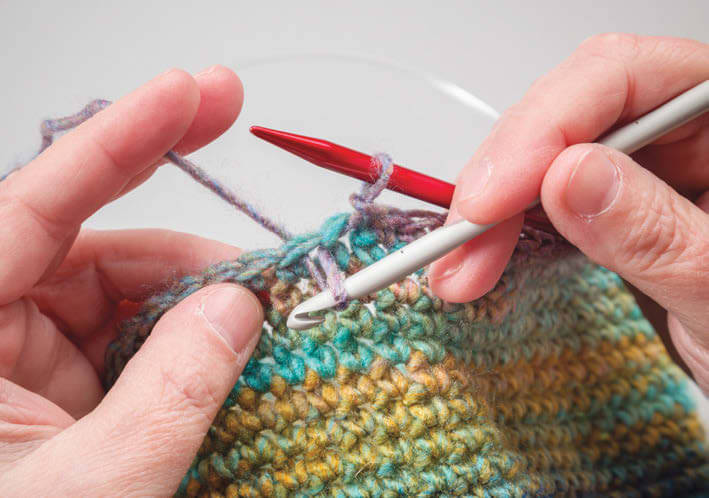 How to Cast On
You can read up to 3 premium stories before you subscribe to Magzter GOLD
Log in, if you are already a subscriber
Get unlimited access to thousands of curated premium stories, newspapers and 5,000+ magazines
READ THE ENTIRE ISSUE
Autumn 2020