Fragile And Powerful Links
Creative Beading
|
Vol 15 No 6
Eden Riley Explores the Beaded Links of the Commonwealth of Nations, Presented by the Australian Association for the Promotion of International Arts and Culture and Curated by the Fascinating Nigerian Princess Jumoke Debayo.

WE ALL KNOW THAT beads are important. The Old English word 'bead' originally meant 'prayer'. Understanding their rich cultural history and significance, one is drawn to the fact that beads are most often found in religious contexts; often either to structure a sequence of prayers, or to invoke the good will of a deity. They also possess a rich, deep, and varied cultural and traditional history.
Jumoke Debayo is a London born journalist, actor, producer and director. Jumoke's recent quest to coordinate an array of beads to be exhibited in conjunction with the Melbourne Commonwealth Games, was a daunting task indeed. Her solution was to concentrate mainly upon beads by the major religions within the 53 Commonwealth nations. The project that Jumoke undertook reflects an aspect of the culture of virtually every Commonwealth Nation, involved significant resources, overseen by her desire to accurately portray the heritage associated with the use of beads by all of the nations linked by their traditional connection with Great Britain.
This vibrant exhibition showcased the diversity of beads throughout the Commonwealth nations. In 1977 Jumoke, along with a group of other visionaries was instrumental in initiating that all future Commonwealth Games include an arts component.
Traditionally, in almost every country of the Commonwealth, males wore the most spectacular of beaded adornments. From the magnificent coral bead robes worn by rulers of African kingdoms, the glories of British Londons Pearly King and Queen outfits, beaded crowns of the kings of Nigeria; belts of yellow lipped cowries in tribal New Guinea. Each story of the beads and their uses as explained in the exhibition is as different and individual as the countries themselves.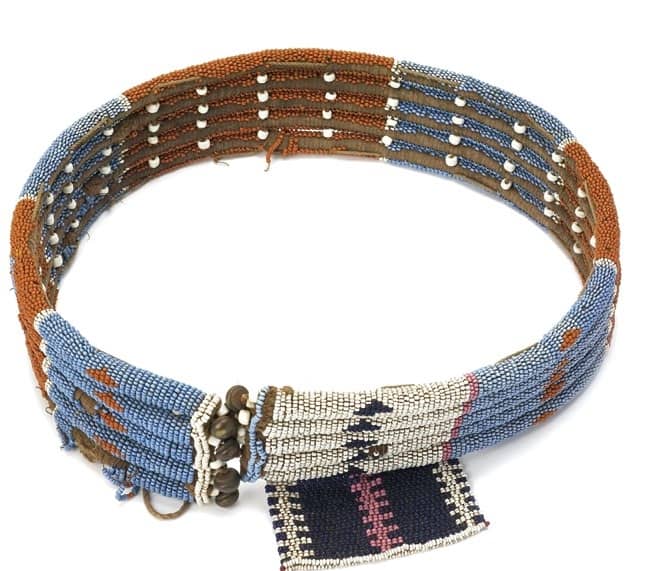 BEADS IN RELIGIONS
The most common religious form of beading is a numbered sequence of beads called a rosary (garland of roses) after its Catholic version. The oldest known example dates to the eighth century BC, appearing to be the string of beads held in the right hands of two winged female figures to either side of a Tree of Life. They usually consist of five groups of ten beads representing the Hail Mary's, divided by five separated beads representing Our Father. The chain of beads is joined often by a silver heart-shaped holy medal, including a short chain of five more beads from which a crucifix is suspended.
The Greek and Russian Orthodox equivalent of a rosary is the komboschoinion (Greek) or vervitza (Russian). It is a knotted cord that is used to count genuflections and signs of the cross. Similar to the Christian rosary beads, the Hindu Rudraksha beads have been worn by mankind for thousands of years for good health and religious attainment. They are used for all mantra recitals in Hindu religion.
You can read up to 3 premium stories before you subscribe to Magzter GOLD
Log in, if you are already a subscriber
Get unlimited access to thousands of curated premium stories, newspapers and 5,000+ magazines
READ THE ENTIRE ISSUE
Vol 15 No 6