Coronavirus Effects On Coin Collecting And Investing
COINage Magazine|June - July 2020
Impact Felt Throughout the Hobby and Industry
By Joshua McMorrow-Hernandez
In some areas, availability of highly sought-after coins, including the 1902 Liberty Head $20, is certainly limited, experts report. PCGS
There's an eerie silence in the world these days. Humankind is hibernating, waiting until it's safe to come back out again. To return to a life we once knew but will never quite be the same again. It's a society transformed by the COVID-19 (or coronavirus) pandemic, a killer that emerged from Asia in late 2019 and quickly swept around the world in a matter of weeks. This virus is unlike any other we've seen since 1918, when the Spanish Flu killed over 50 million people over two years and extinguished the lives of more people than were lost in all of World War I, which ended just as the flu began overwhelming the globe.
Today, we face another pandemic, one that by the time this article has reached readers will surely have already reached millions of lives. Or, maybe, will be reaching an apex. What we do know about this pandemic is that it is unpredictable. It's easily transmissible, can be carried in otherwise healthy people without presenting one outward symptom, and may incubate for 14 days – enough time for an unsuspecting carrier to infect a lot of people. Because of those dangerous wildcards, the United States, along with many other nations around the world, has put a temporary pause on everyday life.
CONSISTENCY OF CHANGE
No more concerts. No more dining at restaurants. No more shopping at the mall. No more houses of worship. Travel bans and local lockdowns have become a way of life for many. Work must be done from home whenever possible. Disney World in Florida and Disneyland in California shuttered their doors for many weeks. The world of sports has been put on hold, with many leagues calling their season over prematurely or canceled altogether. Even Wimbledon was canceled. The virus has touched countless lives – many whom we know of, too. Testing positive for the coronavirus are Britain's Prince Charles, United Kingdom's Prime Minister Boris Johnson, actor Tom Hanks and his singer-songwriter wife Rita Wilson, Spanish opera singer Placido Domingo, and rocker Jackson Browne, among other notables. It has also killed a number of celebrities, too, including country music star Joe Diffie, African jazz artist Manu Dibango, CBS news journalist Maria Mercader, actor Mark Blum, and playwright Terrence McNally.
COVID-19 has also taken the lives of people in the numismatic community. Prominent New York coin collector, prolific numismatic author, coin organization officer, and ophthalmic surgeon, Dr. Jay M. Galst, succumbed to the virus on April 11. An earlier United States death related to the virus was that of a prominent 71-year-old California coin dealer whose name is being withheld at the request of his family and friends.
Photographer Todd Pollock regarded the unnamed dealer as a mentor. "I had been going to this shop since I was 12. I could not believe the dealer has passed under these circumstances. He came to my high school graduation party and college graduation party and had become a family friend."
Pollock, who owns numismatic photography firm BluCC and runs his business in Sacramento, California, says he owes his career, a hybrid of coin dealing and photographing coins, to this dealer, too. "Without this dealer I would likely not be dealing and photographing coins. At a young age he treated me right." He remarks, "I still have an A-mark round I bought from him when I was around 12 […] and a 'rattler' 1880-S Morgan dollar with some color that is the longest-owned piece for my set of slabbed coins in my collection." He was a close friend of the family, too. "In more recent years my dad saw him much more than me for lunches on occasion. They were two peas in a pod, and I know he is shocked by the news also."
The passing of Pollock's dear friend puts a human face on the pandemic for us in the numismatic community. Ours is an industry that never seems to stop moving. But, for COVID-19, we have. And we have in ways that we probably could not have imagined a year ago. Coin clubs have stopped meetings. Coin shows have been canceled. Coin auction firms moved events slated for the floor to online virtual spaces. Stack's Bowers Galleries, one of the biggest firms to have hosted an event affected by coronavirus up to the time of this writing, had to move a major auction event slated for the Spring Whitman Coin & Collectibles Expo from Baltimore, Maryland, to the auction house's headquarters in Santa Ana, California.
Its March 2020 auction, which included many noteworthy lots – including a Class III 1804 Draped Bust dollar and 1854-S Liberty Head half eagle, was relocated when the show it was going to headline, the Spring Whitman Coin & Collectibles Expo in Baltimore, was canceled. Stack's Bowers Galleries still managed a successful auction, as is reported by Greg Reynolds, beginning on page 56, of this issue of COINage. Among the highlights were a Proof-55 1804 Draped Bust dollar and AU58+ 1854-S Liberty half eagle with Certified Acceptance Corporation sticker taking $1.44 million and $1.92 million, respectively. The sale of both coins, graded by Professional Coin Grading Service, was much anticipated throughout many corners of the numismatic community. But, so, too, on everybody's numismatic calendars was the Spring Whitman Expo, an event that ushers in the throng of mid-year coin shows.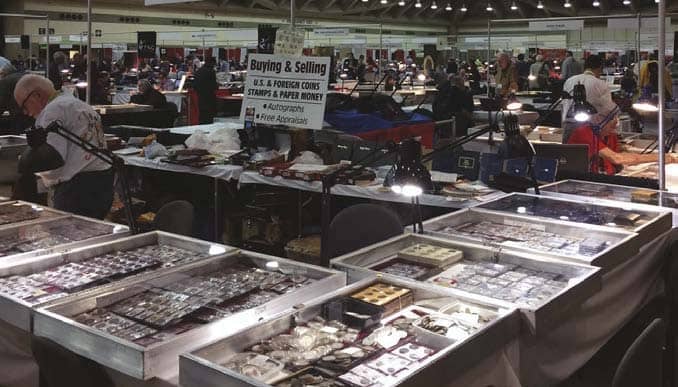 Collective understanding from dealers and collectors was prevalent as organizers of the Spring Whitman Coin & Collectibles Expo grappled with going ahead with the show before a lockdown was established. This photo is from an earlier Expo. JOSHUA MCMORROW-HERNANDEZ
SHOW ASSESSMENT AND STRATEGIZING
There was collective understanding from many dealers and collectors when they heard the news that the Whitman Spring Expo, slated for March 19-21, was canceled. "We've received only positive feedback about the decision," says General Manager of Whitman Coin and Collectibles Expos Lori Kraft. "Dealers and collectors were equally concerned about their health and wellbeing and have showed great appreciation for us taking the time to evaluate all the factors prior to canceling. Our dealers really rallied behind us believing and trusting that we would make the correct decision," she remarks. "Everyone has been extremely understanding and supportive."
Of course, it's not easy making a decision to cancel a major event like the Spring Whitman Expo, one of the largest events on the spring numismatic calendar. "There were many factors that had to be considered prior to canceling," explains Kraft. "The first of course was the health and wellbeing of our dealers and attendees. The COVID-19 novel coronavirus situation was so rapidly evolving that at times it had changed before we had even hung up the phone or finished reading an article."
Another challenge? Keeping up with the crisis on the ground in Baltimore. "We were constantly checking in with Visit Baltimore, The Baltimore Convention Center, the Centers for Disease Control and Prevention (CDC), and the World Health Organization (WHO) regarding the COVID-19 activity both locally in Baltimore as well as nationwide, which led to another factor of consideration. We understood the financial importance that the Whitman Expo would provide to the dealer and collector community so our decision would be made with all these factors being considered."
You can read up to 3 premium stories before you subscribe to Magzter GOLD
Log in, if you are already a subscriber
Get unlimited access to thousands of curated premium stories and 5,000+ magazines
READ THE ENTIRE ISSUE
June - July 2020