Eye of Observation
Draw, draw, and draw some more; develop your artist's eye of observation. Sterling advice from a lady who believes that seeing shapes in paintings requires a truly 'arty' eye.
Melbourne in Victoria was my birthplace. I have spent 34 years in Tasmania, however – where I did most of my painting. I moved to Ultima in Victoria (in the Mallee) one year ago, after my husband died. The town is located 30 kilometres from Swan Hill with a population of 61. I work every day painting, studying or reading about art in my studio at my home.
Before I became ill, I lived in Tasmania at Murdunna and I worked at the Port Arthur Historic Site for many years. After the massacre of 28 April 1996, I became very ill with Post Traumatic Stress Disorder which is a debilitating mental illness. I had a mental breakdown. I was very sick for years. Because this illness is incurable, I have to live with it every day. Management of the sickness and medication is the only way to have any control over my life.
My painting has become most important to me, and I am truly fortunate to have such an outlet. I study art and I want to learn and develop my art to become more proficient; and more able to help others to enjoy the great pleasure that painting can give them.
I have not had formal art training other than Year 11 and 12 Art as a mature age student – but I have painted from my earliest memory, on everything and anything I could get my hands on. I have worked with a few rather well known artists in Tasmania.
I am passionate about colour and its behaviour when mixed; also the effects made possible by experimenting with colours, particularly the colours of the Australian Outback, the bush and farming … in every painting I want to venture in and wonder what is going on. Hopefully viewers of my work want to join me and take adventures to see over many horizons.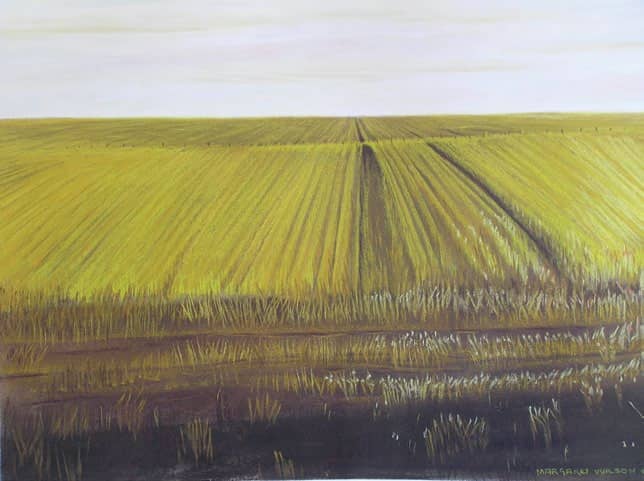 I read and study much about art. I experiment and take thousands and thousands of photographs. I study the colours of the sky, land, creatures, trees, dirt, rocks, undergrowth; their structure and shapes … then I create artistic works using all of the above.
I began painting as a child. As an adult, I paint almost every day. I paint for myself … for my head and my heart. If someone wants to buy any of my paintings, I will discuss that with them. My intention is to share my skills and encourage others; learn from others and develop further my passion to tell Australia's story in drawing and colour.
You can read up to 3 premium stories before you subscribe to Magzter GOLD
Log in, if you are already a subscriber
Get unlimited access to thousands of curated premium stories, newspapers and 5,000+ magazines
READ THE ENTIRE ISSUE
No 172