Patients' Privacy & Data Threat In Digital Era
With healthcare service providers leveraging various digital tools, connected devices, and automated processes to bolster patient care, data privacy and security have emerged as major threat nowadays. As large amount of data is exchanged at various levels especially in form of EHR, and other clinical information, personal data of patients remain at stake which needs to be preserved from prying eyes of cyber attackers. Mukul Kumar Mishra of Elets news Network (ENN) explores various facets of data security, associated challenges and possible way out.
In the last few decades the whole narrative of delivery of healthcare services has witnessed huge transformation due to sea change in requirements of people who don't want only quality and affordable care nowadays but want to play an active part in patient care mechanism. Cutting-edge technology, mobile applications, and various automated processes have not only led to personal touch to care but also bridged the multifarious gaps between providers and seekers. While the technology has proved game changer in facilitating things, it also poses risk at times if not used in prudent manner. Precautionary measures are must to not let it become fatal for patients.
This holds true for deluge of healthcare data which is vulnerable enough to be compromised easily in absence of proper security compliance.
DATA BREACHES, PRIVACY AND SECURITY AMONG BIG CHALLENGES
With the healthcare industry making giant leap towards digitalization, there is tons of patient data being generated by hospital chains, labs, and private clinics & practioners.
"Digital Health or Electronic Health Records (EHR) maintains the data of patient's name, age, contact information, vital Signs, investigation reports, present & past history, allergies, and present & past treatment details. It's challenging task for IT to prevent all the personal and critical information of every individual," says Chandrasekar Reddy, CIO, Jupiter Hospital
In the wake of various automated applications undertaken by service providers to ease of processes and bring more transparency in delivery of care, the data breaches, privacy and security are major issues baffling Industry people.
"Data security in health informatics is a top concern not only for enterprise and small hospitals, but for everyday patients & provider as well. With widespread data breaches exposing everything from healthcare provider's login credentials to personal health records, patients must be savvy about data security and take steps to protect their own information," says Abdullah Saleem, CIO, Omni Hospitals.
Shuvankar Pramanik, CIO, Sir Ganga Ram hospital believes, "Healthcare organizations are particularly vulnerable and targeted by cyberattacks because they possess so much information of high monetary and intelligence value to cyber thieves and nationstate actors. The targeted data includes patients' protected health information (PHI), financial information like credit card and bank account numbers, personally identifying information (PII) such as Social Security numbers, and intellectual property related to medical research and innovation."
DATA—PLAYING PIVOTAL ROLE IN TRANSFORMING HEALTHCARE ECOSYSTEM
The recent years have seen a radical shift in how data is collected, stored, maintained, managed, and analyzed, encrypted and visualized. This new ecosystem has the potential to not only improve disease prevention, but also increase the accuracy of diagnosis, provide safe medications, and make treatments more effective. It encourages a personalized and patient-centric approach to medicine instead of 'one-size-fits-all'.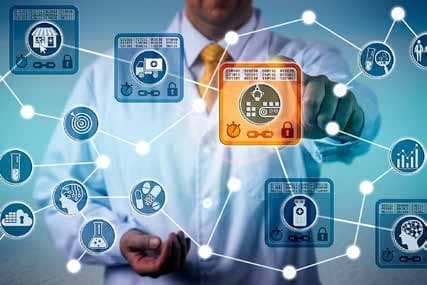 TECHNOLOGY-DRIVEN APPLICATIONS MAKE DATA EASILY AVAILABLE AND ACCESSIBLE
You can read up to 3 premium stories before you subscribe to Magzter GOLD
Log in, if you are already a subscriber
Get unlimited access to thousands of curated premium stories, newspapers and 5,000+ magazines
READ THE ENTIRE ISSUE
March 2020