STANDING TALL
Yoga Journal
|
September - October 2020
Criminal justice advocate Steven Medeiros is taking life's challenges in stride.
On a breezy late-May afternoon in Berkeley, California, Steven Medeiros stands atop a craggy peak in Indian Rock park, a popular bouldering and hangout spot that overlooks the San Francisco Bay skyline. With a denim jacket flung across his shoulder and the wind in his face, the 42-year-old looks more like an Avenger or a GQ cover model than a UC Berkeley student. In a few weeks, Medeiros, who lost his left leg in a motorcycle accident when he was 25, will travel to Honolulu for a summer gig working on the ACLU of Hawaii's Smart Justice Campaign, a national criminal justice initiative that aims to reduce the prison population and address prosecutorial accountability. An activist and advocate for police accountability and prison reform, Medeiros is pursuing a master's degree at Berkeley's Goldman School of Public Policy (ranked one of the country's best) so he can effect change from the inside by helping to reimagine current systems and structures.
Medeiros, who identifies as Latinx and Hawaiian, has both witnessed and experienced the oppressive, detrimental effects of the American criminal justice system on people of color and impoverished populations. Growing up in Fremont, a racially diverse city in the Bay Area, he was exposed early on to police harassment of his community. His mother, a single mom who suffered from addiction, was incarcerated for a drug offense when he was only four years old. With his father out of the picture, Medeiros went to live with his paternal grandparents, who raised him. Eight years later, newly released from prison, his mother was murdered—run down by a truck while walking home from her job at a fast-food restaurant in East Oakland. The case went unsolved, but witnesses say they saw the truck chasing her, suggesting it was a targeted attack. As an adolescent, the impact on Medeiros was monumental. "For the next nine years, I engaged in a lot of toxic behavior, hanging out with troublemakers, gang members, people from broken homes who were dealing with similar things that I could relate to," he says.
In that time, Medeiros's interactions with law enforcement shaped the trajectory of his career. When he was 21, he was assaulted by a police officer with a tire iron during a routine traffic stop. At 22, he was racially profiled and arrested "for being brown downtown," he says—booked for public intoxication although he had not been drinking. "It was the first time I had truly felt helpless and powerless," he says.
Twenty years later, his goal is to help make sure other people never have to feel that way. As a policy student, the issues he's most passionate about are police and prosecutorial accountability, mass incarceration, and reentry for formerly incarcerated people. To that end, before enrolling in graduate school, Medeiros worked at the ACLU of Northern California as a program coordinator in the Organizing Department and now serves as a county commissioner for Alameda County, where he's hoping to improve the challenges surrounding prisoner reentry at a local level.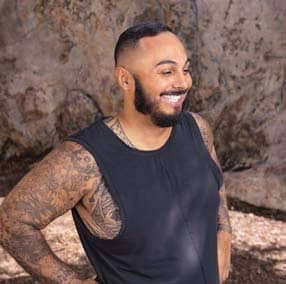 Forgiveness and family have been central to Medeiros healing from his childhood traumas. Being a compassionate and loving father to his daughter, Destiny, who at 23 has marched with him in Pride parades and Black Lives Matter protests, is his utmost priority. The like-minded duo share similar political opinions and that activist spark. On weekends, they can often be found restaurant hopping in San Francisco or exploring the outdoors. Medeiros has worked hard to instill values in Destiny such as tolerance and "not subscribing to or being confined by societal gender roles" since she was young. "Another thing I emphasized with her was that we never use the word 'hate,'" he says. It's OK to "dislike something a lot," but negative feelings and emotions are not to be harbored.
In fact, the not-so-simple act of absolving his own parents for their shortcomings is what finally turned his life around.
Although he can recall a time not so long ago when he was considered a bad influence among his own family, Medeiros has grown into a role model for those who orbit him today. "His ability to be unapologetic in his stances—in his beliefs and values—has given me the courage to also live my life confidently and proudly," says his cousin Sofia Dangerfield, who credits him with helping her two daughters grow into "open-minded little beings."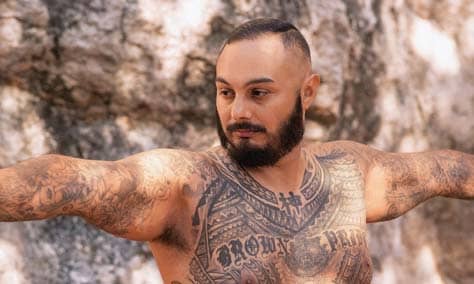 "People always tell me, 'You're the most balanced person I know,'" Medeiros says. "And I'm like, Holy shit! That's so far from the truth!" But the yoga and meditation practices he's developed over the past 20 years do help him stay balanced and grounded when times are tough. "Right now, there are so many regressive policies happening in our country, and all these victories that we've fought for—for people who need it the most: people of color, women, LGBTQ folks—are being rolled back," he says. He knows being a changemaker won't be easy, but when overwhelm threatens to slow him down, his healing practices will help him power forward. "Equanimity, my favorite word, means having composure when things are chaotic and wild around you," he says.
Here's what else Medeiros had to say about what fires him up and keeps him cool—including police and prison reform, Accessible Yoga, and healing after a life-threatening injury.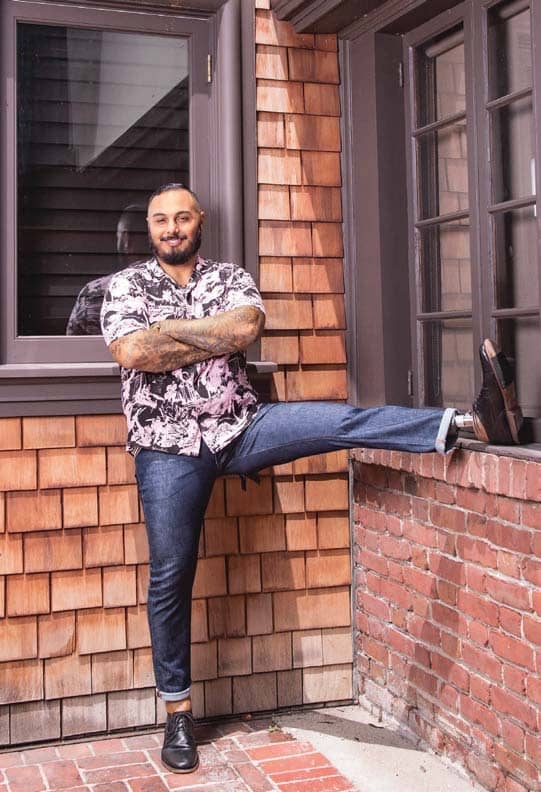 You can read up to 3 premium stories before you subscribe to Magzter GOLD
Log in, if you are already a subscriber
Get unlimited access to thousands of curated premium stories, newspapers and 5,000+ magazines
READ THE ENTIRE ISSUE
September - October 2020