The Rise Of Takkies
Women's Health South Africa
|
December 2018
Meet The Woman Who Turned A Love Of Dance Into An Empire And Who's Building Women's Confidence One Strut At A Time
We asked Nkateko Dinwiddy, better known as Takkies, to be our December cover star. The catch: we needed to shoot her ASAP. "I can shoot tomorrow," she says enthusiastically. "My body is ready!"

In case you're wondering, this is not a usual response from a cover star – especially one who's still breastfeeding her (then) seven-month-old baby. But "usual" has never been a word to describe Takkies.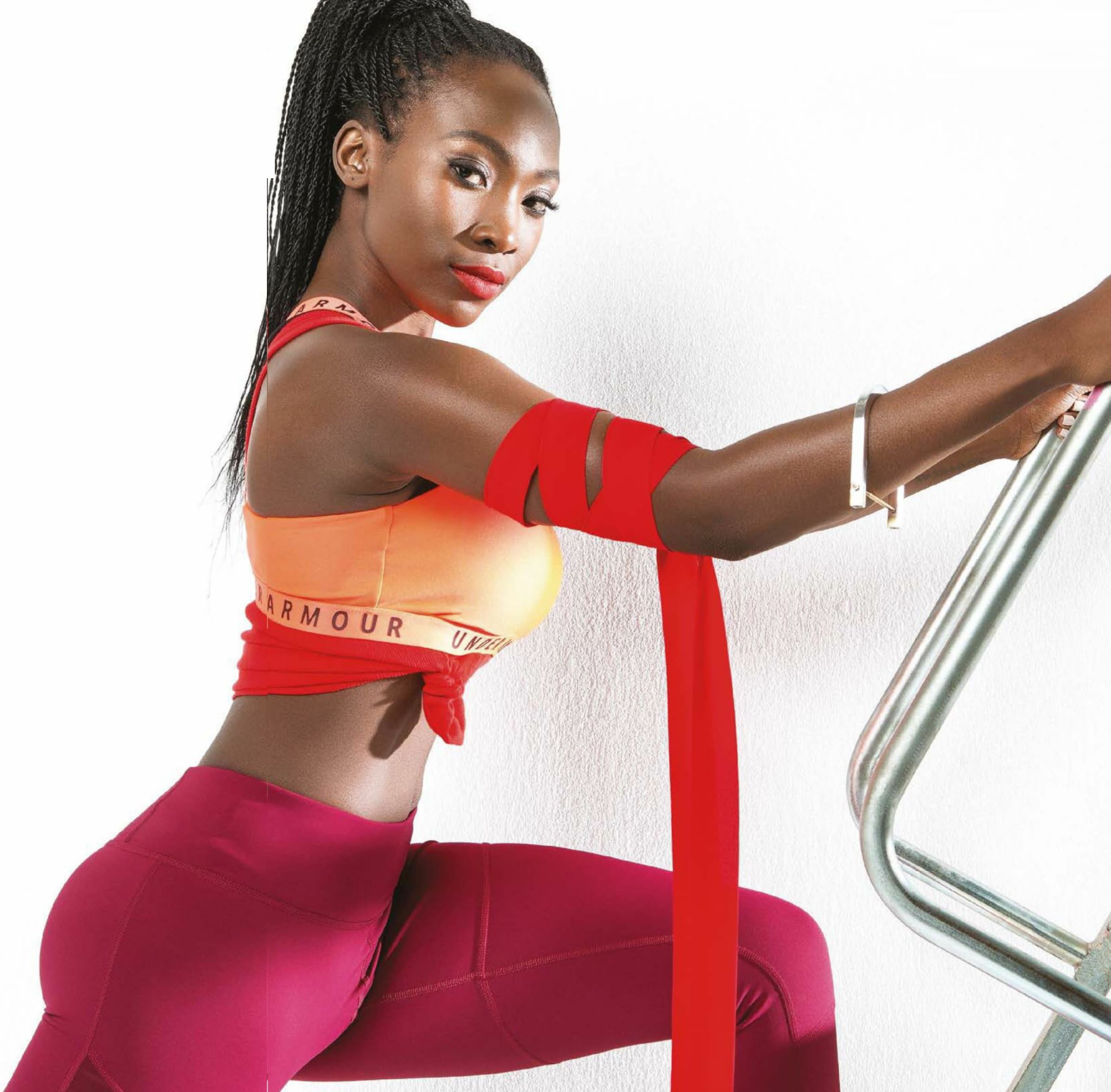 Queen of confidence
A couple weeks later, Takkies bounces into her cover shoot with baby Sana on her hip and a big, pearly-white smile on her face. The 28-year-old radiates positivity with every belly laugh and playful booty pop.
She's just left the make-up chair, where she sat breastfeeding Sana, while having mascara applied. "These breastfeeding boobs," she laughs. "Can you tell I just fed? They're like, woooo, gone!"
It's this genuinely positive, love-your-body-as-it-is attitude that has garnered Takkies 227K followers on Instagram and a loyal tribe of women who show up at her Rockingnheels dance fitness sessions every week. The high-energy classes – literally performed in heels – are a fun way to sculpt your legs and core while singing along to banging dance tracks and learning rhythm and coordination. But it's the powerful message behind the moves that keeps women of all shapes and sizes coming back – one of confidence, empowerment and self-love.
"I target women who have two left feet, who don't like their bodies, who don't even like wearing tight stuff," says Takkies. "Whatever movements I teach, I make sure they're touching their thighs and their stomach and their arms – I make sure they do things that make them feel uncomfortable, but at the same time good. Whatever routines I teach, I say, 'love your beautiful body' or 'appreciate those gorgeous thighs'. And because I keep repeating those things, it gets stuck in their brain and next thing, they'll start repeating it and they don't even notice that they're starting to be more confident, starting to touch and love themselves."
Dawn of a revolution
Takkies started Rockingnheels in her early twenties to battle her own demons. After finishing school, she'd taken a gap year during which she worked odd jobs and saved enough to travel to Los Angeles for a summer intensive at the Debbie Allen Dance Academy.
After the month-long intensive – which she says was a good, but humbling experience – she decided to stay in LA, learning new dance styles at different studios.
For six months, life was amazing. And then her father passed away. Takkies returned home with a broken heart, all her dreams and aspirations abandoned.
You can read up to 3 premium stories before you subscribe to Magzter GOLD
Log in, if you are already a subscriber
Get unlimited access to thousands of curated premium stories, newspapers and 5,000+ magazines
READ THE ENTIRE ISSUE
December 2018