Own Your Sport
Women's Health South Africa|August 2020
Every month on these pages we celebrate sportswomen who have reached the top of their game – often against overwhelming odds. But the world of sport is so much broader than the elite athletes who compete at the highest level. There are also the support crews who put in the hours off camera to keep athletes in peak performance shape. And there are the weekend warriors – the ordinary women who may never wear green and gold on the international stage, but who have no less passion for their chosen sport. Just like top athletes, these women have to face an additional opponent whenever they step onto the field or track or course: doubt. So this month, two successful women are here to tell you that neither self-doubt nor the scepticism of others should hold you back. You deserve your spot. Own it.
"I never thought that the national team would consider a female."
Rene Naylor, Springbok rugby team physiotherapist
Rene Naylor was in Japan last year when the Boks claimed their historic victory at the Rugby World Cup. As the team physiotherapist, she was part of the support staff working behind the scenes to keep the players in match-winning shape – the first woman ever to occupy that role.
BREAKING NEW GROUND
Rene qualified as a physiotherapist in 1993 with a master's degree, specialising in sports. She's always been interested in rugby. "I started working in 1993 and in 1995 the Rugby World Cup was hosted by South Africa. I went to a game at Newlands Stadium," she says. Rene started a physiotherapy practice in the Cape Flats in Mitchell's Plain in 1996 and began working with a local rugby club. She acted as team physiotherapist and assisted with diets, advising the players on the best ways to eat and take care of their bodies. "I was involved with the warm-ups too – it was amazing for me to apply everything that I was learning at the rugby club," says Rene. Her office was a container. "It wasn't very prestigious; we didn't have lighting on the field, but I was very excited to be part of that process," she recalls.
A BOK'S WORLD
Rene went on to work at provincial level with Western Province Rugby and in 2008 she was offered a position at the Springboks. It came as a massive surprise to her. "I never thought that the national team would consider a female. I didn't expect that, as a black female, this was even an option at that stage," she says. She remembers feeling a great sense of responsibility to prove herself and to succeed as a woman of colour in the world of sport. "I really felt the pressure to work really hard. I'm really grateful that I've stayed in this field for such a long period of time," she says.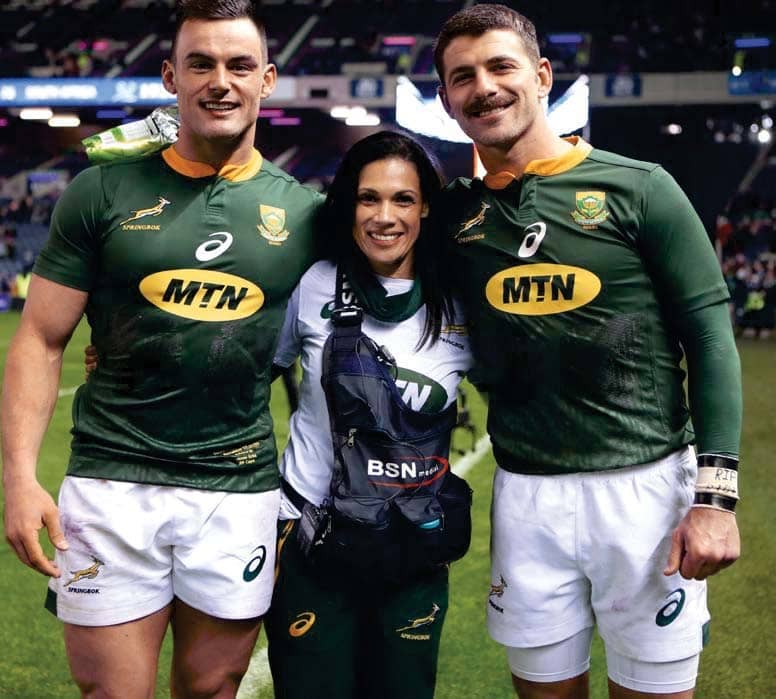 You can read up to 3 premium stories before you subscribe to Magzter GOLD
Log in, if you are already a subscriber
Get unlimited access to thousands of curated premium stories and 5,000+ magazines
READ THE ENTIRE ISSUE
August 2020