When Ball Meets Mat…
Pilates StyleMarch - April 2020
Create a deeper, more meaningful relationship with the floor exercises using an everyday prop that brings the awareness where you need it most.
CONNECTING TO THE CORRECT MUSCLES IN MAT WORK CAN BE CHALLENGING, depending on the structure of the client and possibly the exercise itself. Not to mention that the thought of matwork alone can be intimidating for some!
I've found that props can help you and your clients connect with the exercises in a deeper way, while making sure the integrity of the work is left in tact. One of my favorites is the "squishy" ball, since it molds to each unique body shape to provide feedback during movement.
Feedback is key to connecting, whether it be from a prop, touch or cues. I find that physically touching something can be of tremendous help for individuals who "don't feel it." Not only can the ball be used to modify an exercise, but it can also add in a progression.
The small ball speaks to me personally, as I suffer from arthritis in my lower back. The feedback that it grants helps release that area, so I can work deeper and without pain.
These essential movements incorporate all ranges of motion and major muscle groups, while remaining attainable for most practitioners. Every exercise featured is rooted in the BASI Foundation and Graduate Program, created by Rael Isacowitz. Let's get ready to connect to the work on a deeper, more intimate level! PS
GENERAL GUIDELINES
PROP 9-inch "squishy" ball. Note that the circumference makes a difference, so be sure it's large enough to achieve full ranges of motion, as well as provide support and help you maintain alignment.
BREATH See cues throughout.
REPS Varies.
TIP There are no rules with the ball! If it gets you and your client connecting to the work, then sky's the limit!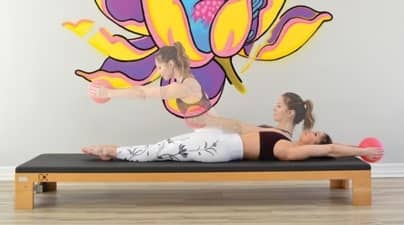 ROLL UP
Taught in the BASI Foundation Program
WHY YOU'LL LOVE IT
• Promotes abdominal strength with spinal mobility and stability.
• The ball adds a visual line while increasing the connection between the lats and the abdominals.
START
Lie on your back with your legs straight and together, toes pointed, while holding the ball overhead.
MOVE
Inhale as you lift your arms up and forward, then lift your head and chest, pausing. Exhale as you complete the roll up; inhale to pause at the top. Exhale as you roll down. Do 5–8 reps, gently squeezing the ball to activate your lats.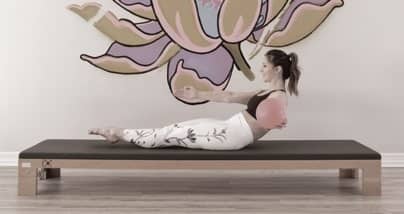 TIPS
Maintain your C curve as you roll. Pause when your shoulders are just beyond your hips, to avoid losing your abdominal connection, with your arms parallel to the floor. Keep your scapula connected and chin lifted.
MODIFICATION
Those broader and heavier on top will have a more challenging time rolling up. If that's you, try placing the ball behind your shoulder blades, allowing your head and chest to arch over the ball in the starting position. This also facilitates a deeper connection between your upper body and abdominals.
ADVANCED
During the first pause, take the ball into one hand and open your arm out to your side, maintaining trunk flexion with your other arm pointing ahead. Repeat on your opposite side. Do 6 sets, then continue to roll up.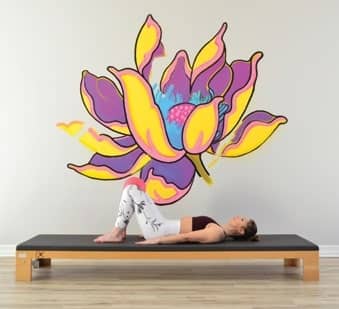 PELVIC CURL
Taught in the BASI Foundation Program
WHY YOU 'LL LOVE IT
• Works the posterior chain for a strong, stable gait, as well as good posture.
• Focuses on three main objectives: spinal articulation, hamstring control and pelviclumbar stabilization.
• Placing the ball between the knees increases the adductor connection.
• Activates the pelvic floor with the squeeze of the ball, naturally allowing the feet to fall into better alignment.
START
Lie on your back in a neutral spine position, with your knees bent and ankles just beyond them, and your feet parallel on the mat. Place the ball between your knees and your arms by your sides. Inhale to prepare.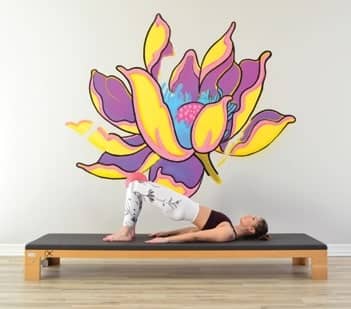 MOVE
Exhale as you draw your abdominals in and curl your pelvis and spine up; inhale to pause at the top. Exhale as you articulate your spine back to start. Do 5–8 reps, lightly squeezing the ball throughout.
TIPS
Try to initiate the movement with a deep connection to your transverse abdominis (the deepest abs that corset the midsection), and then your glutes will work midway through the roll-up phase. Avoid hyperextension of your back at the top of the curl, as well as rib thrusting, by maintaining your abdominal connection. Return to neutral pelvis between each rep.
You can read up to 3 premium stories before you subscribe to Magzter GOLD
Log in, if you are already a subscriber
Get unlimited access to thousands of curated premium stories, newspapers and 5,000+ magazines
READ THE ENTIRE ISSUE
March - April 2020