ONWARD & UPWARD
Pilates Style|July - August 2020
Turning 65 aside, Rael Isacowitz is ever the Pilates force to be reckoned with. Here, he shares his plans for the future (which, yes, include slowing down...just a bit), what keeps him going and how he's coping with the effects of COVID-19. Plus, a select few of his favorite exercises for the aging body.
PILATES STYLE In 2019, you entered into your fourth decade as the founder of BASI Pilates and opened a brand-new headquarters in Newport Beach, among many other accomplishments. What inspires you to keep improving?
RAEL I have always had an innate drive to make everything I do the very best it can possibly be. Some would call me a perfectionist. My mom and dad had incredible drive in their own very unique ways. From an early age I recognized this drive in them, both in their personal and professional lives. Yet, their drive never negated the human qualities of compassion, respect and humility. They were such inspiring role models for me. I owe them a great debt of gratitude.
With BASI, it always comes down to the incredible people that make up the global BASI family. They inspire me constantly.
PS You turned 65 in April. Do you see your birthday as a turning point in any way?
RAEL I see every birthday as a time to evaluate what I have been engaged in and where I am headed. Sometimes it is a turning point, but usually it is just a correction in direction. For me, 65 seems like a particularly important milestone. On a practical level, society starts treating you a little differently. It's time to receive my Medicare card! I'm also taking stock of my business. At 65, whether I like it or not, my career is entering its sunset years. I must ensure there's a strategy for BASI to continue to thrive for years to come. It's incumbent upon me to create a succession plan. Also, a plan for myself, for how I can start to recalibrate my life and find a better balance between my personal life and work.
PS Many people retire in their 60s, but you don't seem to be slowing down in the least. How are you able to keep pace with your demanding lifestyle?
RAEL I keep pace by not thinking of everything I need to do at once, but rather compartmentalizing— one month at a time, one week at a time, one day at a time. If I look at everything together, I become overwhelmed. I live by the words, "put one foot in front of the other." That was drummed into me during my years in the military.
PS How do you navigate being a teacher of 65 when your body can't do what it could at 25?
RAEL I can no longer identify myself solely as the person who can perform all the most difficult repertoire. I need to start seeing my value as someone who can inspire and contribute in other ways, beyond the performance of exercises. It's a huge transition, one that hasn't been an easy one, and one that continues to be a challenge.
PS Has there been anyone or anything that has helped you along the path?
RAEL I give tremendous credit to my wife, Adelle. She has told me for years that it's not humanly possible to continue performing at the same level I have been accustomed to in my 60s and beyond. I need to prepare to let go. She has been a rock in supporting me through it.
Also, many students and colleagues have played a big part in reassuring me and supporting me. They tell me, "We come to learn from you, not to see a show; we want to see you teach the exercises, to learn from your cueing and your touch, to glean knowledge from your life experience." The hard part is accepting it and believing it myself. I have to be honest in saying that so much of my identity has been linked to athletic performance since my early years swimming competitively, and then dancing and practicing Pilates for the past four decades. You rely so much on your physical being, and when that changes, you're forced to shift the paradigm.
PS Do you face any challenges at 65 years of age?
RAEL Absolutely! I face challenges, both physically and mentally. There is no way that I could put my body through what I have for so many years and not have aches, pains and degeneration. My shoulders have always been problematic. I have had two extensive rotator cuff surgeries, and I have some back issues. However, I refuse to be defined by my ailments.
PS What does your personal Pilates practice look like?
RAEL I do a session almost every day. It's a mixture of matwork and apparatus. A blend of fundamental, intermediate and advanced exercises, sprinkled with some master-level repertoire. My sessions usually last 1.5 hours. Fitting it in can be a challenge, but this is part of the discipline of the practice and my obligation as a teacher. (For some of Rael's favorite exercises, see "A Handful of Movement "Gems" for Ages 65+" on page 43.)
PS One-and-a-half hours?!
RAEL I believe strongly that you cannot teach this work if you don't do this work. That doesn't mean doing master-level work every day, it means setting time aside for your practice. This takes unwavering commitment.
PS Is it especially important to work with an instructor as you age?
RAEL Yes. Although you have more knowledge about your body, I think your body starts changing more rapidly and at times you're unaware of those changes. As cognizant as I might be of my own patterns and my own habits, I can't always know if I am compensating or if I am off-center. I think we do need an outside eye more and more to bring us back to the proverbial plumb line.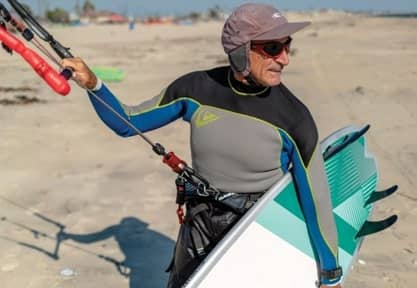 PS Aside from Pilates, what other activities help you stay balanced in mind, body and spirit?
RAEL Walking four to six miles with my dog, Shiloh, and Adelle is an incredible way to start each day—for body, mind and spirit. I also go kiteboarding, standup paddling, mountain biking and snowboarding in the winter. I love the outdoors. I meditate, but probably not regularly enough. Yet, for me, each Pilates session I do is a meditation in motion.
PS Tell us about your Journey Beyond Borders program. Then tell us how you have the stamina to teach these highly intensive trainings!
You can read up to 3 premium stories before you subscribe to Magzter GOLD
Log in, if you are already a subscriber
Get unlimited access to thousands of curated premium stories and 5,000+ magazines
READ THE ENTIRE ISSUE
July - August 2020