Beyond Footwork
Pilates StyleMarch - April 2020
Originally designed to help dancers rise up from foot and ankle issues, these movements go beyond improving your relevé, helping you to cultivate a better base of support, from the ground up.
ALTHOUGH WE RECEIVE A HUGE AMOUNT OF PROPRIOCEPTIVE FEEDBACK FROM OUR FEET, THIS FOUNDATIONAL AREA OFTEN CAN BE OVERLOOKED IN A TRADITIONAL PILATES SETTING.
This might be due to the footstrengthening exercises themselves, which tend to be overly generalized without always incorporating the entire kinetic chain.
In my studio in New York City, I work with professional, aspiring, recreational and retired dancers, so I see my fair share of foot and ankle injuries and dysfunction. After a major ankle injury while dancing professionally left me unable to walk for more than four years, I spent 13 years working with this unique population. Here, my aim is to share what I learned, as well as some of the exercises that have helped both myself and my clients gain strength and heal.
Even though these movements were developed for dancers, nobody is immune to foot and ankle issues. I have also used these exercises successfully with a nondancer population to increase balance and proprioception, improve foot and calf strength, and integrate the entire body. I've found that many clients these days walk into the studio with foot and ankle problems, and often training programs do not have time to address more than basic strengthening exercises. I believe that having a good foundation and base of support through the feet and hips transforms the entire kinetic chain, and can help encourage a more balanced recruitment of the hips and pelvis.
The series is meant to take you all the way to standing, so that you can put your newfound strength to more functional use. I've incorporated three pieces of equipment—the Toe Gizmo, Reformer and Wunda Chair—to go beyond the conventional foot-strengthening vocabulary and challenge strength and proprioception in different ways. This workout emphasizes lateral and posterior hip recruitment, calf strength, as well as intrinsic foot and ankle strength, to help build a stronger standing leg.
My hope is that these exercises help you to be more effective in working with your clients who are suffering from foot and ankle issues. And don't forget to try them yourself, to challenge your own balance and make standing on one leg that much easier. PS
GENERAL GUIDELINES
APPARATUS SETTING Reformer, medium springs; Wunda Chair, 2 medium springs
PROPS Toe Gizmo, Sitting or Moon Box
BREATH Make sure to breathe naturally throughout.
REPS The number of reps will vary depending on your client's relative level of strength and goals. Aim for 10 or more repetitions of the exercises with smaller props.
TIPS
• Pay attention to your alignment of your lower leg and feet in all of these exercises.
• Begin with lighter springs, increasing the load as appropriate.
• The small prop exercises may be performed daily, while the apparatus movements are best performed in session, two to four times a week.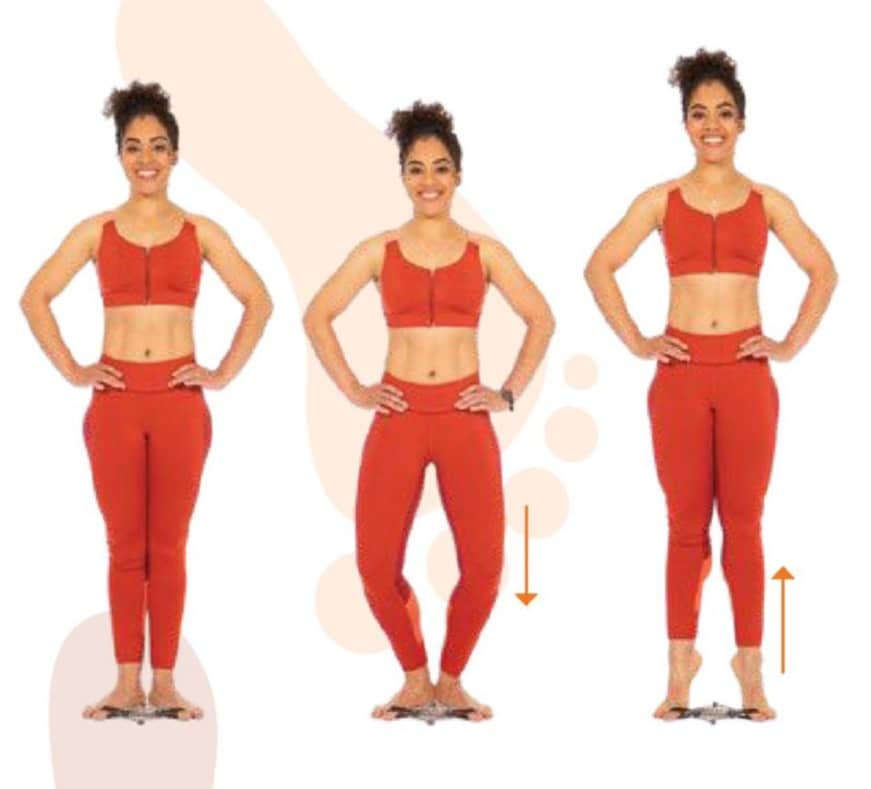 Small Props
TOE GIZMO
HOW IT HELPS BUILD A BETTER BASE
• Encourages rotation of the entire leg, from the floor to the pelvis.
• The Toe Gizmo provides resistance that helps encourage the spiraling of the foot itself, as well as helping to align the big toes in cases where a bunion is present.
• Builds awareness of the deep rotators.
• Improves calf strength and balance.
START
Stand in Pilates stance (heels together, toes apart) with the Toe Gizmo looped around the distal joint of your big toes (with moderate tension in the spring). Place your hands on your hips.
MOVE
Bend your knees, keeping your weight on your outer heels and balls of your big toes, with the center of your patella in line with your second and third metatarsals; watch for excessive pronation from your ankles and/or arches. Straighten your legs and rise up to relevé (balls of your feet), making sure your weight is evenly distributed between your second and third metatarsals while avoiding excessive weight on your big toes or base of your pinky toes. Do at least 10 slow reps.
TIPS
Make sure you feel contact with the outer side of your heel as well as the base of your big toe when the foot is flat. Spiral from your hips down to your feet to recruit your deep rotators and encourage good knee alignment.
MODIFICATION
Work on hip and knee tracking only by eliminating the relevé.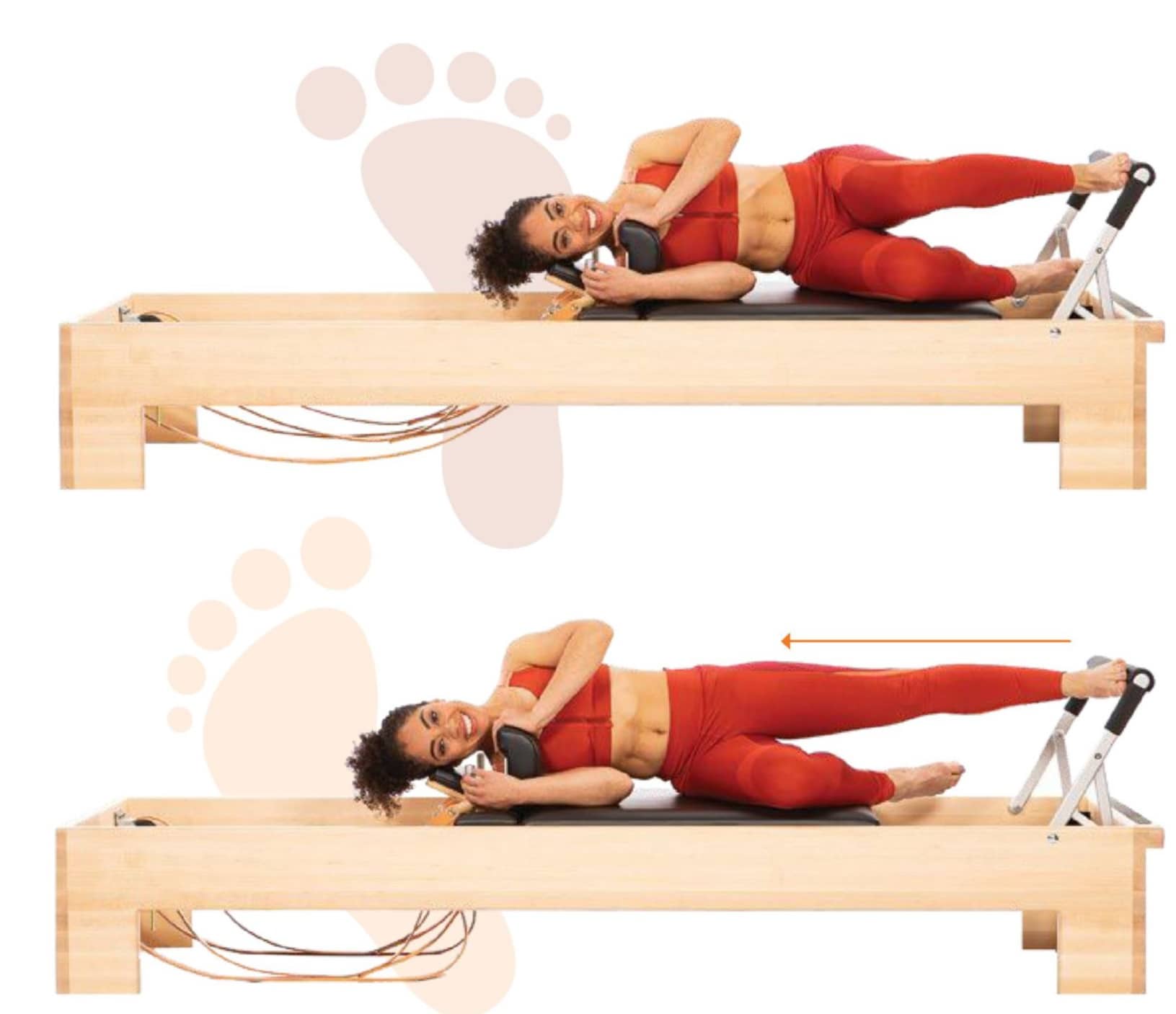 You can read up to 3 premium stories before you subscribe to Magzter GOLD
Log in, if you are already a subscriber
Get unlimited access to thousands of curated premium stories, newspapers and 5,000+ magazines
READ THE ENTIRE ISSUE
March - April 2020