Like so many other Americans, Jahn Kirchoff suffered from debilitating back pain that threatened his career and his personal life. Then he discovered Pilates.
RESTAURANT LIFE
I started working in the restaurant business as a teenager in 1976. It's my passion, for sure. In 1988, my business partner Mike and I opened the Deli Lane Café and Sunset Tavern, a side-by-side restaurant and sports bar in South Miami, FL, near the University of Miami. Thirty-two years on, we're still going strong. Our restaurant prepares nearly 200,000 meals a year, which keeps me busy six days a week.
My days vary, but I am back and forth from the dining room to the kitchen all day long, running food in the prep room, working on the menu with my chef and doing the books—I am literally all over. Sunday brunch is our busiest day—1,000 to 1,200 customers—it can get crazy, so I am on the line cooking all day. I'm hands-on for sure.
BAD BACK
Restaurant work requires long hours on your feet and lots of lifting and reaching. It's hard on even the strongest backs. Unfortunately, I have had a very problematic back for most of my life. I was born with scoliosis and the base of my spine curves inward. When I was 14, I started having sciatic nerve pain.
As an adult, my scoliosis discomfort went from mild to much more severe. Nine years ago, I was diagnosed with osteoarthritis in a number of joints, with my back and right ankle being the worst; I also learned I have degenerative disc disease—I have four herniated discs. And no doubt, the two-car accidents that I had as a young man didn't help either!
I couldn't take ibuprofen ever since suffering a severe allergic reaction to it following rotator cuff surgery in 2004, so it was a real challenge finding something that gave me relief.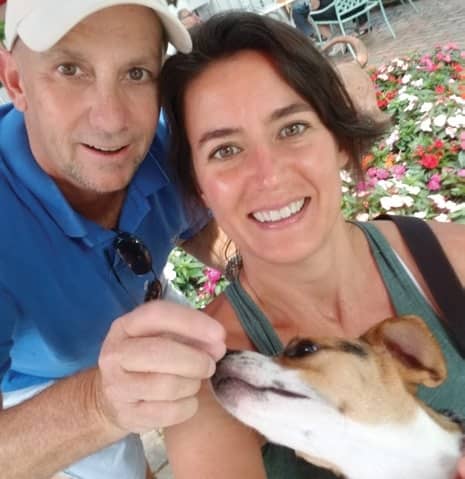 SOMETHING STRONGER
In 2012, I was prescribed a mild narcotic, but I'd only use it on the absolutely excruciating days when my back flared up. I couldn't be running around the restaurant all loopy, so I'd just take half the maximum dosage.
Then about five years ago, my back went from bad to worse. I had piercing lower-back pain with almost every step I took. My 12-hour workdays start at 5 am, and let me tell you, waking up to unrelenting pain is not a good way to start a productive day.
I'm naturally an upbeat person, but chronic pain wore me down minute by minute, step by step. Just lifting my legs to put on my pants or shoes was unbearable. Bending over to do anything caused me pain. I was getting more and more anxious about my pain as I became more desperate for relief.
DIMINISHING RETURNS
Finally, in 2016, I went to a local spine center and the specialists there recommended I receive radiofrequency ablation (RFA) treatment. Basically, it's an injection meant to interrupt the pain signal to your brain. My wife, Christie, is a nurse and she had a lot of trepidation about the whole process. It required anesthesia, injections into my joints, and it was not a permanent solution. But I was desperate, and the first round of treatment gave me a lot of hope.
Continue Reading with Magzter GOLD
Log-in, if you are already a subscriber
Get unlimited access to thousands of curated premium stories and 5,000+ magazines
READ THE ENTIRE ISSUE
January - February 2020