An Unexpected Lifesaver
Pilates Style
|
May - June 2019
Kelly Roberts, 40, discovers that her decades-long Pilates practice may have kept her out of a wheelchair.
GROWING UP IN SALISBURY, M ARYL AND, MY MOM RAN HER OWN GYM FOR WOMEN, AND MY DAD WAS A CHEF. So we were a healthy, active household. I was always racing off to sports practice: basketball, field hockey, softball and the swim team. After high school, I started playing basketball for Salisbury University, but a previous knee injury required surgery and that was the end of being on the team. But I always stayed active—I'm terrible at sitting still. I went to the gym five days a week, did weight lifting, aerobics and a lot of stationary bike work and trail running.
A HARD HIT
Fast-forward to 2003, when I was 25. It was dusk, and another car was stopped in the fast lane, making an illegal left hand turn. I came up over the bridge and rear-ended him going 65 mph.
My car was totaled and the whiplash left me with a degenerative disc disease in my neck. The pain became so bad that I would have to hold my head up to get out of bed. My doctor said I was going to need surgery, but when my mother heard that, she urged me to do everything I could before having an operation. "Why don't you just try some Pilates and see how you feel?" she urged.
My mother knew what she was talking about. She had opened her own Pilates studio in Salisbury when I was in college. I had done rehab work with her after my knee surgery, but I'd never had a full Pilates session.
PREEMPTING SURGERY
I was living in Annapolis by now, working as a food broker. I started going to a local Pilates studio twice a week and almost immediately I felt like a totally different person. Any movement that opened up my chest and pulled my head back felt wonderful. I did a lot of back extension work, to help with my spine alignment.
Over time my degenerative disc disease reversed itself, thanks to the Pilates. I knew then that I wanted to become a Pilates instructor.
LIKE MOTHER, LIKE DAUGHTER
In 2006, I was newly married and had moved back to the Ocean City area, where my mother was living. I started a two-year Pilates mentorship with her. It was amazing to be able to learn from her, and from her students. In 2008, I got my certification through BASI and continued working for my mother for another few years.
In 2013, after I had my first child, I decided it was time to go out on my own. I also wanted to pursue my interest in nutrition, so I became a Certified Holistic Health Coach through the Institute for Integrative Nutrition.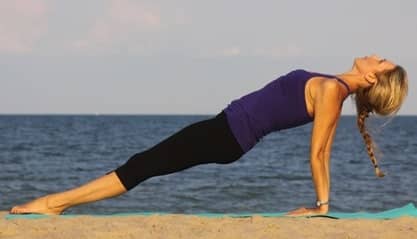 BECOMING MY OWN BOSS
I began my "solo" career by giving at-home Pilates lessons. Many of my clients were older with tough rehab issues such as hip replacements, neck fusions, strokes and Parkinson's. It was incredibly rewarding to see them get relief and regain mobility as I worked with them.
One of my first clients was a 15-year-old girl who had recently been diagnosed with a connective-tissue disorder I had never heard of called Ehlers-Danlos Syndrome (EDS). EDS is a group of related, inherited disorders that impact connective tissues— such as the skin, joints and blood vessel walls—to varying degrees. The symptoms include loose joints that become very painful and can easily dislocate, and stretchy skin that is slow to heal.
You can read up to 3 premium stories before you subscribe to Magzter GOLD
Log in, if you are already a subscriber
Get unlimited access to thousands of curated premium stories, newspapers and 5,000+ magazines
READ THE ENTIRE ISSUE
May - June 2019