9 Ways To Eat Your Way To An Immunity-Boosting Diet
Pilates Style
|
November - December 2015
What you eat can keep you cold - and flu-free all winter - and fight disease better than anything in your medicine cabinet.
Have you ever known someone who never seems to gets sick? One of those lucky souls who's just flat-out bulletproof even when flu fells her family or rages through her workplace? Truth is, it's not just luck—or even vigilant hand washing—that's keeping these people virus-free. Evidence is growing that the secret to staying well during cold and flu season is due in large part to the food on our plates, in the same way that a healthy diet can prevent diabetes, osteoporosis and cardiovascular disease, and is increasingly thought to play a role in battling other illnesses such as Alzheimer's and cancer. "A good diet can easily help you fight off those germs for the winter," says New York City dietitian Brooke Alpert, MS, RD, CDN, and the author of The Sugar Detox: Lose Weight, Feel Great and Look Years Younger (Da Capo Lifelong Books, 2014). "Through improved nutrition, we can strengthen our immune systems, so we become more powerful in fighting the germs that cause colds."
Wendy Bazilian, DrPH, RD, a nutritional consultant in La Jolla, CA, says that her clients mostly come seeking help with weight loss, allergies or sports-performance issues—not to stave off sniffles and sneezes. "But months later, many report with some surprise that they haven't been sick in 'the longest time' or that when the rest of the family came down with a bug the kids brought home, they either didn't get it at all, or they had a milder or shorter version," she notes. "People initially come in to improve their nutrition for other reasons—but lo and behold, their immune system benefits!"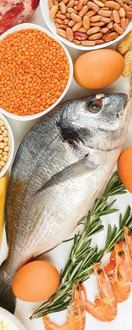 Even with this year's flu season quickly bearing down, it's not too late to eat yourself well. Consider taking some of these nine steps to help ward off everything from the common cold to chronic disease. And you might even drop some pounds along the way.
1. Bring on the Good Bacteria.
Probiotics is a big buzzword these days—with good reason. Those "active live cultures" found in yogurt and fermented foods are healthy bacteria that work to balance the 100 trillion microbes that live in the GI tract. Our "second brain," as the gut has been called, is known to control everything from our mood to how many calories are absorbed from food. What's more, "we've also learned that our immune system is headquartered in our gut," says Alpert. "I've watched many clients start taking a probiotic and then see a major decrease in the amount of colds they've caught, not to mention loads of other health benefits."
Diet Rx: To boost the good bugs in your gut, have two daily servings of fermented foods such as yogurt, kimchi, kefir, sauerkraut, tempeh, kombucha, pickles, even chocolate. Add a high-quality probiotic supplement containing at least 20 billion live organisms per dose, says Alpert, who recommends Culturelle.
2. Pump Up the Protein.
You can read up to 3 premium stories before you subscribe to Magzter GOLD
Log in, if you are already a subscriber
Get unlimited access to thousands of curated premium stories, newspapers and 5,000+ magazines
READ THE ENTIRE ISSUE
November - December 2015