India: The Antibiotic Nation
How India became the antibiotics capital of the world and laid the wonder cure to waste.
"The time may come when penicillin can be bought by anyone in the shops. There is the danger that the ignorant man may easily underdose himself and by exposing his microbes to non-lethal quantities of the drug make them resistant." – Alexander Fleming at his 1945 Nobel Prize lecture.
In 2009, a 59-year-old Swede of Indian origin began visiting a hospital in Orebro, a small city about 160 km away from Stockholm. The patient, a diabetic male, needed treatment for bed sores and urinary tract infection. He had recently returned from India, where he had developed an abscess in his buttocks and had been hospitalised, first in Ludhiana and later in Delhi. He had undergone a surgery in Delhi, recovered and returned to Sweden.
So far, so good. The development of the abscess wasn't particularly unique. Diabetics are known to be susceptible to it. The bed sores and the urinary tract infection, one could understand, he probably acquired from his stay in the Delhi hospital. But there was something odd about his infection. No antibiotic seemed to work on it. Not even carbapenems, the strongest class of antibiotics currently known to man.
A routine urine test threw up something extremely unusual. The bacterium causing the infection, as the doctors analysing the case wrote in the journal Antimicrobial Agents and Chemotherapy, was the familiar Klebsiella pneumonia, which is one of the most frequent causes of pneumonia and bloodstream infections in hospitalised patients. What was highly irregular, however, was a gene it carried. Hitherto unknown, this gene, later named NDM-1 (New Delhi Metallo-beta-lactamase-1), after the city where the patient was thought to have picked up the bug, made the bacteria resistant to almost all antibiotics. And it didn't just make treatment difficult. It could also move quickly from one bacterium to another, rapidly boosting the infection's resistance.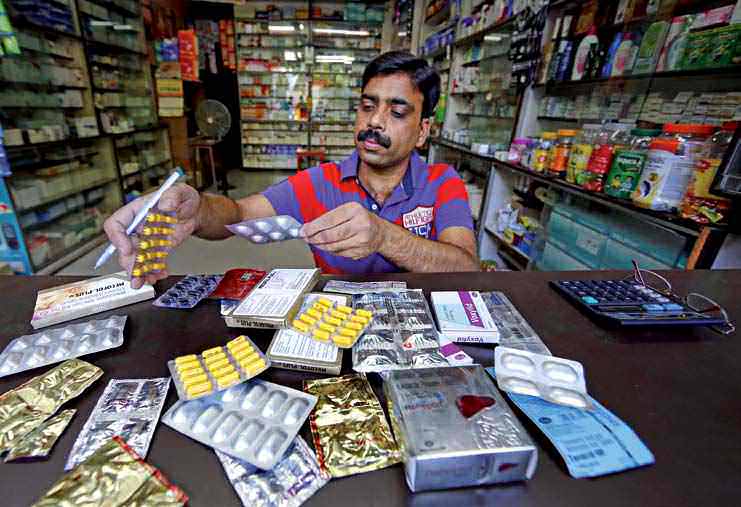 As events over the following year showed, the bacterial gene had probably emerged in India. NDM-1 began to be discovered in several other parts of the country. PD Hinduja Hospital, the wellknown Mumbai multi-specialty hospital that gets transfer patients from various smaller hospitals, conducted a study in 2010 and discovered 22 patients carrying microbes with the NDM-1 gene in a span of just three months. Such patients were also found in hospitals in Chennai, Haryana, and several other parts in India and Pakistan. And it wasn't just hospitals. It was discovered in New Delhi's drinking water and in the upper reaches of the river Ganges, at Rishikesh and Haridwar, indicating the successful transition of the bacteria from hospitals, where it is believed to have developed, to the rest of the environment.
Antibiotic resistance is a worldwide problem. But experts feared that India's excessive antibiotic usage was now leading to a powerful never-before-seen mutation within bacteria. Within a year's time, patients with this bacterial gene were discovered in the US, UK, Canada, Japan and China. So far, cases in more than 70 countries have been reported. Some had travelled to the Indian Subcontinent and been exposed through medical treatment and hospital stays, but many had never been here, suggesting local transmission within those countries.
The Indian Government, however, dismissed the suggestion. Lawmakers and government healthcare professionals claimed that the naming of the bacterial gene was a plot against the country's lucrative medical tourism industry. Strict new curbs on taking biological samples out of India were announced—aimed, it appeared, chiefly at British and Scandinavian researchers who had named the bacterial gene, and, after smuggling water samples out of the country, exposed its prevalence across India to the world at large. "It was a complete knee-jerk reaction," says Ramanan Laxminarayan, a noted researcher in the field of antibiotic resistance. "Instead of dealing with this new healthcare issue, they got caught up in irrelevant details like the naming of NDM-1."
Around the same time, 162 km away from New Delhi, in a small, unassuming private nursing home for newborns in the Uttar Pradesh town of Bijnor, baby after baby began to reel under the effect of an unusual infection. "I just didn't know what was going on," says Dr Vipin Vashishtha, the paediatrician who runs Mangla Hospital. "Nothing worked on them." From 2009 to almost 2011, several babies, most of them born prematurely and referred to his hospital after their delivery in other hospitals, began to show resistance to antibiotics. "When they first came in, I thought they would be out in a few weeks. But they had to be kept here in the ICU for several months."
The doctor threw every antibiotic at them—cephalosporins, aminoglycosides, monobactams, quinolones, a piperacillin-tazobactum combination and even carbapenems. But nothing worked. In all, 14 infants were in a bad way and showing resistance to all antibiotics. "I called up experts everywhere. I sent their blood and urine samples to far off places. Nobody in Bijnor had ever faced anything like this," Dr Vashishtha recounts.
The infants, however, responded to colistin and polymyxinB, two strong last-resort antibiotics that are avoided because they could harm kidneys beyond a point. Eventually, six babies died of their infections. Among the eight survivors, half of them developed complications like meningitis and arthritis.
When the results from the lab arrived, the culprit was identified as the recently discovered NDM1 gene. Dr Vashishtha, who wrote about the experience in the journal Indian Pediatrics in 2011, says, "It was the most horrific period. I was losing babies at regular intervals. I knew we were dealing with something very new."
You can read up to 3 premium stories before you subscribe to Magzter GOLD
Log in, if you are already a subscriber
Get unlimited access to thousands of curated premium stories, newspapers and 5,000+ magazines
READ THE ENTIRE ISSUE
November 2, 2015