Diabetes Diet
Natural Solutions|February 2020
Snub the sugar spike with these recipes.
Eating a healthy diet is the cornerstone of managing all forms of diabetes, and in some cases, it can prevent or even reverse the onset of type 2 diabetes. The trick for diabetics, those with low insulin levels, or those with insulin resistance is to keep blood-sugar levels from spiking by choosing the right balance of foods. Carbohydrates should only make up 40 percent of your diet, so stick to whole grains, fruits, and non starchy veggies. The following recipes help get your menu on the right track.
TOMATO TORTELLINI SOUP
2 tablespoons unsalted butter
½ onion, coarsely chopped
½ teaspoon onion powder
½ teaspoon garlic powder
½ teaspoon dried basil
½ teaspoon hot pepper flakes
½ teaspoon ground allspice
1 cup low-sodium vegetable broth
1 28-ounce can crushed tomatoes
1 cup cheese tortellini, cooked
In a large saucepan, melt butter over medium heat. Add onion, onion powder, garlic powder, basil, hot pepper flakes, allspice, broth, and tomatoes. Bring to a boil, then reduce heat to a simmer. Cook, uncovered, stirring occasionally, for about 30 minutes or until onions are translucent and ingredients are well blended. Working in batches, transfer soup to blender and purée until your desired consistency is reached. Return soup to the saucepan and add cooked tortellini. Stir to combine and heat through. Serve warm. Courtesy of Everyday Diabetes Meals Cooking for One or Two by Laura Cipullo and Lisa Mikus, copyright 2016. Image credit: Colin Erricson.
PRO TIP: Store this soup in an airtight container in the refrigerator for up to 4 days or in the freezer for up to 2 months.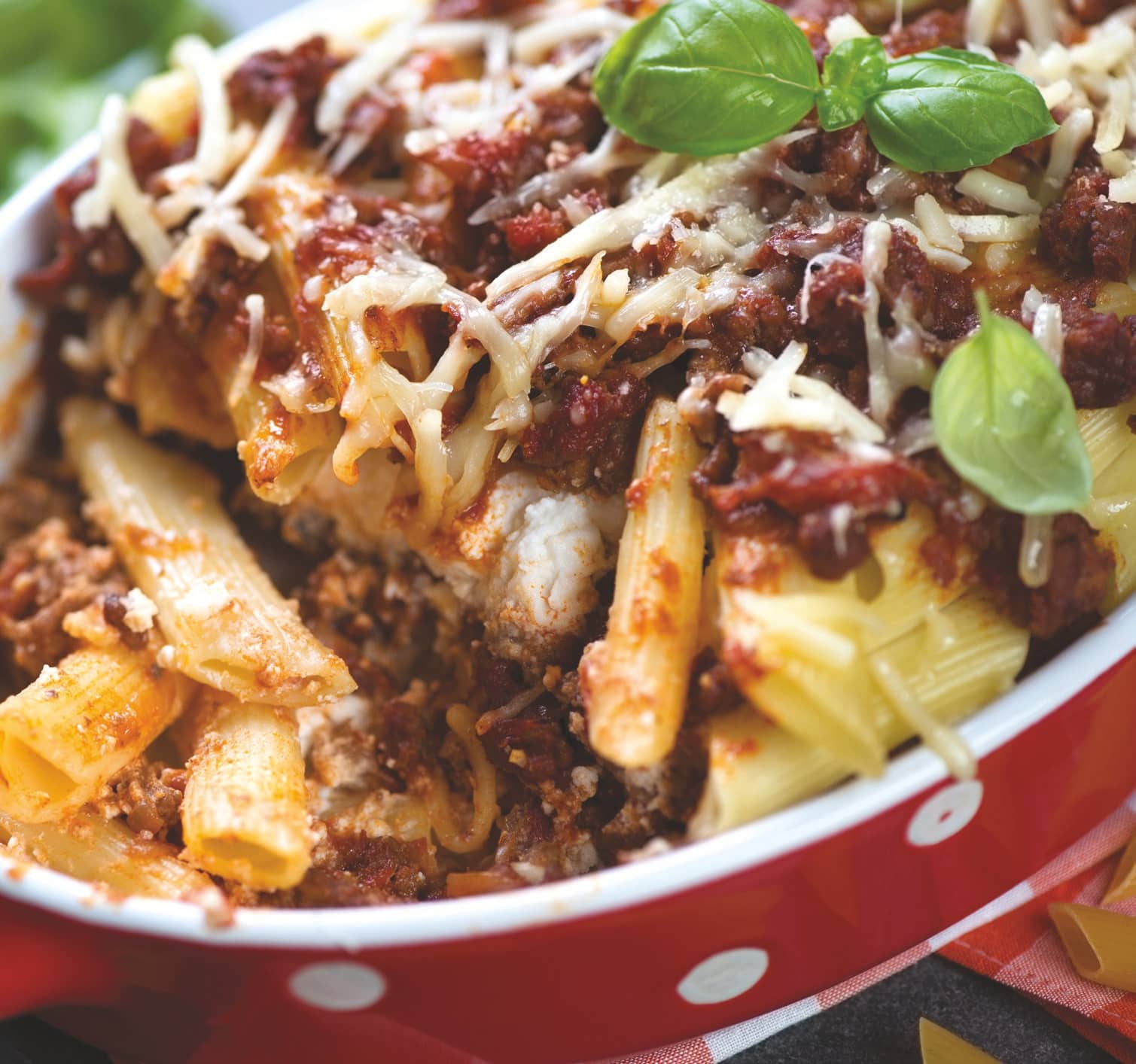 Baked Ziti
Cooking spray
2 teaspoons olive oil
1 medium onion, diced
2 garlic cloves, peeled and minced
1 tablespoon Italian seasoning
5 ounces spicy turkey sausage, diced
¼ cup dry red wine
1 28-ounce can whole plum tomatoes, with juice
2 tablespoons fresh minced oregano
8 ounces whole-wheat ziti
½ cup nonfat ricotta cheese
¼ cup grated fresh Pecorino Romano cheese, divided Pinch grated fresh nutmeg
3 ounces part-skim mozzarella cheese, cubed
Preheat the oven to 425 degrees. Coat a shallow baking dish, preferably a long oval dish that is no more than 2 inches deep, with cooking spray. Set aside. Heat the olive oil in a large skillet over medium heat. Add the onion and sauté for 3 minutes. Add the garlic, Italian seasoning, and sausage, and sauté for 3 to 4 minutes until sausage is browned. Bring a 3-quart pot of lightly salted water to a boil. Add the red wine to the skillet and continue to cook until the wine evaporates. Add the tomatoes to a deep bowl. Crush the tomatoes with your hands and add them to the pan with all their juices. Cook uncovered on medium-low heat for 20 minutes until thickened. Add in the oregano.
Meanwhile, add the ziti to the boiling pot of water and cook for about 8 to 10 minutes or until just al dente. Mix together ricotta cheese, half of the Romano cheese, and nutmeg in a large bowl. Add the cooked ziti and mix well. Add the sausage tomato sauce and the mozzarella. Mix gently. Pour into the prepared baking dish and sprinkle with the remaining Romano cheese. Bake uncovered for 20 minutes until lightly browned. Serve immediately. Recipe reprinted from The Perfect Diabetes Comfort Food Collection by Robyn Webb, MS, with permission from the American Diabetes Association, 2016.
Avocado and Bean Burrito
2 cups shredded romaine lettuce
2 tablespoons yellow onions, chopped
½ medium avocado, peeled, pitted, and chopped
2 tablespoons chopped cilantro
4 tablespoons chunky tomato salsa
½ cup non-fat vegetarian refried beans
2 sprouted corn tortillas
Mix the lettuce, onion, avocado, cilantro, and salsa in a bowl. Smear half of the beans on each tortilla, fill with vegetable mixture and wrap up burrito-style.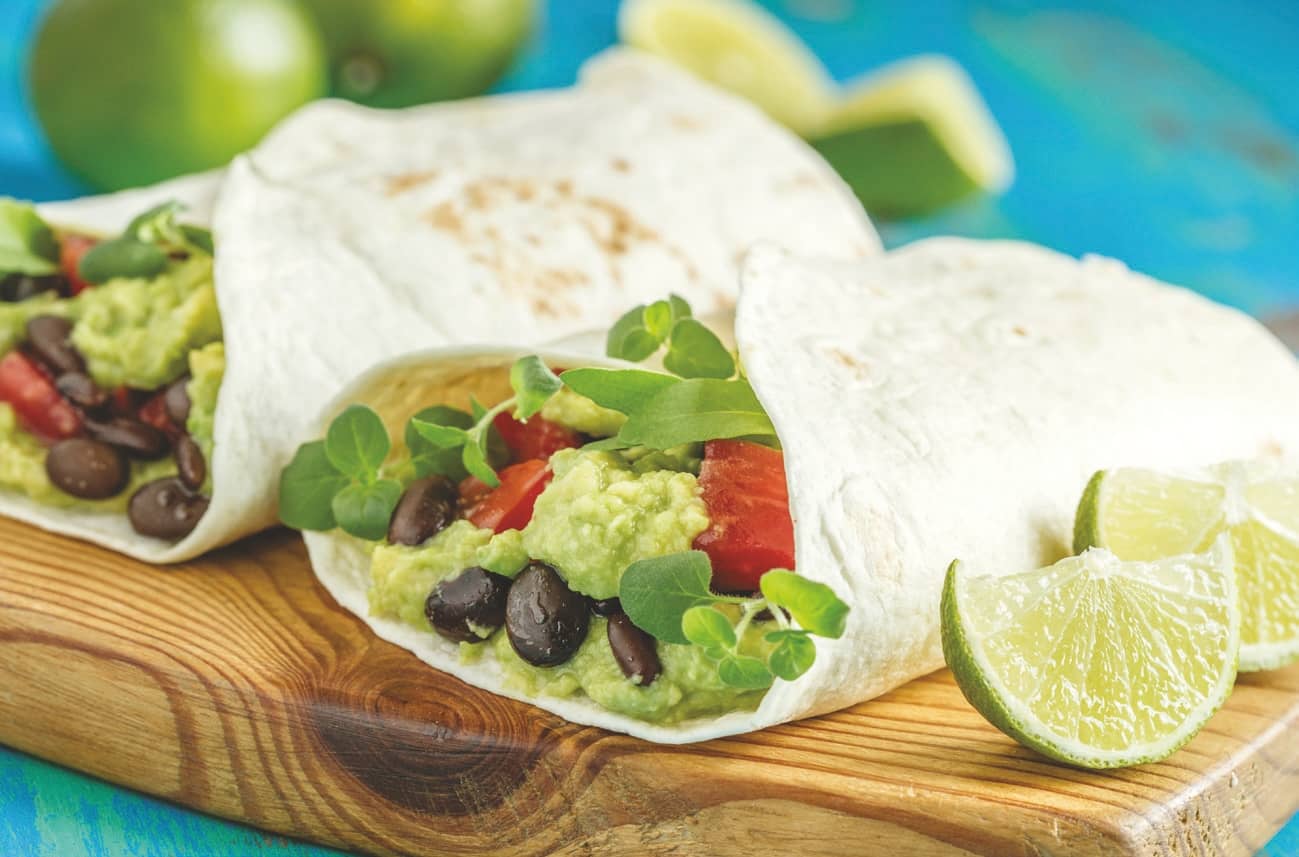 Sesame Crusted Sole with Baby Bok Choy and Wild Rice
½ cup wild rice
½ pound baby bok choy, trimmed
¼ cup sesame seeds
2 4-ounce fillets fresh sole
You can read up to 3 premium stories before you subscribe to Magzter GOLD
Log in, if you are already a subscriber
Get unlimited access to thousands of curated premium stories and 5,000+ magazines
READ THE ENTIRE ISSUE
February 2020