Gunter. Turns. 50
Muscle & Fitness|February 2020
As Günter Schlierkamp turns the big 5-0 on Feb. 2, we celebrate the German giant's milestone by revisiting his preparation for his lone IFBB Pro League win, still considered the greatest upset in the sport's history.
HE WON ONLY ONE PRO show, but what a show it was. In a career that spanned 13 years and 39 contests, Günter Schlierkamp made the top three only three times. It's been close to two decades since he last competed, and he might have faded into history if not for the fact that his victory hit bodybuilding like a tornado. Somehow, someway, he conquered Ronnie Coleman in the middle of the king's record run of eight Olympia wins. As Schlierkamp turns 50, we explain how Güntermania won't be forgotten.

Born Feb. 2, 1970, Günter Schlierkamp grew up on a farm in Germany. When he was 12 and saw Conan the Barbarian, he realized there were physically superior beings among us called bodybuilders. At 16, he was finally allowed to join a gym, and his farm-trained 6'1" frame filled out quickly. A few years later, he won the heavyweight classes of the German, European, and World Championships. The G-man finished a shocking second in a show behind only Ronnie Coleman in 1995, his second pro year. Soon thereafter, like his idol, Arnold Schwarzenegger, he moved to Southern California. Then came a lot of nothing. In 24 pro shows from 1996–2001, Schlierkamp finished in the money only three times, and even then just barely. Some years he received a special invite to compete in the Mr. Olympia. Other pros grumbled about it, but in the end it didn't matter much because he always left on a proverbial slab, gored through the heart. Bodybuilding's sacrificial lamb was 15th in the 2001 Olympia. He was huge but not huge enough. He had a fitness-model face, but his blocky physique was likened to a Frigidaire. And his detailing failed to wow. The genial, giant German was perpetually smiling, so we assumed he was content to place low and coast on his Weider contract. There he was again, beaming at us from yet another magazine cover. In fact, Schlierkamp hated the losses. Eight pro years and not a single title, and all the while he toiled daily in Gold's Gym in Venice, CA, where Flex Wheeler, Chris Cormier, and other Conan like conquerors were trained by Charles Glass. They were the cool kids. He was the loner, the foreign exchange student, never invited to the best party. It gnawed at his guts. Had he come so far from that Teutonic farm to go zero for 24? Would he retire never having fulfilled his potential? He was stuck. He needed a change—a big change.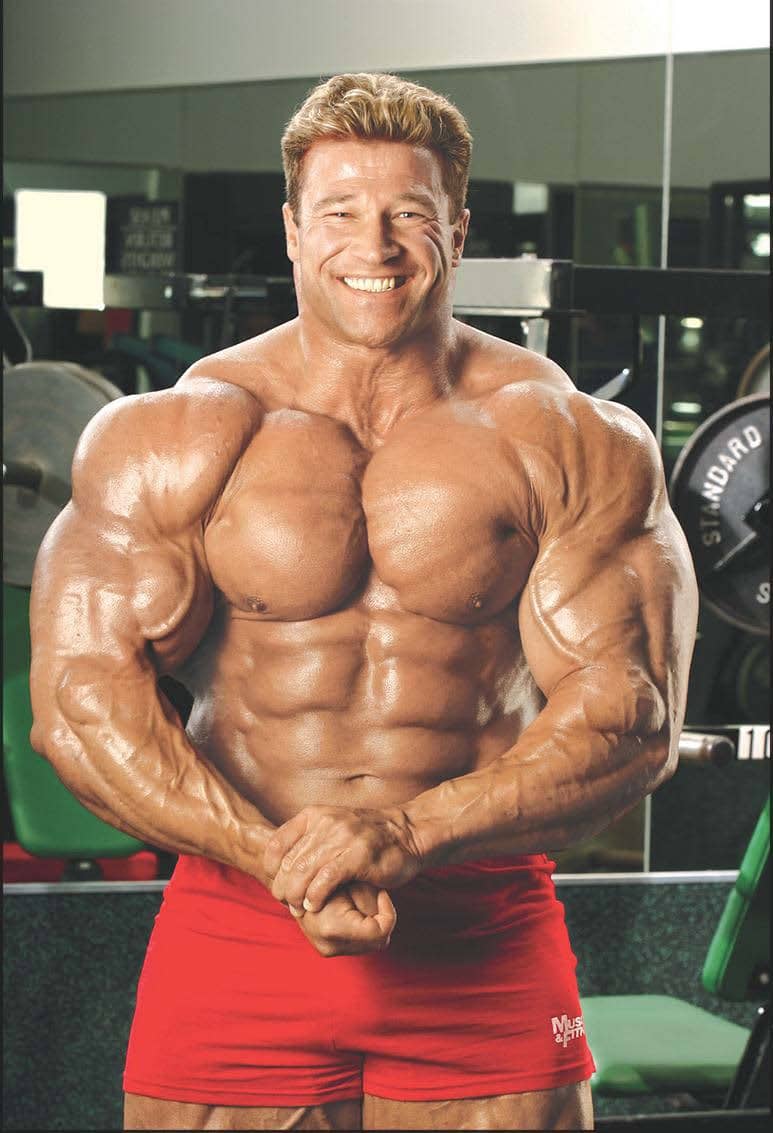 GLASSWORK
You can read up to 3 premium stories before you subscribe to Magzter GOLD
Log in, if you are already a subscriber
Get unlimited access to thousands of curated premium stories and 5,000+ magazines
READ THE ENTIRE ISSUE
February 2020