Workout of The Month - Becoming James Bond
Men's Journal|April 2020
Many actors have inhabited the role of 007, but Daniel Craig's physical transformation is unparalleled. In No Time to Die, Craig has outdone himself. This is how he got there.
By Charles Thorp. Photographs by Greg Williams
CRAIG AT THE WHEEL
It's Daniel Craig's fifth go as Bond. He tells MJ the latest is as tough as the first.
Over the years, a lot of your roles have required physical prowess. What makes Bond different?
In my experience, training for a Bond movie is completely unique. If I can, I start a year before we begin shooting and build slowly. I try to avoid the "last-minute" thing. You get less injuries that way. Notice I say less!
Getting a glimpse at your workout regimen, it's incredibly intense. What's the hardest part for you?
The real challenge is just getting used to the routine. The day starts in the gym. Every day. It's a ball ache at first, but it does get easier.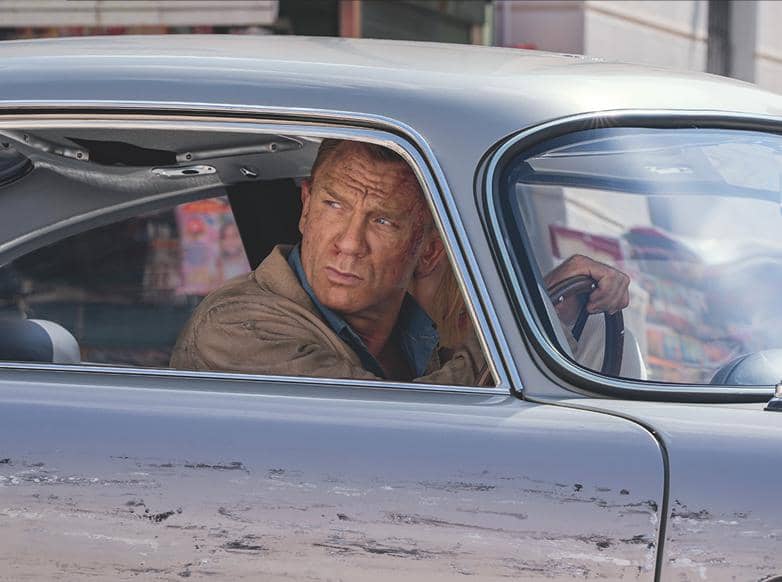 What's your diet like when you're in the throes of heavy training?
Simple and very healthy. I do like to keep it as natural as possible, with natural ingredients when I can. I don't do a lot of shakes unless it's immediately after a workout.
Do you do a lot of your stunts?
I'm fortunate to be surrounded by the best stunt people in the business. They're the ones who take all the big risks. If there is a stunt I think I can do, then I will. Staying as supple as possible is the key—so no big weightlifting in the gym.
Everyone's obsessed with recovery these days. What's your philosophy on it?
It's simple. Plenty of sleep and a gooddiet. There are sadly no tricks or shortcuts. I have amazing people [like trainer Simon Waterson] around me to guide, and without them it would be impossible.
You've been Bond for 15 years. How has your approach to training changed?
As I get older, it definitely takes longer. But it's all about putting the work in, to be honest.
So peak fitness for you is preparing for a Bond picture. When you're not filming a movie, what's your gym routine?
It goes without saying that regular exercise is good for you, but you have to get your head into the gym as well! I think mental health is more important than physical health, because if your head is in the right place, a little exercise doesn't feel so bad. But for God's sake, don't listen to people like me. Walk your own path.
THE MAN BEHIND THE MAN
From Casino Royale to No Time to Die, Daniel Craig wants only one trainer by his side.
IN 2005, just after being named the next James Bond, Daniel Craig was in his trailer on the set of a film he was wrapping up. That's when he got the knock.
"Daniel opened the door, breakfast sandwich in hand and a look of dread on his face," recalls Simon Waterson, who was standing on the other side. Waterson, 46, is the trainer hired to get Craig into shape for Casino Royale. As for the look of dread: "I think he started to realize what he signed up for, and he would have to earn those sandwiches now."
Craig, now 52, earned the sandwiches, and Waterson earned Craig's trust. Their partnership continued across all five movies, including No Time to Die, in theaters on April 10 and likely the actor's final bow as 007. Early rumors suggest the action rivals—if not eclipses—all previous films.
A BETTER BOND
In the evening after their introduction, over a couple of beers, Craig told Waterson that his vision for Bond was to raise the bar—which included doing a larger share of fight scenes and stunts than previous actors had. There was an early stipulation: Craig wanted a training partner, not a drill instructor. "Getting to hit the workouts together, and trade off while pushing each other, made the sessions more enjoyable," Waterson says.
Waterson had worked with Pierce Brosnan twice during his turn as Bond, so the trainer understood the preparation it took. Unlike a superhero role, where the goal is packing on muscle, the Bond physique is more nuanced. He's a secret agent who slips unseen across enemy lines, executes a mission—nabbing sensitive data, then blowing shit up— parkours off buildings/cranes/ trains to escape, and cleans up in time for cocktail hour.
You can read up to 3 premium stories before you subscribe to Magzter GOLD
Log in, if you are already a subscriber
Get unlimited access to thousands of curated premium stories and 5,000+ magazines
READ THE ENTIRE ISSUE
April 2020