The Fast and the Curious
Men's Journal|May - June 2020
Pro wrestling, raunchy comedy, children's books, action flicks.... There's not much that John Cena won't try. And at age 43, he's just getting started.
IT IS NOT CLEAR HOW WE GOT ON THIS topic, but John Cena and I are discussing the joys of sipping red wine. "I enjoy red wine for the same reason I enjoy a cup of coffee or an occasional cigar," he says. "They're vehicles for connection. You cannot chug red wine. It's easy to chug a cold beer, it's easy to do a shot. But strong coffee is to be sipped. Red wine is the same. Especially, like the bolder cab—it's a vehicle for conversation."
If this isn't the kind of trash talk you were expecting from the square jawed actor and global face of the WWE, Cena knows that and, well, that's on you.
We're standing inside a fancy photo studio in Hollywood, a cavernous space with vaulted ceilings, the afternoon sun streaming in through massive skylights. Loud club bangers scream from some unseen speakers. Cena is currently promoting F9—the latest installment in The Fast & The Furious franchise (due out in April 2021) and also his first. So here he is, posing with one of the film's gorgeous co-stars: a 1968 matte black Dodge Charger (driven by Vin Diesel's character in the film). The 800-horsepower custom roadster, constructed of carbon fiber, may be the most beautiful thing in the movie (after Charlize Theron), and it comes with a chaperone, who tells me the car's tank is designed to hold less than a gallon of gas to prevent explosions when filming stunt crashes.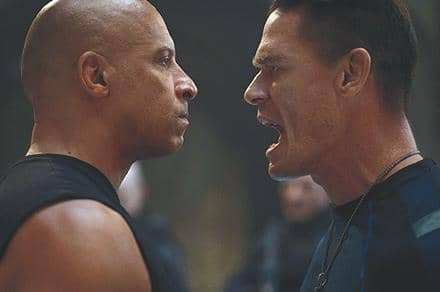 Cena's career, on the other hand, has gone positively supernova. About two years ago, he skillfully negotiated the transition from WWE champion to bankable leading man—with starring roles in Transformers spin-off Bumblebee and the raunchy comedy Blockers. His evolution is finally complete with F9, which introduces Cena as Vin Diesel's long-lost brother, the skilled assassin Jakob Toretto. He's just finished shooting the next Suicide Squad, reimagined by director James Gunn. Next, he'll go for laughs with Vacation Friends, a twisted comedy directed by one of the producers of Silicon Valley.
Hang the Mission Accomplished banner. But Cena's also been on a different kind of journey, one that's richer than the whenwill-Hollywood-take-this-guy-seriously narrative. In person, Cena still looks like a He-Man action figure hit by whatever gamma ray turned Bruce Banner into the Incredible Hulk. His hands are like meat puppets. When he changes his sweater between photographs, a jagged vein on his right shoulder threatens to escape from beneath his taut, tan skin.
But at 43, Cena is hard at work remaking himself. The man who once bragged to Howard Stern about a one-night-stand with a "fat chick" has chiseled himself into something less predictable and way more interesting: a genuinely woke American hero who raises millions of dollars for veterans and writes children's books about how boys can learn from their mistakes but is still funny enough to make Amy Schumer wet her pants.
And he's accomplished it all not because of the way he looks but almost despite it, challenging the expectations of executives and the public at every turn. As if a 250- pound, six-foot-tall sentient action figure couldn't possibly have a rich inner life. "Everybody thinks I'm going to come in and smash somebody over a table," Cena tells me. "Because that's what I've been fortunate enough to do."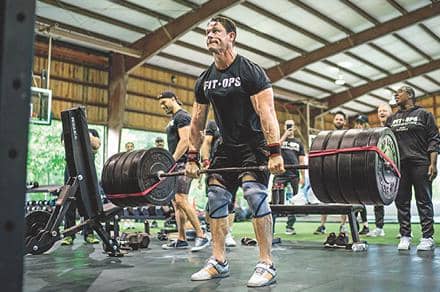 Cena trains with veterans at FitOps camp. Bottom: Having a moment with Vin Diesel in F9, the next Fast & Furious flick.
THERE'S NO CABERNET ON SET TODAY, but it turns out we don't need any wine to get into it. Cena dismisses my softball questions about F9's wacky stunts or hanging out with co-star Cardi B at the craft services table. He'll barely engage the topic of Charlize Theron's instantly iconic bowl cut. "Not once did I notice the haircut," Cena says, maybe more severely than need be. "I would show up and, it's like, 'Today I get to work with a very talented actress.' At the end of the day, I was like, 'Man, she made me a better professional.' "
You can read up to 3 premium stories before you subscribe to Magzter GOLD
Log in, if you are already a subscriber
Get unlimited access to thousands of curated premium stories and 5,000+ magazines
READ THE ENTIRE ISSUE
May - June 2020