Sam Rockwell – The Visible Man
Men's Journal|April 2020
Long celebrated for his ability to disappear into characters, actor's actor Sam Rockwell finally gets some limelight of his own.
By Jesse Will. Photographs by Michael Schwartz
THE ATRIUM OF THE BOWERY HOTEL IN Lower Manhattan is extremely dim, aside from a few spots, including the glowing iPhone Sam Rockwell holds in his palm. It's a Friday evening, and he's giving me a rodeo demonstration of a sort, showing me a slow-motion video of some downtime on the set of the Nazi farce Jojo Rabbit. Rockwell plays a closeted gay officer in the film, disillusioned with the regime; in the video on his phone, the actor appears in half costume, standing in jodhpurs on a windy hilltop outside Prague, rope in hand, churning a lariat in an even circle.
"You have to make your hand like a cobra—keep your palm down, see?" the actor tells me. "This is a head rope, here— I'm not sure I could do a heel rope." Seconds later, the video shows Rockwell flinging the loop, landing it cleanly around the torso of Roman Griffin Davis, Jojo's toothy, tousled 12-year-old lead, costumed in his character's Hitler Youth getup. Davis, hands at his sides, giggles as he's caught.
"There you go. Roping Nazis." Rockwell says, setting down the phone.
The scene is surreal and suitably Rockwellian: There's no lassoing in Jojo Rabbit. Between takes, the actor was just brushing up on some of the myriad of strange skills he has picked up over the course of 70-plus films, in which he has portrayed spacemen, politicians, psychopaths, dirty cops, and, of course, cowboys, most of whom dwell in the dusk between good and evil.
In early 2018, Rockwell hosted Saturday Night Live, and in his opening monologue joked that he was "that guy from that movie—not the main guy, but the other guy." Since then, things have been different: He won an Oscar, for one, and a hot streak of high-profile projects has followed. Everybody seems to know Sam Rockwell now. And he's still getting used to it.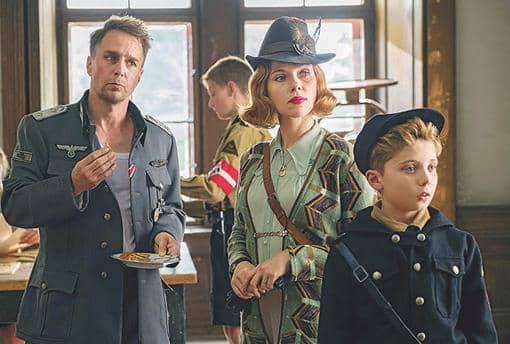 THIS EVENING, ROCKWELL looks relieved. The weekend is here, and he's lounging on a wicker settee, allowing himself a break from memorizing lines for American Buffalo, the 1975 David Mamet play, which opens on Broadway in a few weeks. Rockwell will play Teach, a small-time crook, a character previously portrayed by Al Pacino and Robert Duvall—actors against which this 1970s cinephile has surely benchmarked himself.
"It's definitely a big piece of meat to chew on. Real talky," says Rockwell, pulling the thick photocopied script out of a ballistic-nylon backpack. He thumbs through it, and the margins are littered with handwritten notes.
When he speaks, Rockwell intonates animatedly, as if in every sentence, he's saying "wowie wow" while his brows, somewhat hidden, rise above the ridge over his eyes. The actor is wearing duck boots, dark jeans, and a striped short-sleeved nylon shirt; his glasses are tossed on the sofa at his side. He orders a Ferrari—half Campari, half Fernet-Branca, rock, twist—and sips water as he explains his return to Broadway after five years.
You can read up to 3 premium stories before you subscribe to Magzter GOLD
Log in, if you are already a subscriber
Get unlimited access to thousands of curated premium stories and 5,000+ magazines
READ THE ENTIRE ISSUE
April 2020