RIGHT ON TRACK
Men's Journal
|
September - October 2020
Since the end of his run on Grey's Anatomy, PATRICK DEMPSEY climbed the podium at Le Mans, saved his marriage, and refined his acting career. On the eve of his return to U.S. television, he reflects on keeping the pace in Hollywood for over 30 years.
''Is that the top? Or was it back there?" Patrick Dempsey asks, alternately gesturing forward and behind him. "I guess it could be right here," he says, shrugging, a moment later. "Thing is, when you're at the top you never know."
Dempsey delivers this bit of perspective astride a dirt-caked mountain bike in the hills above Malibu, CA. While his Zen koan-like observation may operate on any number of levels, the 54-year-old's eyes are trained on a literal one: the spiny ridgeline we've been riding, a four-mile and 1,000-vertical foot climb from the Pacific. Decked out in a black camo kit, Dempsey drops his mask momentarily to take a sip from his water bottle, then breaks into a smile. "What do you say?" he asks, nodding ahead to where the trail curls behind a rock outcrop. "Let's go. I really want to see what's around that bend."
He peels off, leaving me and a spray of scree trailing behind him.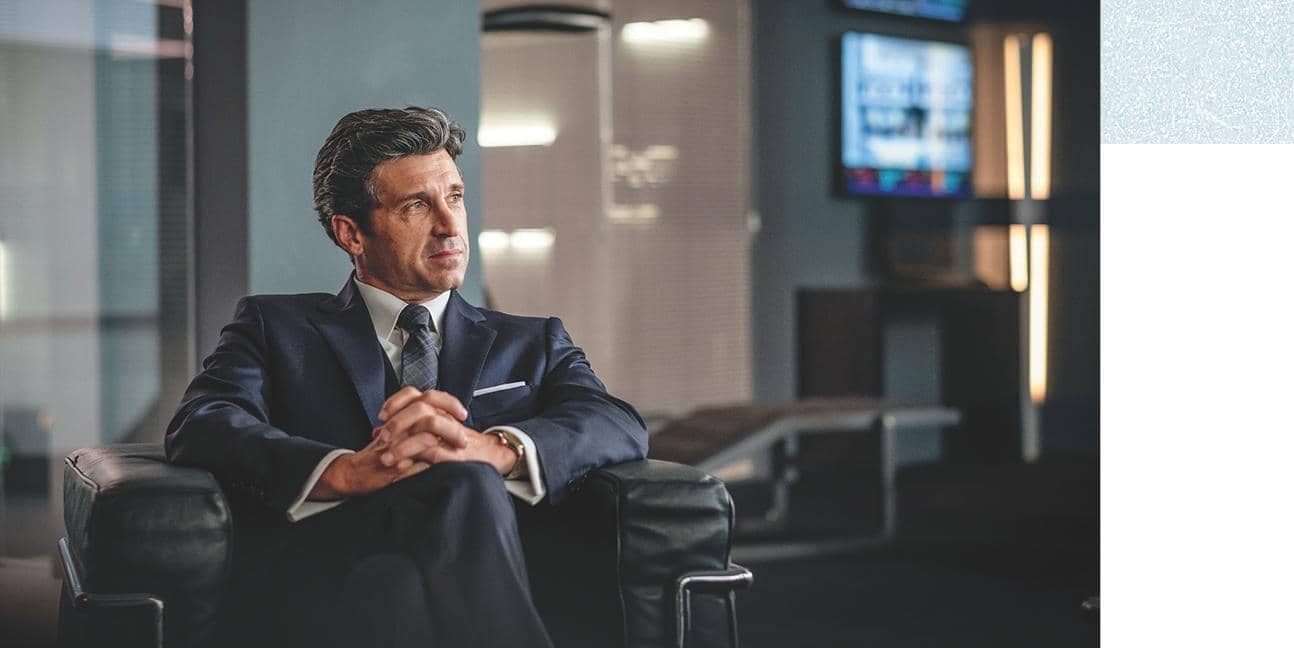 Nearly four decades into a career punctuated by high peaks and deep troughs, Dempsey is eager for whatever comes next—a rise, a fall, or a plateau. Five years since leaving the long-running hit Grey's Anatomy, Dempsey returns to TV this fall in a series about European financiers called Devils. He looks almost unchanged from when he first shot to small-screen stardom: the same square jaw and piercing blue eyes; the only perceptible difference a shock of gray in the still-full head of hair atop his still-fit anatomy. But, it's clear he's no longer McDreamy—as he alter ego Doctor Derek Shepherd was known—the personification of a woman's idealized man.
The Dempsey on display today is firmly rooted in a reality most men would consider living the dream: There are the extensive collections of classic and race cars (he's owned his own racing team and, behind the wheel, even taken the podium at Le Mans). There are the elite ski trips (this winter he bombed the Hahnenkamm with Lindsey Vonn ahead of the World Cup). There is one home in Malibu—designed by Frank Gehry—and another in Kennebunkport, ME, as well as talk throughout the day about adding another in Europe (Switzerland, Austria, and the Italian Alps are possible locales).
It may seem like Dempsey is a luxury watch ad come to life—indeed, he's been a face of TAG Heuer for years—but it's one thing to be surrounded by the best playgrounds and playthings in the world. It's another to have the mettle to make most of them.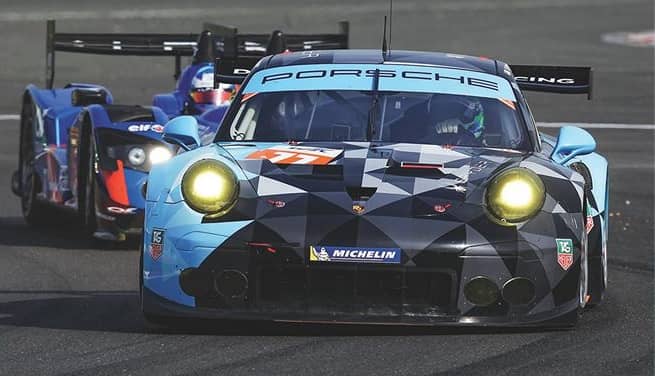 Mountain biking is a relatively recent addition to Dempsey's repertoire. Although he's long been a road cyclist, he's only had his mountain bike for a month. Nevertheless, he climbs effortlessly, corners with precision, and streaks downhill with speed and control. He tries to ride daily, typically with one or more members of his family. It's less about getting a workout and more about getting outdoors, putting tread to the trail to "settle my mind," he says: "You know, to pick up where the Calm app lets off. Just look at those views."
The trail we're on in Puerco Canyon is new to Dempsey and he stops to take in the scenery, to hydrate, to give passing hikers—especially maskless ones—wide berth, and to talk.
Like many of us, Dempsey has used the COVID-19 crisis to do some deep thinking. "You ask the question: What's important to you?" he says. "You keep getting back to your family and your kids, right? Everything else is less important. And what are you doing that has some meaning?"
In conversation, Dempsey exudes the ease and comfort of a man in full, an erstwhile sex symbol who values substance over surface. He recently reread Marcus Aurelius' Meditations and was struck by how relevant the tenets of stoicism—the emphasis on logic, ethics, clear thinking—are in this time of rampant fear and fanaticism. And even Dempsey's discussion of gossip rags carries some gravitas. "Anthony Fauci—that's who should be People's 'Sexiest Man Alive,' " Dempsey says. "I think there are petitions. I'll sign it."
About a week before our ride, Dempsey shared a photo of himself in a mask captioned with the catchphrase his character on Grey's would deliver before surgery: "It's a beautiful day to save lives #WearAMask #COVID19 #YourActionSaveLives." The idea to speak out wasn't entirely his own—he was being encouraged to speak out by many friends, but what finally convinced him was when Angus King, the U.S. senator from Dempsey's home state of Maine, reached out. The post had more than 1.7 million likes as of this writing. "It was very cool that people got the reference instantly," Dempsey says. "I was surprised."
You can read up to 3 premium stories before you subscribe to Magzter GOLD
Log in, if you are already a subscriber
Get unlimited access to thousands of curated premium stories, newspapers and 5,000+ magazines
READ THE ENTIRE ISSUE
September - October 2020