The Boy Who Would Be King
Award-winning rapper YoungstaCPT has been unapologetically representing Cape Town through his music since 2010. Now, a decade later, he's risen through the ranks and cemented his name among SA's rap royalty. This is his moment.
A city's acronym may only seem important to people who spend their time in and out of airports, but for rapper YoungstaCPT, the three-letter abbreviation for Cape Town does more than just show where he's from – it tells the world who he is.
Humble Beginnings
Born Riyadh Roberts and raised by a single mom, the 28-year-old from Wynberg in Cape Town's southern suburbs is a household name around the Mother City. Now he's making waves across the country after the release of his long-awaited debut album, 3T – which appropriately stands for "Things Take Time". The body of work that he'd been compiling since 2015 proved to be worth the wait – Youngsta scooped Album Of The Year at the 2019 SA Hip Hop Awards (SAHHA), putting himself, and Capetonian rappers in general, on the map.
But long before claiming the hip hop crown, Youngsta was exactly what his rap name describes – a kid. And like any kid his age, looked up to his favourite characters on TV. His passion for music and entertainment began when he first watched a certain Fresh Prince of Bel Air who moved in with his wealthy auntie and uncle in Bel Air.
"It all started from as early as Primary School – pretty much since I first saw Will Smith in Fresh Prince," he recalls. "I always credit that as the beginning because I wanted to emulate him. Not necessarily be a rapper – I just wanted to be Will Smith. I would rap along to the theme song and try to match the outfits he wore on the show."
Later on, he discovered the likes of 2Pac, Eminem, Snoop Dogg and DMX, who would shape his style of rapping and influence the way he delivers his lyrics. On any stage that he's been given, Youngsta has electrified the crowd with his energy and powerful stage presence, but this wasn't the obvious outcome when he was honing his craft in his bedroom as a teen.
"I kinda kept my rapping a secret because a lot of people would make fun of me for wanting to become a rapper," he admits. "It wasn't a cool thing at the time. Even the girls would make gat of me. How was I supposed to flirt with a girl and then say 'I wanna be a rapper' and expect her to be impressed? So, I kept working on it in my room by myself."
"I kinda kept my rapping a secret because a lot of people would make fun of me for wanting to become a rapper,"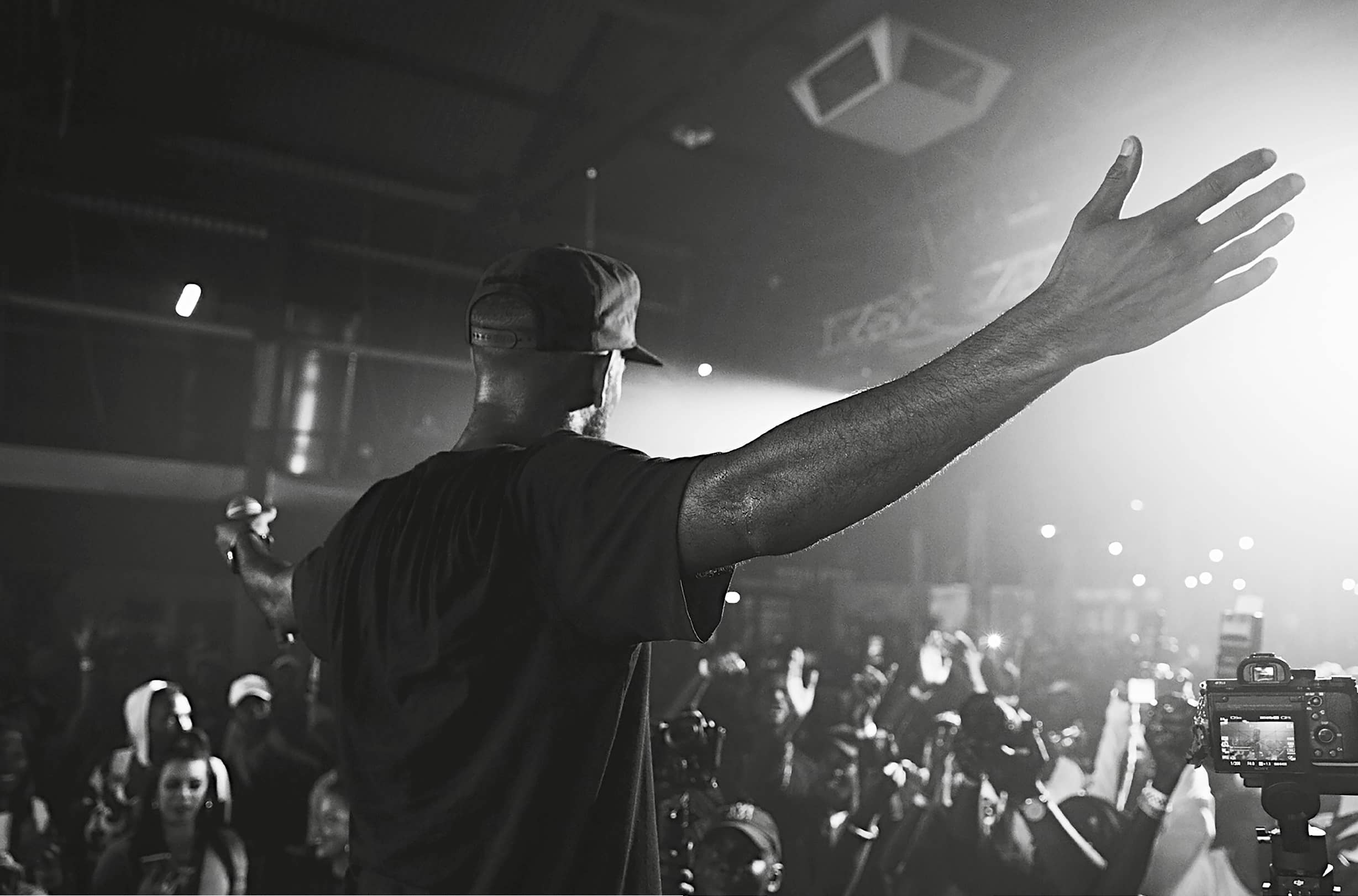 YoungstaCPT x Muffin Man
This isolated dedication made young Riyadh Roberts want to chase his dreams even more, and towards the end of his matric year, he met someone who had a similar vision – DJ, producer and constant collaborator, Muffin Man.
"I decided that as soon as I finished school, I would pursue this [rapping] full-time, and nobody could wys me otherwise. Then, literally, in the last week of school, I met Muffin [Man]. It was destiny."
You can read upto 3 premium stories before you subscribe to Magzter GOLD
Log-in, if you are already a subscriber
Get unlimited access to thousands of curated premium stories and 5,000+ magazines
READ THE ENTIRE ISSUE
April 2020