Beat Any New Year Goal
Men's Health South Africa
|
February 2020
According to a US News & World report, 80 percent of New Year's resolutions fail by February. Setting intentions without having a plan is one of the reasons why. Whatever your goals, we have the advice you need to ensure you stick to your resolutions all year through. You'll finish the year stronger than you started.
Scarlett Wrench and Justin Gutherie
01 Perform 10 Strict Pull-Ups
Clocking 10 pull-ups is a serious achievement. Olympic gymnast Nile Wilson explains how to raise your bar this year.
01/ Manage Your Middle
"Most people underestimate how much they use their core during a pull-up," says Wilson. It's likely that's your weak spot. Wilson prescribes weighted planks. Load on a heavy plate and hold for 30-second bursts.
02/ Resist the Machines
Assistance machines offer stability, but that does nothing to prep your core. "Use resistance bands instead, or have a partner help you," says Wilson. "If you're almost there, they can support you for that last bit."
03/ Put Your Back Into It
"Your lats are more powerful than your biceps," says Wilson. "Focus on squeezing your shoulders together and really tensing your lats." Engage them before you start to switch on the mind-muscle connection.
04/ Think Negatively
"Try negative reps [just the lowering phase]," says Wilson. "They'll build the right muscles, even if you can't pull back up." Go for a 10-second lowering phase. If that gets too easy? "Add a 5kg weight jacket."
02 Drop Two Jeans Sizes
As well as giving your old Levi's a new lease on life, losing fat will trim your risk of a multitude of illnesses. But depriving yourself of food can make your resolve crumble like pudding. We asked chef Tom Kerridge, who lost 76 kilos, for his hacks
Fuel Your Training
"I'm doing more cardio, so I've changed my diet," says Kerridge, a former zero-carb devotee. Slow-release carbs should be on your menu before and after workouts, so you're never short of energy: "If you have too much of a calorie deficit, your fitness will suffer," he warns. Target a 2:1 carb-to-protein ratio post-workout – overnight oats and nuts, for example, or Spanish-style eggs with toast.
Mix Up Your Protein
Kerridge hasn't ditched meat but is "much more conscious" of his intake. He stocks his freezer with low-calorie proteins such as edamame and prawns, and his cupboards with fibrous quinoa and lentils (the University of Copenhagen found that they're more satiating than pork). If you do cook meat, Kerridge advises poaching it in a tasty stock or blowtorching it for a delicious char instead of frying: "Then you're not adding any fat."
Turn Up the Volume
If your stomach is growling, you're doing it wrong. "I'm rarely hungry," says Kerridge. "Some high-calorie food isn't very filling" – for example, doughnuts – "but a bowl of pulses and lean chicken will fill you up." For texture, Kerridge uses fat-free Greek yoghurt instead of empty-calorie sauces. The University of Tennessee found that those who ate dairy every day had larger reductions in their body fat levels than those who didn't.
Go Big on Flavour
Focus on adding flavour to meals, rather than simply subtracting calories. "Throw in fresh herbs: parsley, basil, chives…" Dried mushrooms and liquid aminos are Kerridge's go-tos for an umami kick – the American Journal of Clinical Nutrition suggests this boosts fullness – while preserved lemons and gherkins add instant acidity.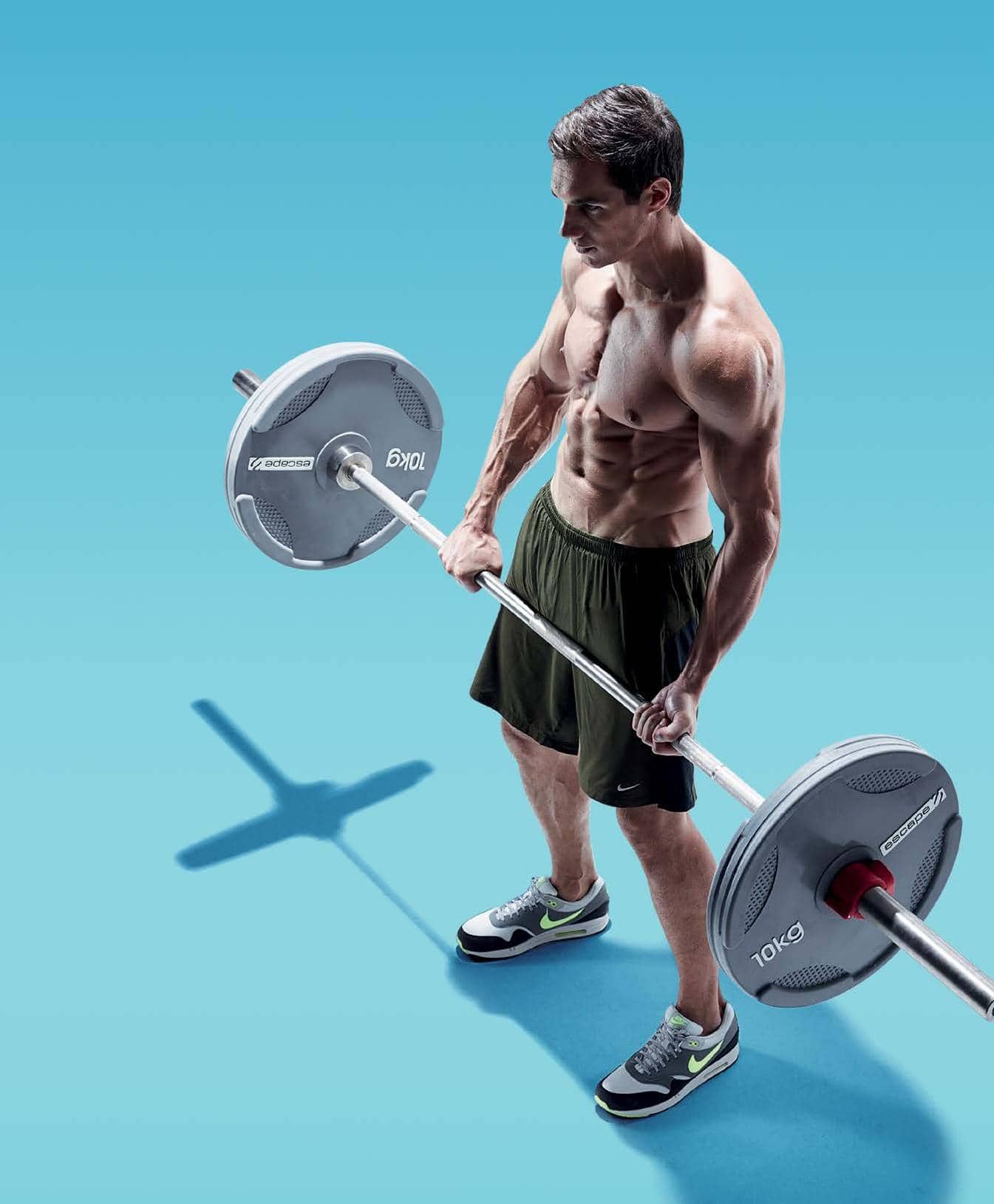 03 Add 50kg To Your Deadlift
Whether you're building up to your first big lift or gunning for double your bodyweight, you have a year to nail it. Form is everything – so take some coaching from the undisputed king of deadlifts, world record-holder Eddie Hall (PB: 500kg)
Hips
"Wearing a weight belt for the big lifts ensures that your body is properly supported," says Hall. "I don't wear the knee braces, though – with the right form, your knees shouldn't strain."
Hands
"Keep your hands 2cm wider than your shins on either side. It's quite a wide grip, but that's where you get power," says Hall. When lifting, hold the bar deep in your palms. "This way, you prevent your biceps from ripping off your arm."
Feet
"The most common mistake with the deadlift is incorrect foot positioning," says Hall. The bar should be halfway between your heels and the end of the toes. "Make sure your feet are pointing straight, like train tracks, shoulder-width apart."
Back
"People say a straight back is essential, but a rounded back works, too. You just have to train your body to withstand that roundness," says Hall. He recommends practising with smaller weights and a slightly curved back to prep your muscles for a 1RM.
Breath
Hall inhales lightly on the way up, but holds his breath until the rep is over. "Steer clear of big breaths. It's a great way of stabilising your body."
Glutes
A powerful hip thrust at the top with your glutes tightly squeezed is key. In training, however, Hall doesn't work through the full range on every rep. He focuses on ripping the bar off the ground, finishing at mid-thigh level – the hard part.
04 Go to Bed an Hour Earlier
You can read up to 3 premium stories before you subscribe to Magzter GOLD
Log in, if you are already a subscriber
Get unlimited access to thousands of curated premium stories, newspapers and 5,000+ magazines
READ THE ENTIRE ISSUE
February 2020