Xmas Excess
Men's Fitness
|
January 2020
While occasional over-indulgence is to be expected – celebrated even – the festive season need not sabotage your fitness routine, as Rob Kemp writes
1 WORKOUT WONDERLAND

"Take your training up a notch over Christmas and get into fighting-fit condition by mixing up some cardio when you can grab time away from work," suggests Sol Gilbert, health expert at Tanita and director at Underground Gym (underground-gym.com).

"Find a piece of cardio equipment, grab yourself a set of dumbbells, a slam ball and smash out this 20-minute workout."

Warm-up
Start off by stretching all major muscle groups.
Then begin to mobilise your body with a gentle warm-up: perhaps a 5-min jog on the treadmill at a steady pace.
Main event
Set your timer to 20 mins and see how many rounds of the below circuit you can complete:
60 secs of high-knee sprinting as fast as you can
15 x ball slams
10 x dumbbell thrusters
5 x burpees
30 secs rest
2 BOXING DAYS
"Exercise is scientifically proven to reduce stress, and my favourite stress-busting workout is boxing," says Marc McLaren, PureGym strength and conditioning trainer. "You could get yourself in front of a heavy bag, set the timer for two-minute intervals and then release that tension. As it's the Christmas period, keep everything time-specific. Get to the gym with the intention of getting in and out."
Set warm-up and cool-down times that are challenging but specific (e.g. 3k run to be completed between both warm-up and cool down).
Boxing session one should be pre-planned and interval-based for intensity: 2 mins jump rope, 1 min shadow boxing (hold 1kg dumbbells in each hand for extra resistance).
Boxing session two: 2 mins of bag or pad work, 1 min lateral jumps over a bar.
"Both sessions should be completed for as many rounds as time or fitness levels allow, for a maximum of ten rounds," adds McLaren.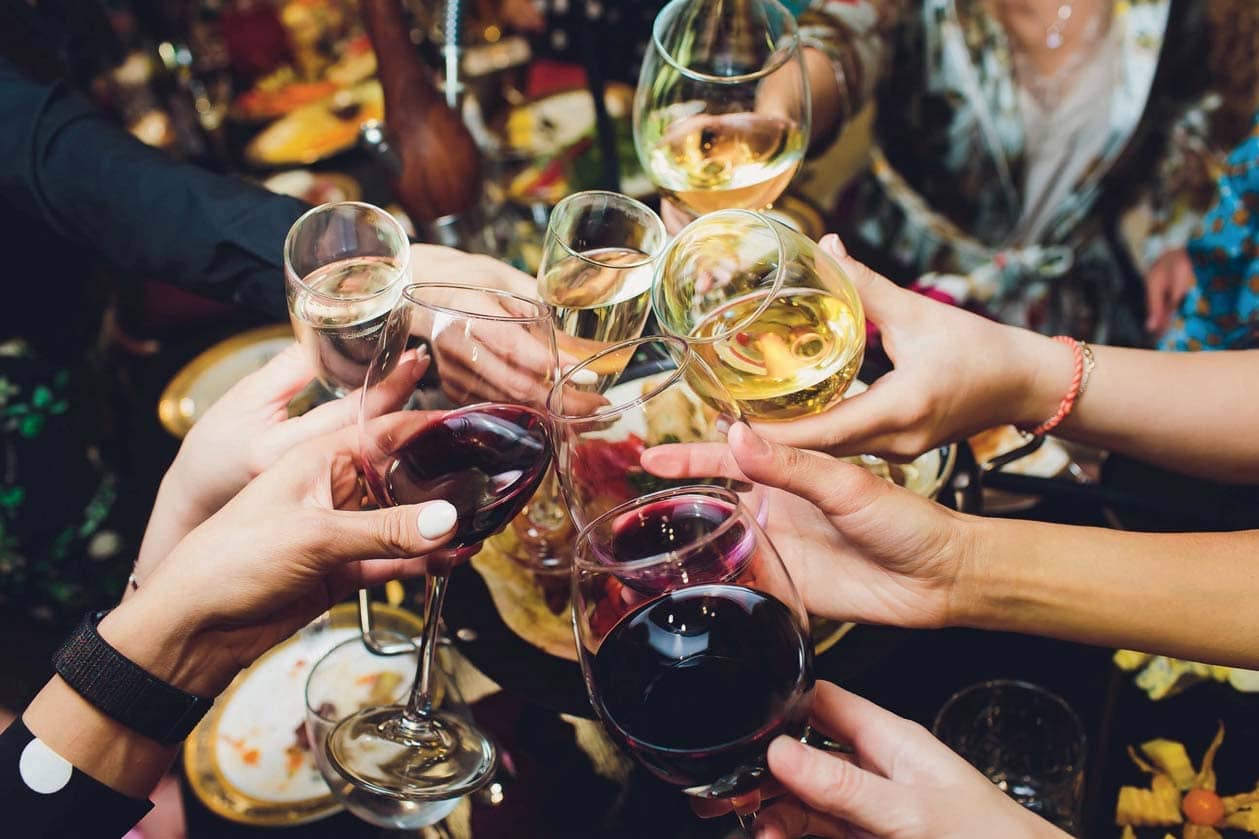 Festive Drinks
December sees pubs and clubs fill up with revellers enjoying the festive season – often with a little too much enthusiasm. If you're heading out for drinks for the first time in a blue moon, tweaking your approach can help you enjoy more than endure it…
3 WORK UP A THIRST
Fit in a light exercise session before imbibing to get your metabolism into a better place for processing alcohol later – but be sure to drink enough water to make up for any fluid lost through sweat before you drink. Research conducted by the US Collegiate & Professional Sports Dietitian Association suggests drinking 85 to 227ml every 15-20 minutes during exercise, then 450 to 680 ml of water or sports drinks for every pound of body weight lost during a workout. Be wary, though, because doing a heavy weights or cardio session before drinking alcohol raises your risk of injury and compromises your body's ability to build muscle or recover efficiently.
4 HAVE A REST DAY
Instead of doing a heavy session, have yourself a muscle-feeding meal the day drinks come around. Short on time? Keep it simple with a wholemeal tuna sandwich, which will provide complex carbohydrates for a steady drip-feed of energy, while the oily fish contains taurine and protein, which will nourish the liver to deal with the alcohol metabolising process.
5 PLAY THE POINTS GAME
You can read up to 3 premium stories before you subscribe to Magzter GOLD
Log in, if you are already a subscriber
Get unlimited access to thousands of curated premium stories, newspapers and 5,000+ magazines
READ THE ENTIRE ISSUE
January 2020