The Fall Guy
Men's Fitness
|
January 2020
British climber James Pearson battled slippery rocks and thundering spray to conquer the highest waterfall in Japan. He talks to MF about the unique sport of Sawanobori ('stream climbing') and reveals how to steel your body and mind for vertical adventures
On his epic climbing expeditions around the world, from the sandstone towers of Chad to the overhanging cliffs of Borneo, James Pearson instinctively avoids the one element all climbers fear: water. This life-giving liquid can be lethal for climbers: rain fatally loosens climbing holds, rivers silently erode the stability of rocks, freak storms wash away fixed ropes, and even a trickle of sweat can cause strained fingers to slip from stone. But in August 2018 the 33-year-old professional climber from Matlock rewrote the rulebook by ascending the booming, spray-soaked Shomyo Falls – at 1,148ft, the tallest waterfall in Japan.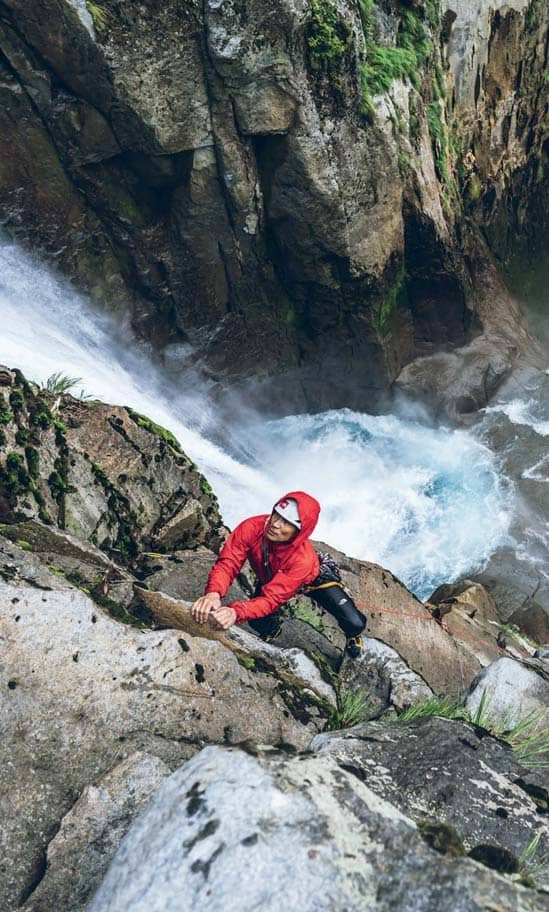 Accompanied by his French wife and fellow climber Caroline Ciavaldini, plus elite wall-crawlers Toru Nakajima and Yuji Hirayama from Japan, and Matty Hong from America, Pearson was experimenting with Sawanobori ('stream climbing') – a niche Japanese adventure in which climbers ascend a mountain river and climb every obstacle along the way, from trickling gullies to crashing cataracts. Here he speaks to MF about the thrills and challenges of becoming a waterfall warrior.
Men's Fitness: How would you describe the sensation of climbing a thundering 1,000ft waterfall?
James Pearson: "Climbing waterfalls is a real sensory overload. It was very intimidating even to start some of the climbs in Japan, just because of the power of the water. And then when you go into the waterfall for the first time and feel its physical power on you, you feel so small and helpless.
"With some of the bigger waterfalls, like Shomyo Falls, you can't climb too close to the water, especially near the bottom where the water is strongest. There is a drop of 150m. And when you imagine three tonnes of water dropping every second, by the time it's near the bottom it is incredibly powerful. If you went too close, you would die. It would wash you away. It would rip all your gear out. I am pretty sure it would rip your ropes, too. It can also be hard to hear any loose rock and the holds are really slippery. So Sawanobori teaches you to be quite humble to the power of Mother Nature. I am maybe too much of a poet, but I feel like that is a good lesson: we can enjoy Mother Nature, but if we don't show her enough respect, she can wipe us out."
MF: Sawanobori is an important part of Japanese climbing culture, but it's not well known around the world. What does it actually involve?
You can read up to 3 premium stories before you subscribe to Magzter GOLD
Log in, if you are already a subscriber
Get unlimited access to thousands of curated premium stories, newspapers and 5,000+ magazines
READ THE ENTIRE ISSUE
January 2020