LEARNING THE ROPES
Men's Fitness
|
Febraury 2020
DOMINIC BLISS MEETS THE LUCHA LIBRE WRESTLERS BRINGING A TASTE OF MEXICO TO THE EAST END
Do you like the sound of broken bones, torn tendons and buff men in small pants squealing like stuck pigs?"
The master of ceremonies at London wrestling show Lucha Britannia leaves his audience members in little doubt what to expect from their evening's entertainment. Already, four wrestlers – El Piranha, Ophidian, Dark Britannico and Illusionisto – have occupied the ring, and are hell bent on knocking seven bells out of each other, to the delight of the 120-strong crowd, all baying for blood.
There seems to be some kind of storyline behind the action, although it's not always clear who is on whose team. No matter though: as a spectacle of combat, athleticism and acrobatics, this Mexican-style wrestling match is brilliant entertainment.
The pugilists, in colourful masks and various items of tight-fitting underwear, take turns at battering one another using strikes, flying kicks, jumps, tackles, holds, throws and take-downs. They leap and bounce off the ropes; they somersault onto the mat and each other, with loud slaps and grunts; they spin opponents over the top of their heads; occasionally they end up being thrown out of the ring altogether, landing at the feet of the cheering spectators. Although the individual manoeuvres are rehearsed, there are impromptu elements to each fight. The winners, however, are predetermined.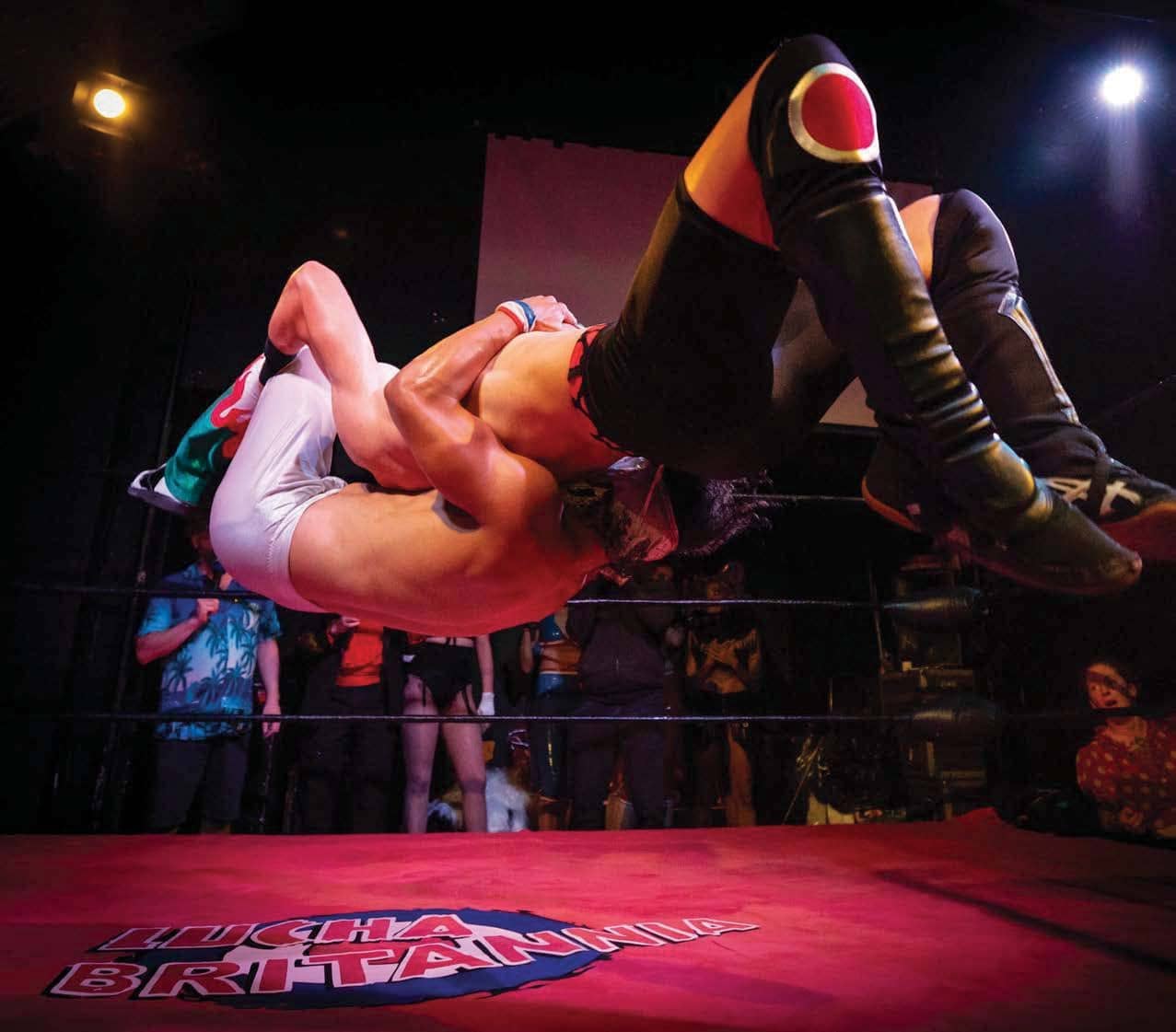 ELECTRIC EXPERIENCE
The venue for Lucha Britannia is a small arts club beneath the railway arches in Bethnal Green, east London, called Resistance Gallery. On the third Friday of every month, under the supervision of show directors Garry Vanderhorne and Greg Burridge, a troupe of wrestlers puts on a fast-moving, chaotic and often very funny show. '10,000 volts of sexy mayhem' is how the website sells it. 'This is not like anything you have seen before. This is physical theatre, this is immersive, this is not for the faint-hearted, small children or your granny.'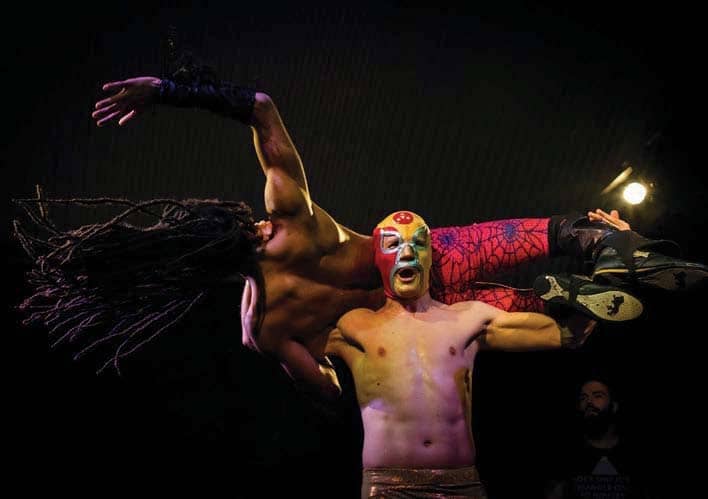 Lucha Britannia is based on a Mexican sport known as lucha libre. Spanish for 'free fight', it's hugely popular in its home country, where loyal fans follow the escapades of their favourite wrestlers (or luchadores). The fights, often supported by massive crowds in enormous arenas, are exhaustingly acrobatic, with the action vaguely following some sort of rehearsed storyline. There are normally four types of wrestler: the tecnicos (or goodies), the rudos (or baddies), the female luchadoras, and the flamboyantly camp exoticos (sometimes dressed in drag). Altogether it makes for a surreal medley of martial arts, circus, acrobatics, slapstick comedy and pantomime.
Lucha Britannia, on the other hand, while just as athletic as its Mexican cousin, draws on British wrestling roots as well as Latin American ones.
You can read up to 3 premium stories before you subscribe to Magzter GOLD
Log in, if you are already a subscriber
Get unlimited access to thousands of curated premium stories, newspapers and 5,000+ magazines
READ THE ENTIRE ISSUE
Febraury 2020