Learning: The elixir of life
Life Positive
|
September 2020
Being open to constantly learning new things and mastering new skills is the best way to stay youthful, creative, and realise the purpose of your incarnation on earth, says Jamuna Rangachari
You don't grow old when you age but when you stop learning.
~Kenneth H Blanchard
None of us want to grow old and we keep looking for ways to delay the process of ageing, but the truth is that eternal youth has little to do with the body and more to do with our mind and spirit.
As long as the brain is sharp and agile and one is willing to constantly learn and evolve, one is young. But if the mind has become closed, fixed, and stagnated, one can be said to have aged much before one's time, even if one is physically young. Examples abound of people who have put a cap on their learning and have chosen to stop their mental growth because they do not want to make anymore efforts. However, learning is an attitude of a curious and ever-evolving mind which is full of wonderment, excitement, and childlike enthusiasm for life.
According to NLP coach Nasreen Khan, the more people stick to the same old ways of doing and thinking, the more are their chances of contracting Alzheimer's in their old age. Conversely, learning a new skill or adopting a new way of doing the same thing helps create new neural pathways in our brain, keeping it young, active, fit, and productive. A sound memory, a sharp focus, new knowledge, and good problem-solving skills keep one feeling empowered, motivated, and confident. Learning new things is a good way of keeping the brain engaged, active, and young, and the spirit renewed and energized.
Just like a physical fitness routine, we need to have a mental one too. For learning is a tonic for life. Many people were able to infuse fresh vigour in their lives simply because they chose to learn something new.
Evergreen heroes
Mr Srinivasan (name changed), 70, an engineer from Bangalore, was diagnosed with arthritis and could hardly move his arms, especially his fingers. "Just don't use your arms much," the doctors advised him. He was a little depressed for a while. But then he decided to move on. He had always been fond of music but had never learnt to play an instrument. He took his arthritis as a challenge to learn an instrument. He bought a casio and diligently practised it, and today, after nearly two years, plays songs, ranging from film to classical numbers. "I never wanted to stop learning something new. Now God has blessed me with a skill which makes me understand music even more."
Srinivasan has almost forgotten his arthritis because his mind is focussed on something which brings him joy. This reminds me of my late mother-in-law who suffered from many ailments but primarily arthritis. However, being musically inclined, she kept learning new songs to divert her mind from her pain. Another such person is Shoba Mathur from Mumbai. Shoba was detected with cancer at the age of 71. She kept going for chemo but never gave up hope. By the grace of God and the efforts of her family, she was able to recover from it. Now, at the age of 76, she gives occasional talks, is very active online, and has two websites. She spends most of her time researching for the websites. She likes to dance, take part in cultural activities, and do craftwork too. This attitude has made her lead a wholesome life.
Another such wonderful story is that of 90-year-old Lorna Prendergast, who completed her Master's degree in music and dementia in Melbourne in July 2019. Prendergast enrolled for the degree after watching an ABC (Australian Broadcasting Corporation) science programme on music and dementia. She completed the course online from the Victorian town of Bairnsdale, overcoming technological hurdles that would challenge many others. She studied the effects of music therapy in nursing homes, including the delivery of personalised playlists using music technology.
"During my research, I found a number of studies where it was suggested that thirty minutes a day of listening to personal music was very productive. Using an iPod with a headphone has proved very effective both in nursing homes and home care. Recently, a headphone has become available where a memory card containing a personal playlist can be inserted into the headphone and does not need to be connected to an iPod," she says. Music technology has changed a lot in the course of Prendergast's life. In an interview with ABC Classic, she recalled a time when it was common to make your own music: "Many family homes had a piano. Most men carried a mouth organ in their pocket. The accordion and the violin were also popular, as were the guitar and the ukulele. In those days, people made their own music. It was only when the wireless hit the airwaves that people listened more to music rather than make their own."
This is something even I have observed in my own family. Both my children are fond of music and even used to compose some numbers earlier. But now, after the Internet and technology boom, they only listen to music and hardly ever think of composing their own pieces. This makes me wonder what may have happened if the Internet had not invaded and taken over their lives, as there are both merits and demerits of so much technology everywhere.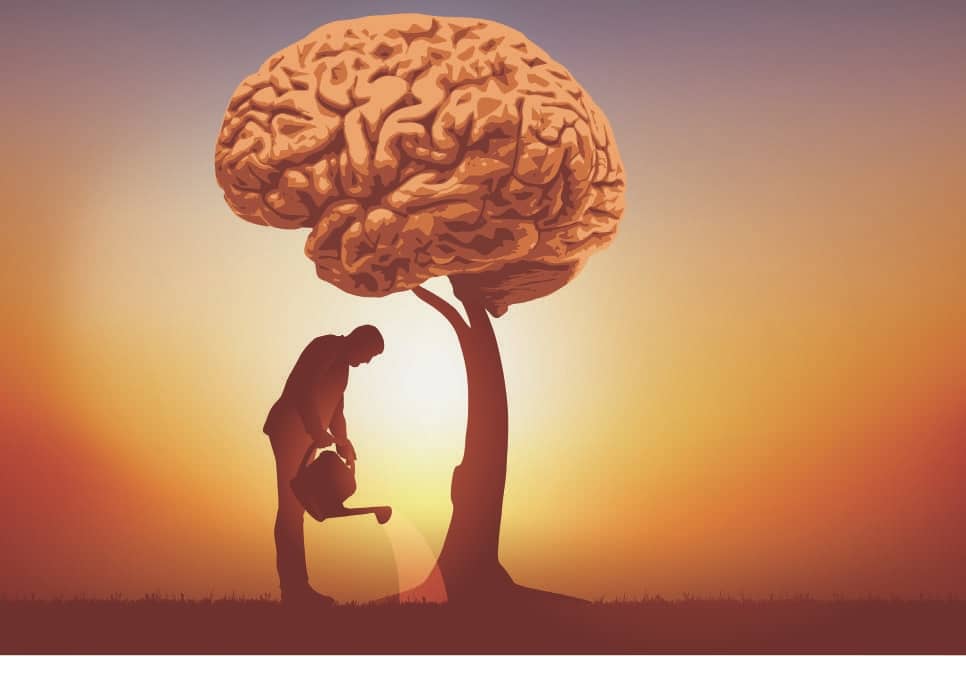 Our brain, just like any other muscle, grows when we water it with diverse knowledge on a regular basis
The mystery of learning
The fact is that we are born to learn and keep learning new skills all the time. However, many people consider the brain a mystery. We rarely think about what intelligence is or how it works. We mostly believe that a person's intelligence is predetermined at birth. Either you are a 'maths person' or not, and it stays that way for life. However, new research shows that the brain is more like a muscle—it changes and gets stronger when you use it. Scientists have been able to demonstrate how the brain grows and gets stronger when you learn. Everyone knows that when you lift weights, your muscles get bigger and stronger. A person who cannot lift 20 pounds when they start exercising can get strong enough to lift 100 pounds after working out for a considerable time.The muscles become larger and stronger with exercise. But when you stop exercising, the muscles shrink and you get weaker. That's why people say, "You either use it or lose it."
You can read up to 3 premium stories before you subscribe to Magzter GOLD
Log in, if you are already a subscriber
Get unlimited access to thousands of curated premium stories, newspapers and 5,000+ magazines
READ THE ENTIRE ISSUE
September 2020