Moving House? Don't Break Your Back Over It
Health Today Malaysia
|
June 2019
Speaking from recent first-hand experience: moving houses is not fun. Whether it's due to a new college, a new job, or a change in family circumstances, the process of packing up and moving an entire household's worth of possessions to a different building can be incredibly stressful for everyone involved—and potentially hazardous to one's health. Read up HealthToday basics on how to stay both sane and safe while dealing with a big move.
1. Pack smart.
Heavy objects go in smaller boxes, lighter objects in bigger boxes. Do not under any circumstances fill a human-sized box with books just because you want them all in the same place. Unless you or your moving help are secretly a superhero, someone's joints will end up in a bad condition, and that someone's chiropractor will be very pleased.
For reference, the Malaysian Department of Occupational Safety and Health (DOSH) recommends a maximum lifting and lowering weight of 25 kg for average adult men (16 kg for women). (Figure 1)
Spread the weight out among large boxes by putting heavier, sturdier items (books, papers) at the bottom of the box, then filling the remainder with lighter items (bedding, clothes). If the heavy stuff is fragile (dishes, glassware), the lighter materials can be arranged to pay them as well.
When packing, try to put the box on a chair or table so that you don't have to keep bending down to put items inside.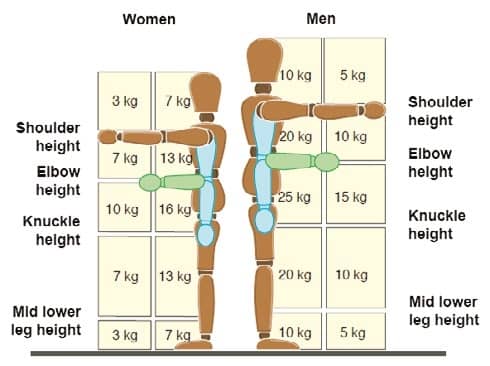 2. Lift with your legs, not with your back.
Bending your back over and over to pick up heavy boxes is a surefire shortcut to causing a back injury that could last anywhere from a few hours to a lifetime. To prevent that, make sure you lift (and lower!) objects using a squatting movement that spreads out the weight through your hips and legs. (Figure 2)
You can read up to 3 premium stories before you subscribe to Magzter GOLD
Log in, if you are already a subscriber
Get unlimited access to thousands of curated premium stories, newspapers and 5,000+ magazines
READ THE ENTIRE ISSUE
June 2019